2011 Guenoc Petite Sirah
This 2011 California petite sirah is full of aromas of dark fruits, blackberry, plum and, if you linger over the glass, you can even catch hints of coconut, roasted almonds and maybe molasses. It has a wonderful toasty character to it with flavors of blueberries and plum along with a touch of earthiness and oak. The finish is smooth and slightly dry yet surprises you with its spicy, peppery edge.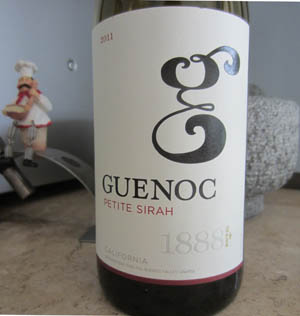 An inexpensive wine that makes a good everyday drinking wine and pairs with just about any meal.
Origin: Guenoc Valley lies sixty miles north of San Francisco in Lake County with rolling hills and plenty of wide open grasslands. Here they raise the wonderful vines of the petite sirah grape, a compact grape that is a cross between the Syrah and the French Peloursin grape. The petite sirah grape is usually used in blends due to its intense tannins, unjam-like flavor and dark, stain-your-glass color but, as you will see with this wine, also does well on its own.
One little known fact – Lillie Langtry owned this Guenoc ranch from 1888-1906 producing wines with character and distinction, similar to Guenoc's upper tier brand named, appropriately, Langtry.
Food Pairing: This medium to full-bodied wine pairs perfectly with anything from burgers to pizza, lamb to venison and spicy Mexican to Italian fare.
Price: $9.99

Rating: 3/5 corks