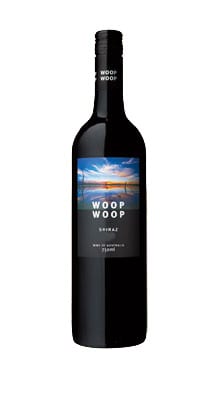 The 2001 Woop Woop Shiraz is a wonderful example of a Shiraz. Grown in the Limestone Coast region of southeast Australia, this wine is rich in flavor with a vibrant full-bodied texture. The limestone base and cool climate of the region provide excellent growing conditions for this winery's range of wines. When poured, you will note the heavy scents of blackberry, blueberry and licorice and, when the wine meets your lips, you will be closing your eyes and savoring the dark berry flavors with hints of mocha and a touch of vanilla. Enjoy this well-balanced wine all the way to its rich finish.
Now I bet you are wondering where the name "Woop Woop" came from. Well, it actually is Australian slang for the middle of nowhere in the Outback. See, you learned something new today!
This wine was well liked by all the Cabernet lovers at dinner and is best when paired with a steak, pork, lamb, veal, pizza or even beef enchiladas. Rich and ripe and one of Wine Spectators' daily picks for under $15. Stock up now and enjoy for the next 3-5 years.
Price Range: $9.99-$10.99

Rating: 4 out of 5