Get your spicy on and grab your chopsticks! These Asian Grilled Potato Chips are the perfect dinner accompaniment when just ordinary potato chips won't do.  They bring your favorite Asian flavors to the table, like soy sauce and sesame oil, and add a little spicy heat. Perfect for pairing with grilled salmon, chicken or even steaks. Disclosure: I have been compensated for this article by the US Potato Board but, as always, the recipe & opinions below are 100% my own.
I've always been a potato lover. I think it's hereditary! My dad used to tell me that he carried home 50 lbs. of potatoes for my mom and she would have them gone in less than 2 weeks. Now that's what I call loving potatoes!
And what's not to love about one of America's favorite foods. This comfort food is not only delicious but nutritious too. Potatoes provide 45% of the daily RDA of Vitamin C and have more potassium than a banana. They are also fat free, sodium free and cholesterol free. Plus they only have 110 calories per medium potato. See, they're the perfect food!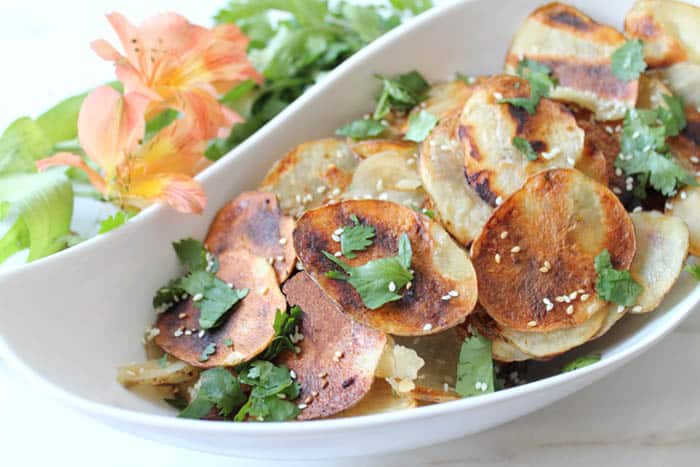 Potatoes are extremely versatile and can be cooked in so many ways and all are awesomely delicious. There are actually 100's of varieties of potatoes around the world and each shine when cooking them a certain way. I love Yukon Golds for the perfect Mashed Potatoes, red potatoes for Roasted Potato Salad and those beautiful purple potatoes in my Crockpot Pot Roast.
So when I was asked to come up with a grilled potato recipe by the US Potato Board that would get everyone fired up (oops, sorry for the pun) for the coming spring and barbecue season, I couldn't think of anything better than having crispy delicious potato chips fresh off the grill. And not just any ordinary potato chips but Asian-flavored chips!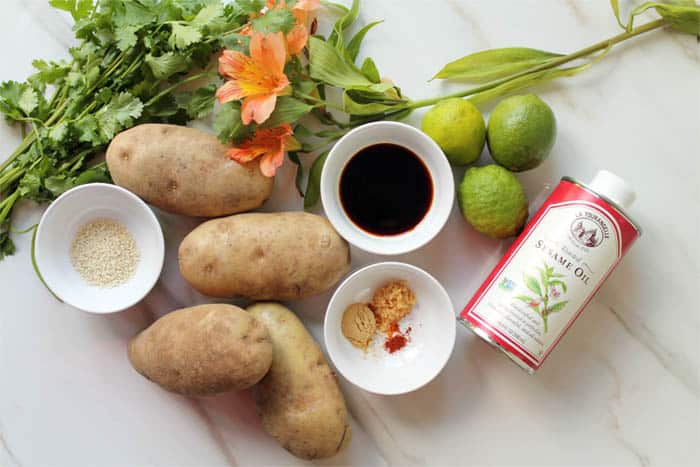 Potatoes aren't really a staple food in Asia but they should be! They absorb all the delicious flavors of the soy sauce, sesame oil, lime and ginger and knock them out of the park. And these are really super simple to make. The only time factor is the marinating which can be done the day before. Start by slicing a few large potatoes with a mandolin, russet and Idaho work well, then marinate.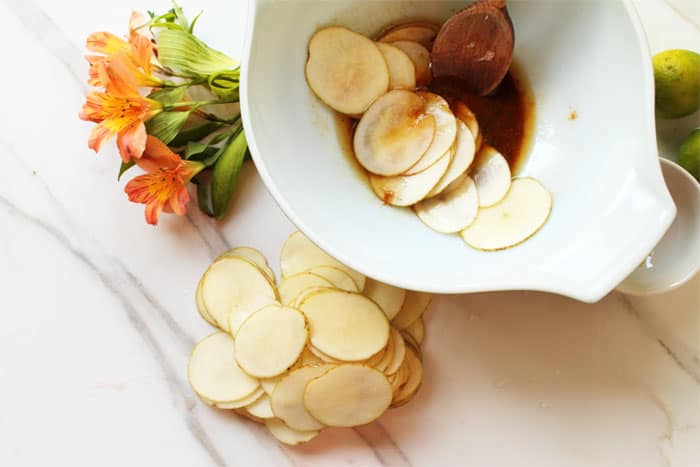 When ready to grill, wrap potatoes in heavy duty aluminum foil that has been sprayed with nonstick spray, seal well, and toss on the grill. Turn halfway through cooking time then carefully remove from heat. Open carefully to avoid hot steam and sprinkle with sesame seeds & chopped cilantro. Dive in!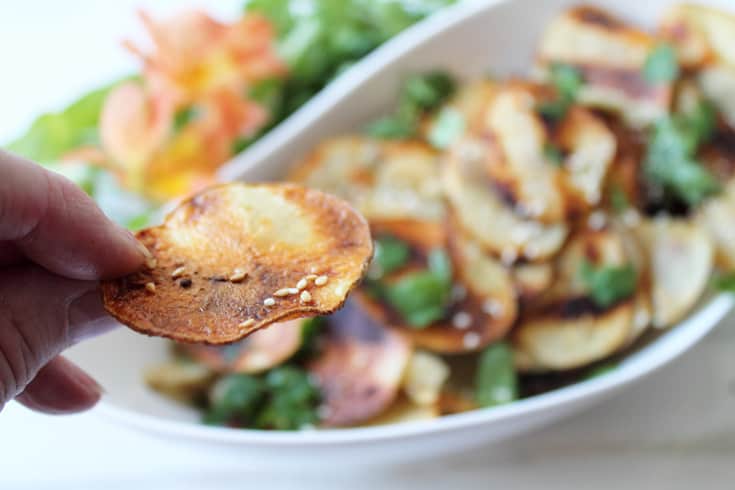 I like to serve these Asian Grilled Potato Chips  with Asian Salmon and a fresh Thai Cucumber Salad. It's a great way to welcome spring and a side dish you can enjoy all summer!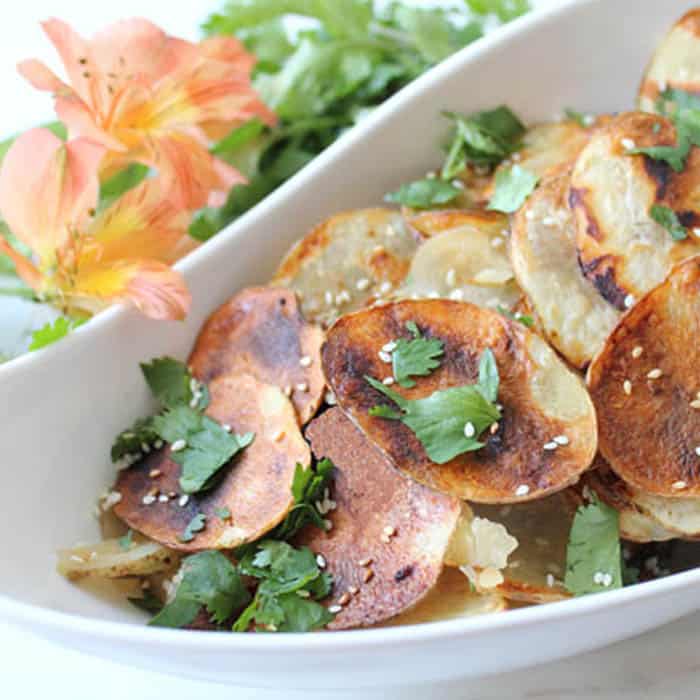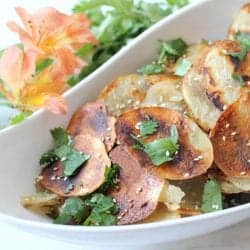 ASIAN GRILLED POTATO CHIPS
Get your spicy on & grab your chopsticks! These Asian Grilled Potato Chips are the perfect side dish for dinner when just ordinary potato chips won't do.
Print
Rate
Ingredients
4

potatoes,

thinly sliced (use russet, Idaho or any large unusual potato)

2

tablespoons

sesame oil

2

tablespoons

soy sauce

1

lime,

juiced

1

garlic clove,

chopped fine or ½ teaspoon minced garlic

dash of cayenne pepper

½-1

teaspoon

fresh ginger,

minced

1

tablespoon

sesame seeds + more for garnish

Garnish: cilantro & more sesame seeds
Instructions
Wash potatoes. Slice potatoes very thin using a mandolin.

In a large bowl, combine sesame oil, soy sauce, lime juice, garlic and dash of cayenne. Add thinly sliced potatoes and toss to coat. Marinate for 30 minutes. Place on large piece of aluminum foil and sprinkle with ginger, about 1 tablespoon sesame seeds and, if you like spicy, add another dash of cayenne. Seal foil.

Place over high heat on grill for 20 minutes. Open carefully to avoid being burned by steam. Place in serving bowl and sprinkle with sesame seeds.
Notes
Prep time includes a 30 minute marinade. Both the mandolin work & the marinating can be done the day before for a quicker side dish.
DON'T MISS A RECIPE!