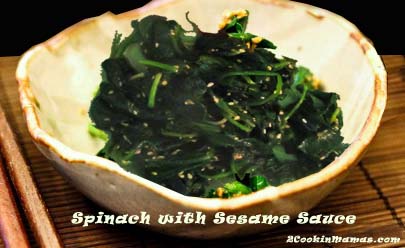 Spinach is so good for you, rich in iron and antioxidants, that it is amazing it tastes so good. This recipe uses spinach that has been quickly blanched and adds an Asian flavor to make it something special.
Spinach with Sesame Sauce
Ingredients:
1 bag leafy spinach
1 Tablespoon white sesame seeds
2 teaspoons Miso (soy bean paste) or Tahini (sesame paste, which is easier to find)
4 teaspoons low-sodium or gluten-free soy sauce
4 teaspoons sugar
2 teaspoons dry sherry or marsala
Directions:
Bring a pot of water to a boil. Wash the spinach and drop into boiling water for 30-60 seconds. Immediately drop into ice water or place in colander and run cold water over it. When cooled squeeze out most water.
Place sesame seeds in small frying pan and roast until golden brown in color. (Do not add any fat to pan)
Mix sesame seeds, Miso or Tahini, soy sauce, sugar and sherry together and pour over spinach. Stir well and serve.
Makes 2 servings.