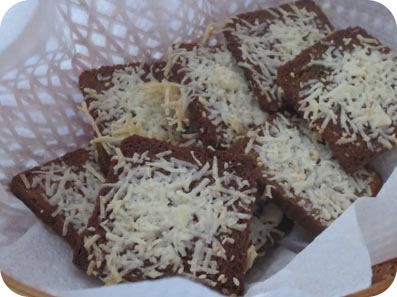 My Mom often served these when we had unexpected guests show up at our doorstep. They are quick, easy and make the house smell oh so good!
Parmesan Rye Crisps
Ingredients:
Thinly Sliced Party Rye
Olive oil
Parmesan cheese, grated
Sesame seeds
Directions:
Preheat oven to 350 degrees.
Place rye slices on cookie sheet in single layer. Brush top with olive oil then sprinkle with grated cheese. Sprinkle sesame seeds over cheese.
Bake in oven for 10 minutes. Remove cookie sheet from oven, turn bread over then repeat layers of olive oil, cheese and sesame seeds. Return to oven for an additional 10 minutes.
Serve hot and enjoy.
Note: Quantities of ingredients depend on amount of crisps you intend to make.