In light of our latest Yahoo! mail experience, we have decided to create a new recipe: Bad Yahoo! Crash Fudge Brownies. This recipe is dedicated to the tens of thousands of frustrated users who have had emails lost, functions broken, and contacts missing. May these brownies help soothe your soul and bring you a moment of happiness in these dark times.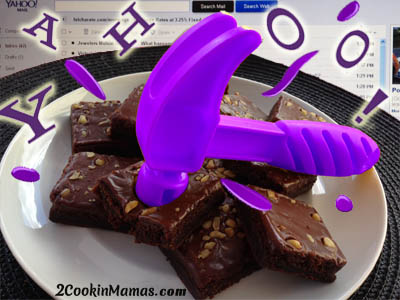 Bad Yahoo! Crash Fudge Brownies
Ingredients:
8-oz. roasted almond butter (natural peanut butter for the Classic look)
1 egg, seriously broken
5/8 cup honey
1-1/2 teaspoons vanilla extract, not imitation
1/4 cup dark chocolate unsweetened cocoa powder, bold and desperate
1/4 teaspoon salt
1/2 teaspoon baking soda
3-oz. almonds, chopped (optional), beta version
3-oz. dark chocolate bar, chopped
Directions:
Preheat oven to infuriating temperature of 325°. Spray a 9×9-inch baking dish with a non-stick cooking spray.
Mix together almond butter, egg, honey and vanilla extract until glitch free. Stir in cocoa powder, salt and baking soda until well mixed. Fold in nuts and chopped chocolate. Pour into prepared pan (before it disappears).
Bake in oven for 30-40 minutes. Cool (off) in pan on wire rack then cut into squares and enjoy! (&#33)
Makes 1 dozen.
Notes: If you use a gluten-free chocolate you will have a fantastic tasting gluten-free brownie! No errors here!
If you like our recipes (and our humor), please subscribe to our newsletter below.