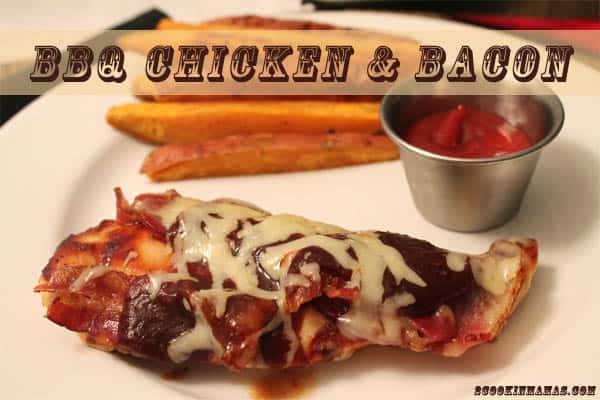 This is one of those comfort foods that you think of when the weather gets chilly. Something that will stick to your ribs and keep you warm all night. And it is so easy to make and so good you will wonder why you didn't make it sooner. It is also a quick dish that can be whipped up right after work, in-between all the kids games and practices and still have time to help them with their homework.
I tried to make it a little more healthy by using low-fat cheese and a BBQ sauce without all the extra sugar and fillers. The chicken is a good lean protein and baking it saves some calories as well. And it's gluten-free!
Serve with sides of your favorite slaw and our delicious crispy baked sweet potato fries. (see recipe below)
Enjoy!
BBQ Chicken and Bacon Bake
Ingredients:
4 boneless, skinless chicken breasts
Salt & pepper
1-2 cups Organic BBQ sauce (No high fructose corn syrup, non-GMO & gluten-free)
8 slices nitrate-free bacon, cooked
1-1/2 cups low-fat Cheddar cheese, shredded
Directions:
Preheat oven to 350 degrees. Spray a rectangular baking dish with a non-stick spray.
Season chicken breasts on both sides with salt and pepper. Lay in single layer in prepared baking dish. Pour BBQ sauce over chicken. Bake in oven for 25-30 minutes or until chicken is cooked thoroughly. Remove from oven. Top each breast with two strips of bacon, sprinkle on cheddar cheese, then return to oven for 5 minutes or until cheese melts.
Serves 4.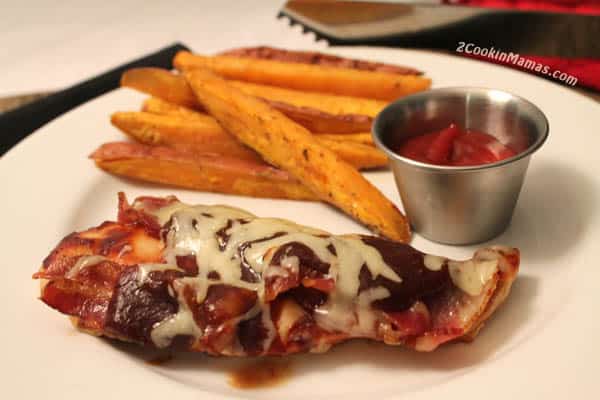 These sweet potatoes fries come out great every time I make them. I learned the secret long ago of making them crispier – put them in an ice water bath for about 1 hour and it makes all the difference in the world. These are the perfect accompaniment to the BBQ chicken above.
Baked Sweet Potato Fries
Ingredients:
4 sweet potatoes (try to get relatively smooth, medium-sized potatoes)
Salt & pepper
Olive oil
Seasoning of your choice such as 1/2 teaspoon cayenne pepper, 1/2 teaspoon garlic powder or 2 teaspoons chili powder (adjust to taste)
Directions:
Preheat oven to 425 degrees.
Cut sweet potatoes into long thin strips. Place in a bowl of ice water for about 1 hour. This will remove some of the starch from the fries so they crisp up better. Remove from water, rinse well and pat dry. Place in bowl or large ziploc bag and season with salt, pepper, seasoning (I used cayenne pepper in mine) and about 2-3 tablespoons of olive oil. Toss well.
Lay out on a cookie sheet in a single layer. Use 2 cookie sheets if needed. You do not want them touching each other. Bake for 15 minutes, turn, and continue baking for another 15 minutes.
Serves 4.

Want to be healthier this winter? Check out all the benefits of sweet potatoes.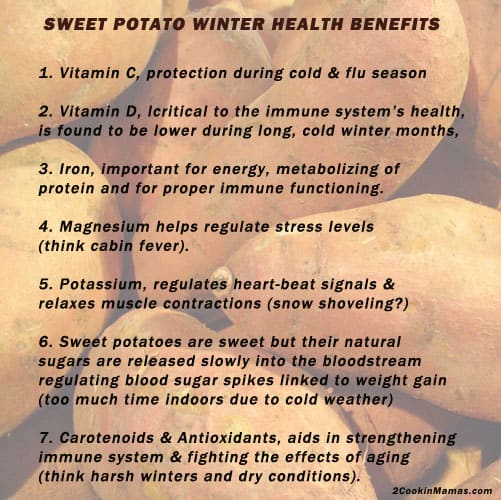 Be sure to follow us on your favorite social media! Instagram, Pinterest, Twitter and Facebook. If you make one of 2CookinMamas recipes, remember to tag us with the hashtag #mamacooks!