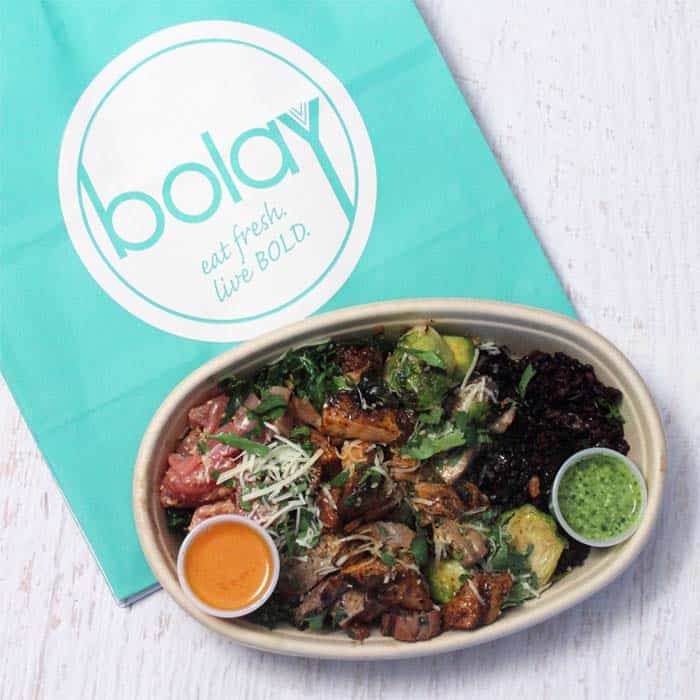 I received an invitation to attend a pre-opening event for a new restaurant in Wellington called Bolay. Bolay is the brainchild of Tim & Chris Gannon. Tim Gannon is the co-founder of Outback and Chris Gannon, his son, is the inspiration behind this restaurant's unique concept.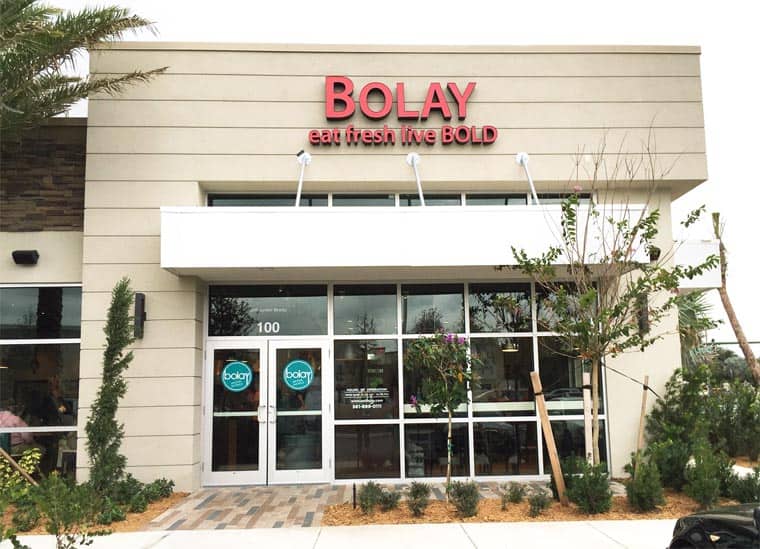 You will be bowled over (pardon the pun) by their fresh, healthy approach to fast food. It certainly impressed me! They have built their restaurant around the concept of build-your-own bowls that are packed with nutrient-rich super foods and flavorful proteins that have incredibly bold, invigorating tastes, all providing excellent value for the price.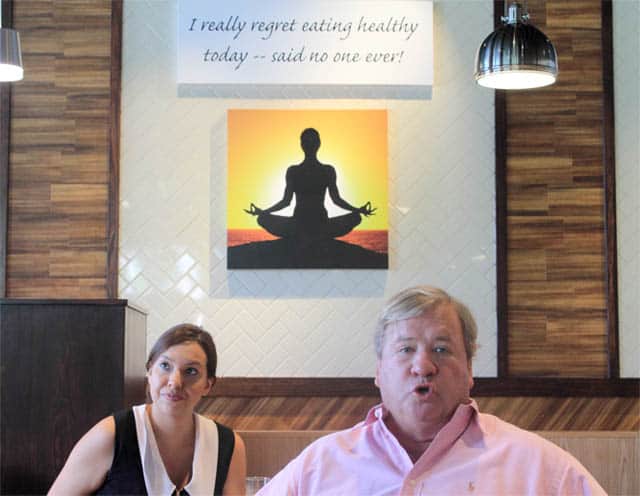 As Tim explained, these types of foods are not only good for you but you feel great after you eat them rather than sluggish and tired. Both Tim & Chris want the customer to think the food is incredible first, then remember, oh by the way, it's good for you, then see the value. Small bowls run about $8 each while large bowls price out around $10. A definite place to visit for the health-conscious and the want-to-be health conscious. I brought a bowl home for my husband to try and he enjoyed every last bite. He loved the flavors and even suggested we journey up there, about a 45 minute drive for us, and eat there once it opens. I'm up for that!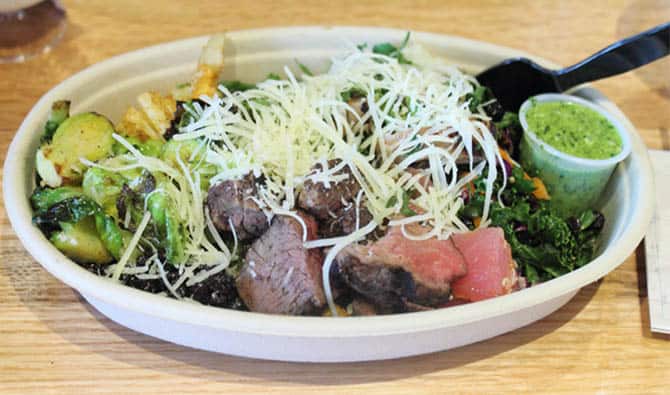 When I arrived at the door I was immediately greeted and introduced to both Tim and Chris Gannon. Both wonderfully down to earth people that really believe in their concept. They spoke at length about their commitment to freshness, of changing the way people eat by giving them nutritious foods with bold and innovative flavors, all for a reasonable price. They want people to feel that the food is worth coming back for!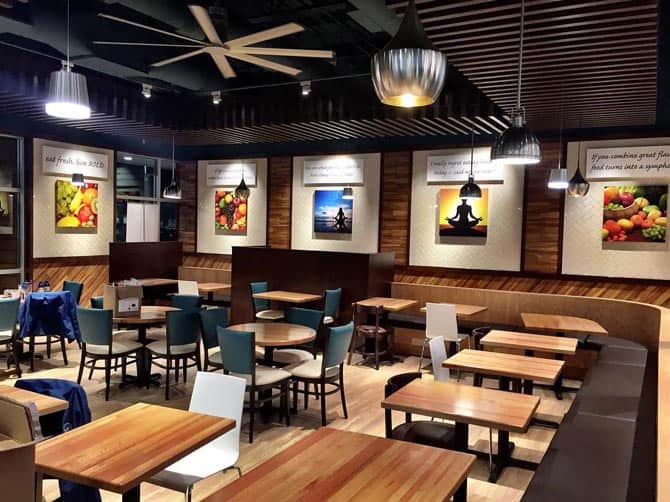 The dining area was bright and airy with a clean feeling about it. Very modern and appealing with comfortable seating and views through to the kitchen. With no oils being used in the cooking, the air had a fresh quality to it. I loved their sayings and photos on the wall leading to the bowl prep area. I think my favorite is the one shown below. So appropriate for this restaurant's concept.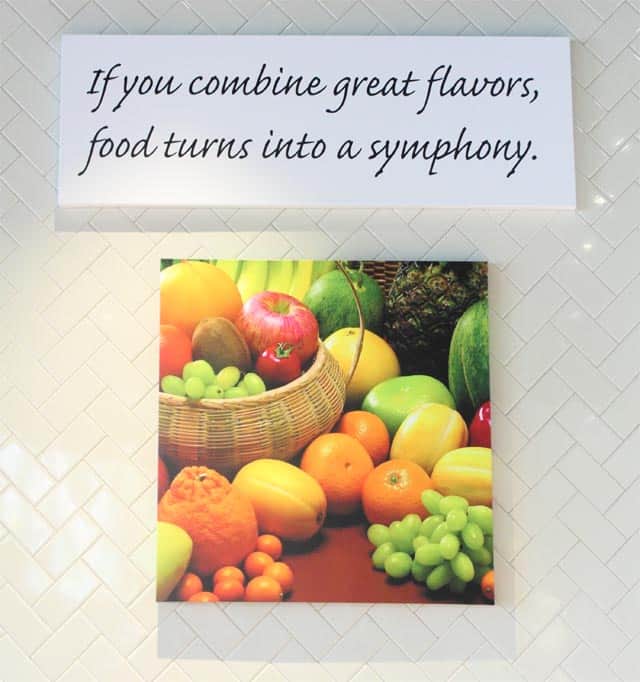 They first introduced us to their line of cold-pressed juices, created by J.T., a juice aficionado, and Chris, all off which are pressed fresh on the premises every day.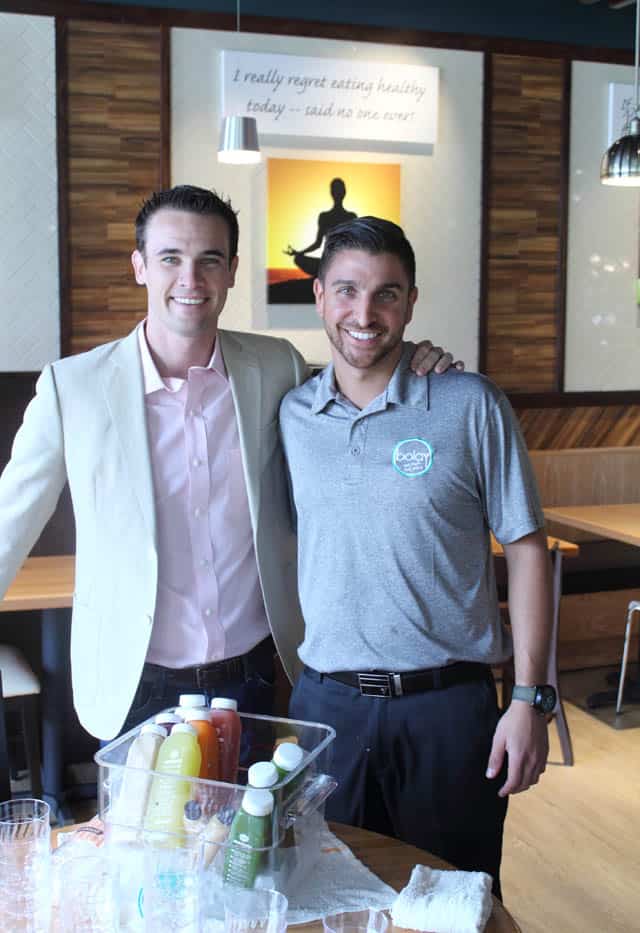 In fact, they purchased a $30,000 machine to extract the most nutritional and flavorful juice from their fruits and vegetables. Just look at this monster!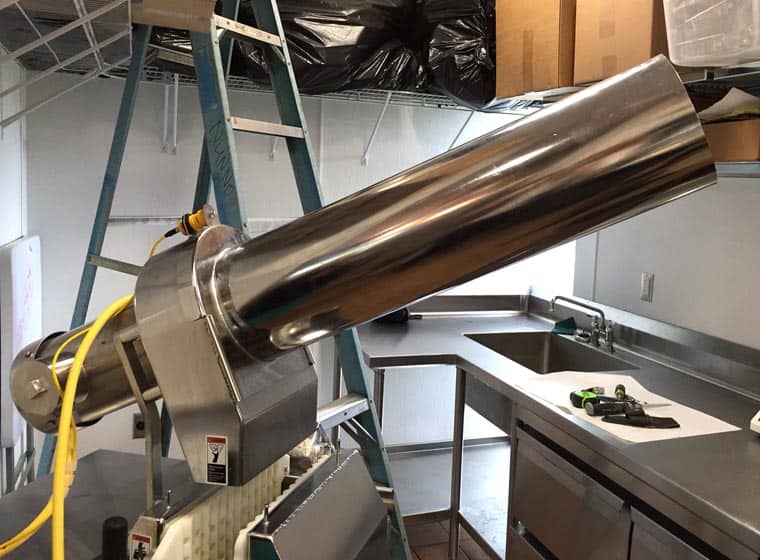 It actually compresses the produce under 10,000 pounds of pressure and even re-presses the solids again to extract the most juice. No aeration is used in the process, as most home juicers do, so there is no oxygen to kill the nutrients. They do not pasteurize their juices so shelf life is limited to 72 hours (if they last that long on the shelf!) Each bottle is 12-ounces and will retail for $6-$8 each. A 12-oz. bottle makes an excellent quick breakfast or pair it with a small bowl for a healthy, satisfying lunch. It's a great way to get your 2-1/2 servings of fruits & vegetables you need each day.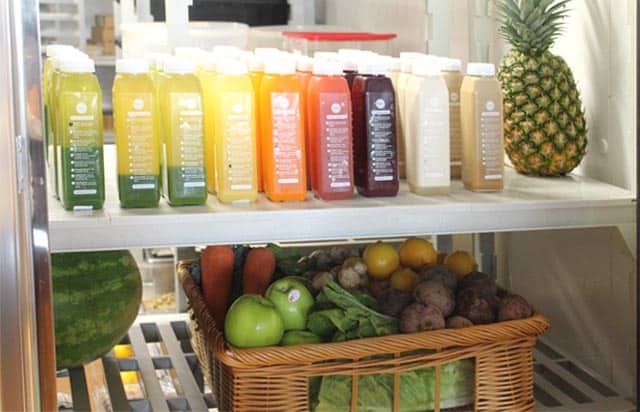 They have a special "juice" team that prepares their 9 flavors (2 of which are fresh almond milk beverages) everyday. We tasted the full range of juices from their Pineapple Express, a great juice for beginners with more sweetness than most juices & a hint of spice from the ginger, to Beets By Bolay, a juice comprised of beets (duh) mint, watermelon & lime, which I didn't think I would like but was so delicious that I know I would definitely order again, to the hardcore Popeye, a concoction of spinach, parsley, romaine, kale, cucumber and lemon. Other juices included:
Berry Gold: strawberries, blueberries, pears, lemons, lime and chia seeds, added to help create a sense of fullness.
14 Karat: carrots, pineapple, tumeric and cardamon infusion (you just have to try this one!)
The Gatsby: kale, romaine, parsley, lemon, apple, pineapple, ginger (another of my favorites)
Mid-Fielder: kale, romaine, spinach, cucumber, parsley, apple, pineapple, ginger & lemon (a fantastic green juice with just enough sweetness to it to set it apart from the Popeye)
They also have some excellent infused teas on hand, with no added sugars, including regular sweet tea, Hibiscus Raspberry, Honey Mint Green and, my favorite, Hawaiian Pineapple, as well as wines and local craft beer.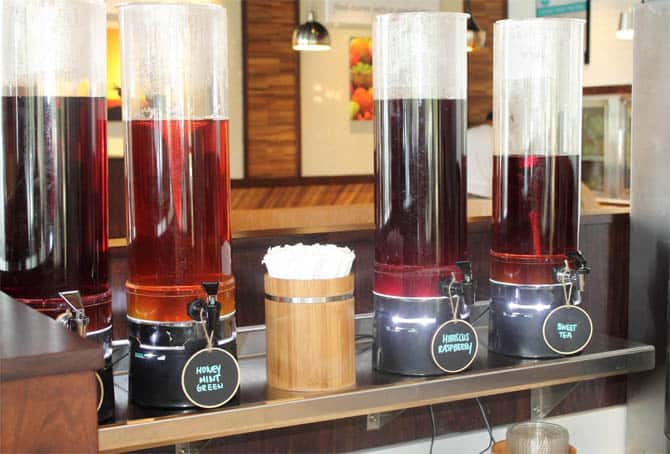 Next we were invited to build-our-own bowl, small ones consist of 1 of each of the categories while large bowls consist of 2 of each. If you don't want the hassle of preparing one of your own bowls there are chef suggestions that you may choose between.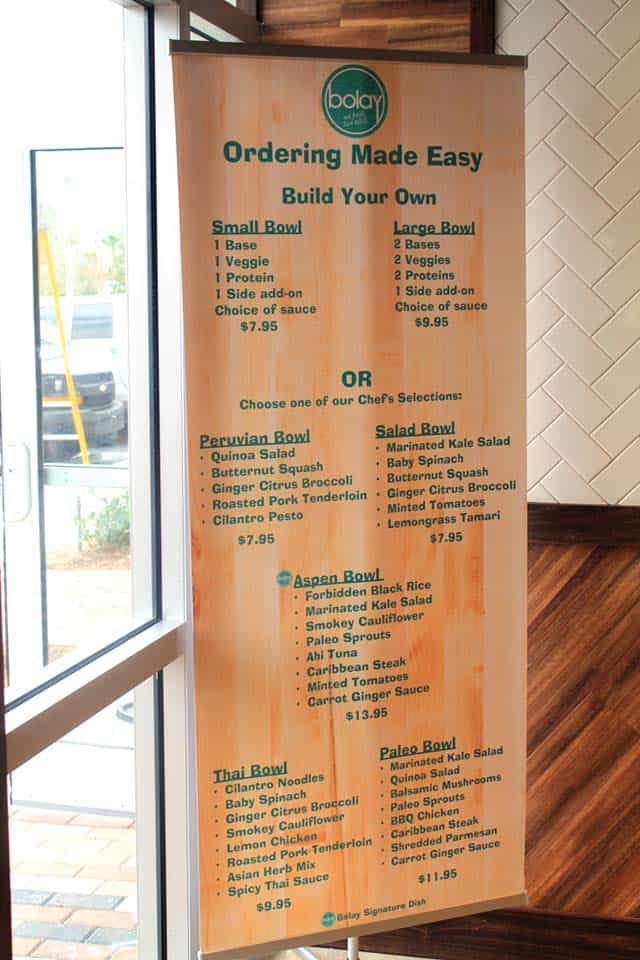 First we chose our "Cover Your Bases" selection that included Marinated Kale & Currant Salad (awesome!), Peruvian Quinoa, Forbidden Black Rice (definitely give this one a try), Basmati Rice, Cilantro Noodles and Baby Spinach.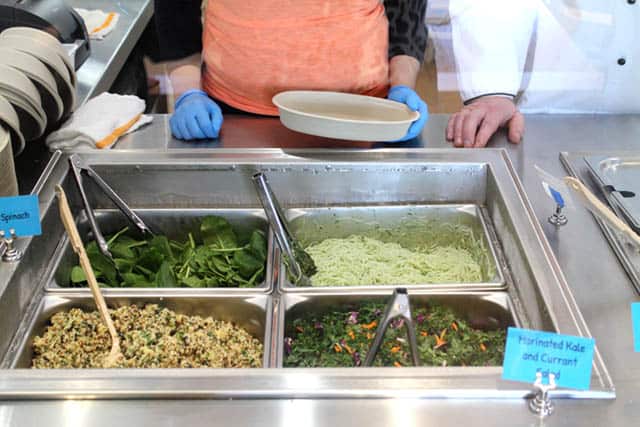 Next we "Toss On The Veggies" with selections ranging from Broccoli with Ginger Orange Glaze, Balsamic Mushrooms, Maple Roasted Butternut Squash (a seasonal selection), Smokey Cauliflower (yum!) and my favorite (and I hate brussels sprouts) Brussels Sprouts with Caramelized Pancetta. (psst..I need that recipe Martin!)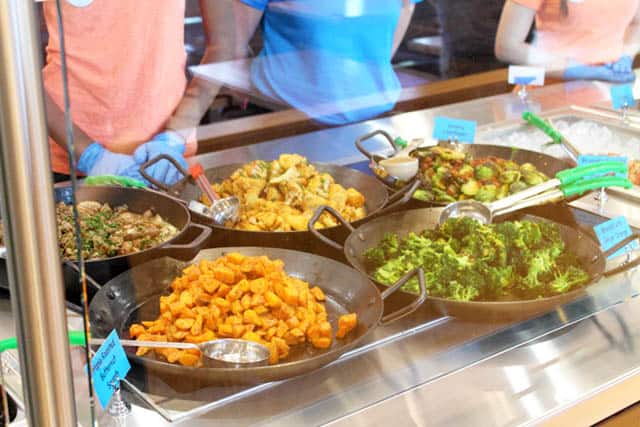 This would have been plenty to fill me up for lunch, all rich super foods, but then we got to choose a protein. You can choose between Lemon Chicken, BBQ Chicken, Caribbean Spiced Steak (perfectly cooked & seasoned), Pork Tenderloin, which is actually cooked in pear juice, or Sesame Tofu. You can also add ahi tuna for a $2 extra charge, which I would highly recommend. It was fresh, flavorful and tasty.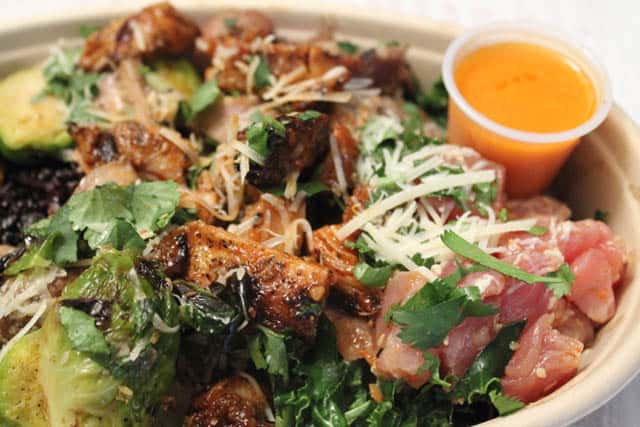 Lastly, we chose our "Sauce it Up" option, with an assortment ranging from Lemongrass Tamari to Spicy Thai Cilantro Pesto (oh so good) to Carrot Ginger Sauce (shown above – I want a whole bottle of this!). The sauces are served in a small separate container to add as you wish. There are a few side add-ons, if you want to load up your bowl with even more, such as minted tomatoes, Parmesan cheese, Asian herb mix (fresh & delicious) and goat cheese crumbles.
As we oohed and aahed over our bowls, Chef Martin Oswald, the curator of the Bolay menu, sat down to chat with us. Chef Martin is a former protégé of Wolfgang Puck, served as a chef in many restaurants across Europe and currently serves as top chef at Pyramid Bistro, an Aspen Colorado restaurant. He was approached by Tim and Chris last July to bring his expertise of using nutrient-rich, healthy foods infused with spices, to their latest venture.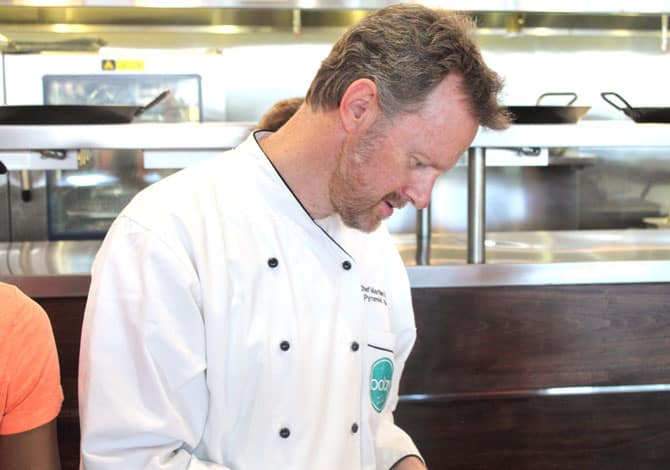 He had such an interesting story to tell of what brought him to create this type of food. For 16 years he worked in high-end food restaurants full of food laden with fats and empty carbs. About 6 years ago, he was diagnosed to be in a pre-diabetic state and made the decision to start eating a healthy, nutritarian diet, a diet made famous by Dr. Joel Fuhrman. The diet focuses on nutrient-dense foods, cooked without the use of oils, to which he added his love of spices, infusing these foods with bright, innovative flavors. In the process he lost 35 pounds in 2 months and hasn't looked back since. His passion for food shows in every choice that is offered.
All the food served at Bolay is cooked without oil, just juices and broths, is gluten-free, and has special spices and herbs that boost the natural flavor of the foods. Since there is such a wide selection of items to add to a bowl, Chef Martin and the Gannons made sure that each flavor added to a food would pair well with the flavor of every other item, a tall order indeed. But they did it! And with palate-pleasing results!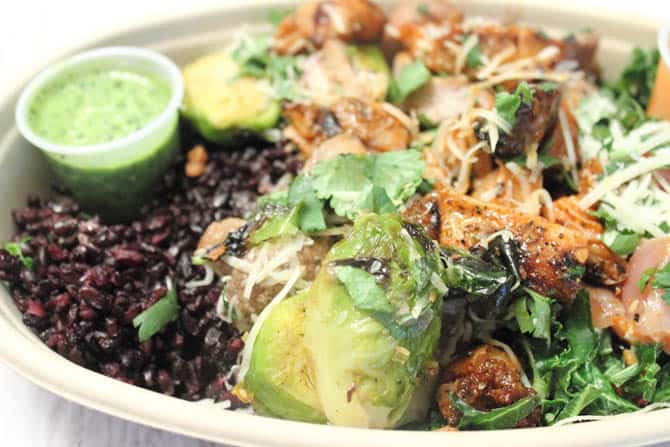 Oh, and if you have room after devouring your meal, they have the most incredible, you won't believe its gluten-free, Chocolate Chunk Cookies for dessert. Not into cookies? Try their Wild Berry Cobbler, Peanut Butter Pot De Creme or their Soy & Dairy-free Chocolate Mousse.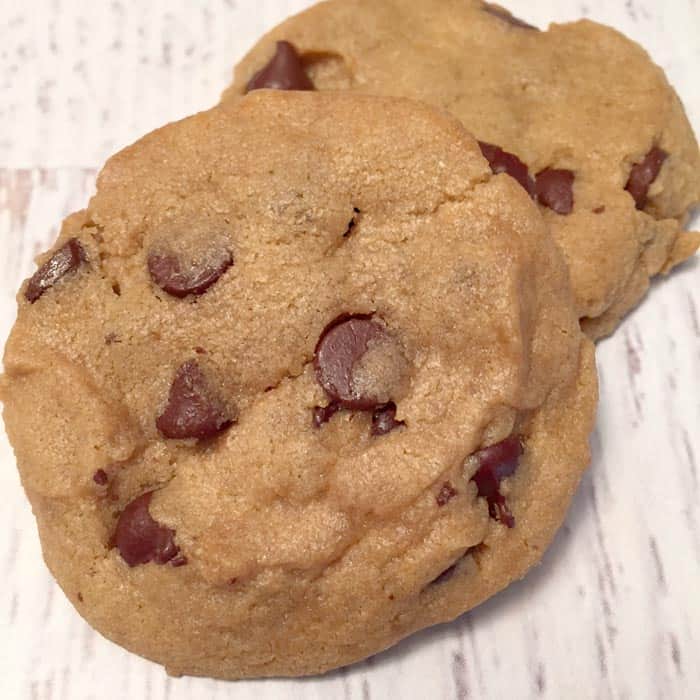 In the end I enjoyed this experience immensely. The food was of the highest quality, flavors were both bold and fresh, and the choices were broad enough to suit anyone dining there, whether vegetarian, paleo, gluten-free or none of the former. I will definitely be making the trip back up to Wellington and hope, in the near future, that Tim and Chris open one in our town. Believe me, you'll wish you had this restaurant in your backyard!
Bolay is located in the Buckingham Plaza, 250 S. State Road 7, Wellington, Florida. It will officially open its doors on Friday, February 26 at 10:30AM and will be open until 10PM every night. I hope you get a chance to try this fantastic restaurant. Here's to your health!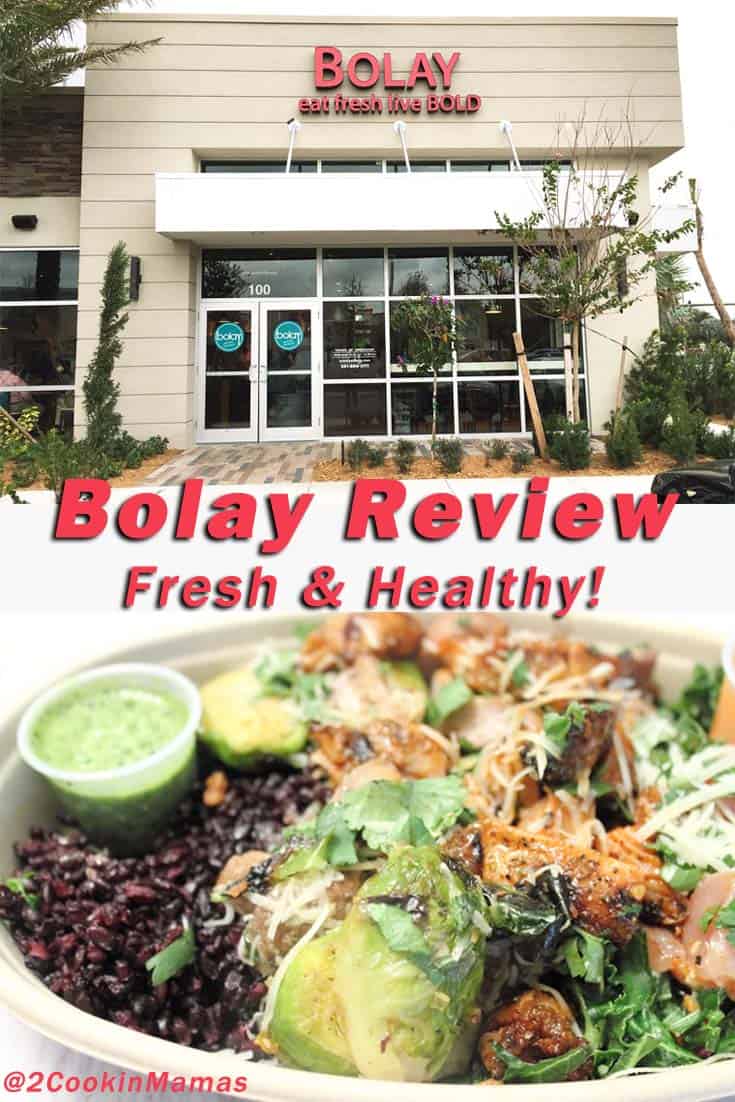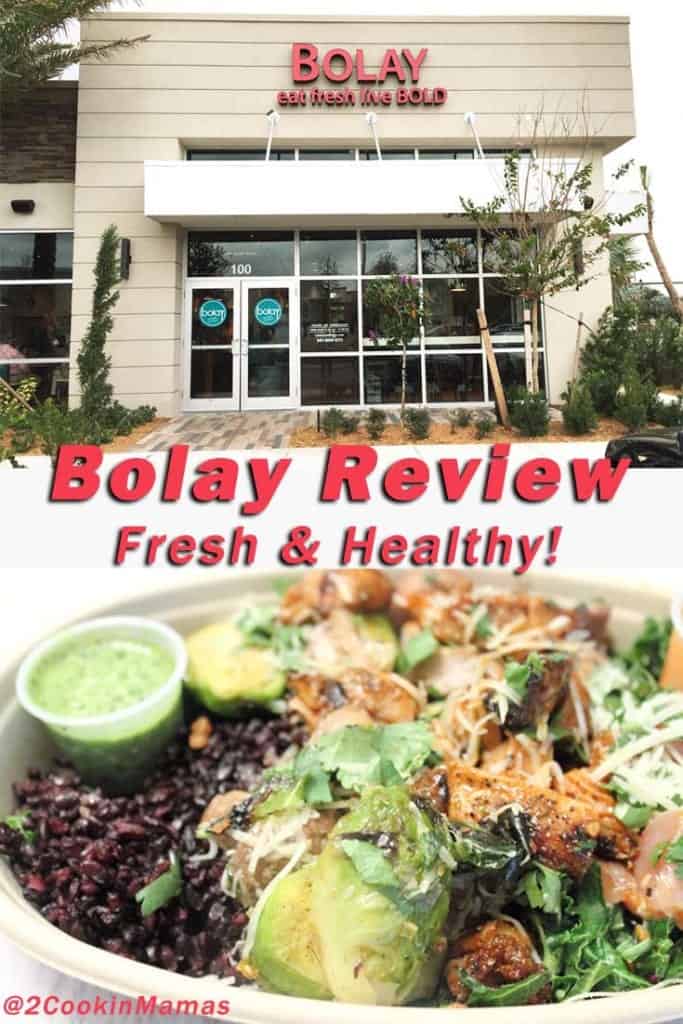 Disclosure: I received a complimentary lunch & gift certificate to review this new restaurant. As always, all opinions are 100% my own.