Breakfast is my favorite meal of the day – make it yours too with this delicious Tex-Mex recipe.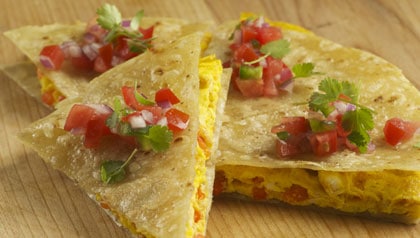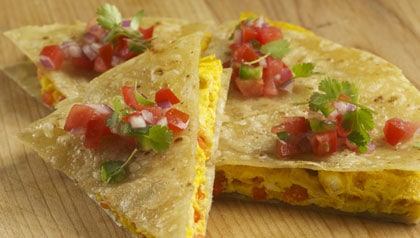 Breakfast Tex-Mex Quesadillas with Creamy Salsa
Total Time: 30 minutes – Serves 4
Ingredients:
8 slices bacon
1/2 cup chunky salsa
1/4 cup fat-free sour cream
1.75 cups shredded Mexican-blend cheese, divided
1/2 cup red onion, diced
6 large brown eggs, beaten
1 tsp. vegetable seasoning
4 – 10″ whole wheat flour tortillas
Cilantro & diced tomatoes, optional for garnish
Directions:
Cook bacon, following package directions, until crisp. Set aside.
Combine salsa, sour cream, and 1/4 cup cheese in small bowl and place in refrigerator.
Preheat large pan on medium-high heat. Spray pan with non-stick cooking spray and cook onions for approximately 3-4 minutes or until they begin to brown.
Stir in eggs, 1/2 cup cheese, and vegetable seasoning and cook until eggs are firm.
Equally divide egg mixture on 1/2 of each tortilla. Top with 1/4 cup cheese and 2 slices of bacon. Fold in half and return to pan two at a time, lightly coated in non-stick cooking spray. Cook 2-3 minutes per side or until golden brown.
Take out creamy salsa mixture from refrigerator and serve with warm, gooey quesadillas.