2012 Burgans Albarino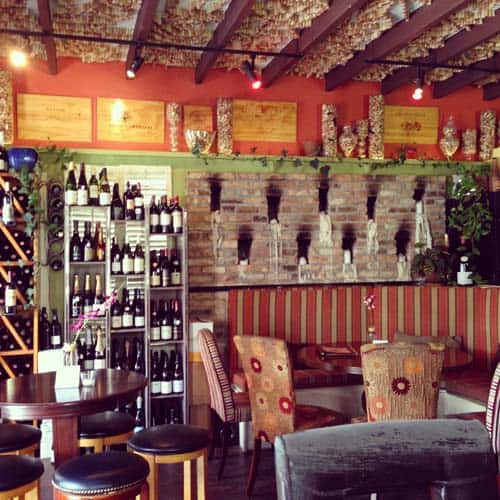 We stopped by a wonderful wine bar, Vinos on Duval, during our vacation week in Key West. It had a very comfortable and inviting feel with an eclectic decor. I loved the corks which decorated the ceiling and filled every container around the room and the wood from the wine crates which they used to make the bar as well as pictures to decorate the walls.  The interior was filled with comfortable chairs and couches and they even had a few tables on their covered front porch.  We had just ridden around the island on our bicycles and wanted something refreshing to try so we asked the bartender, Samantha, which wine she would suggest. She allowed us to try the 2012 Burgans Albarino, produced at Bodega Martin Codax one of the top producers of Spanish Albarino, and we were sold on it!
What a wonderfully light and crisp white wine selection and perfect for the warm weather. The wine was light yellow in color with flavors of lemon, apricot, peach and tropical fruits that suited the island of Key West perfectly. It had a mellow feel in the mouth with a well balanced minerality that kept the wine from being too sweet and a full, fruity, off dry perfect finish. I would definitely purchase this wine again.
Food Pairing: The classic pairing with this light fruity wine is seafood but it pairs surprisingly well with other dishes as well. It's low alcohol content and fruit-driven flavors allow it to accompany spicy Asian or Mexican cuisines and its crisp clean body compliments tapas, chicken, ham, vegetables and medium-bodied cheeses.
Price: $13.99

Rating: 4/5 corks