An easy way to fix a spectacular Chicken Cacciatore meal where everything's in the bag. That means no cleanup and a delicious dinner in no time!
Everyone loves easy dinners and, I don't know about you, but I love easy clean up too. This recipe fulfills both of my requirements hands down. The secret? A simple cooking bag that you actually cook dinner in. Sounds crazy but it really works. I use them all the time at Thanksgiving and Christmas for my turkey and everyone wonders why mine always come out so moist and delicious.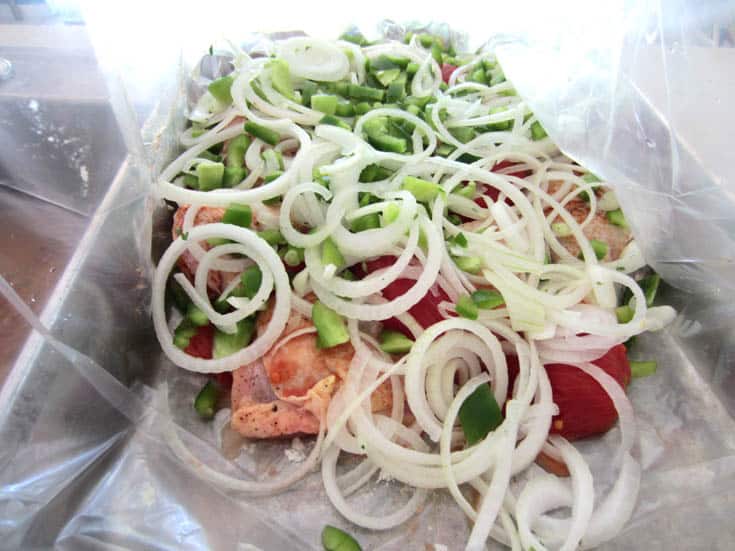 I love quick & easy recipes like Bacon Mac & Cheese Skillet or Southwestern Chicken Casserole but this Chicken Cacciatore recipe has got them beat hands down! It's hassle-free and comes together super quick for my "not enough hours in a day" busy weeknights. All you need to do is place a cooking bag in a large roasting pan, add all the ingredients inside, seal it up and bake. What comes out is a moist chicken with plump tomatoes and onions in a gloriously tasty sauce. Your family will think you took hours preparing dinner but I won't tell. It will be our secret. 🙂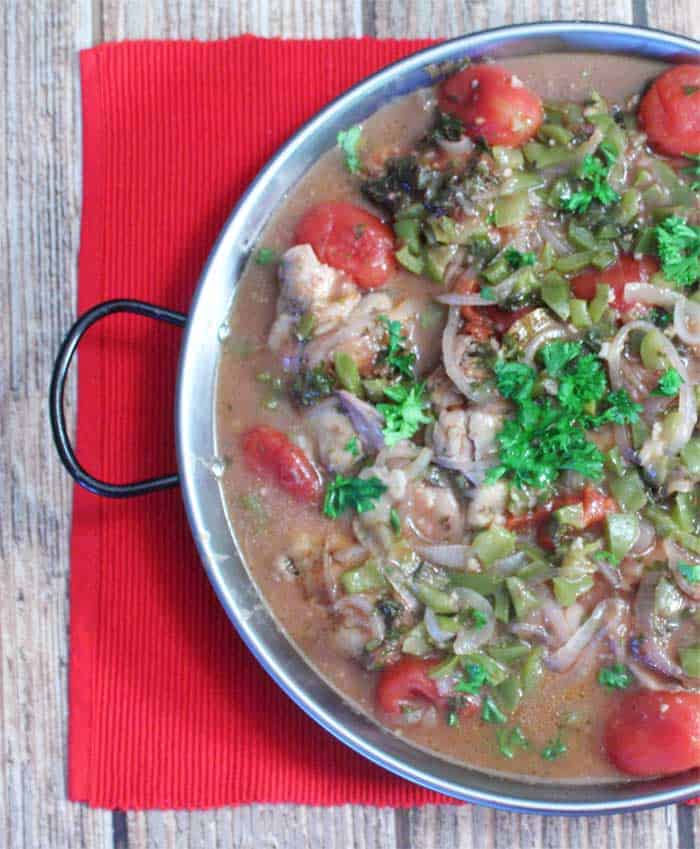 This has always been a favorite recipe of both my husband and myself and has a story that goes with it. I first made this chicken caccaitore recipe when I moved into my first apartment years ago. We had just gotten married and I decided to make it for dinner. My husband came home and entered the kitchen just as I was taking it out of the oven. As I did, the pot holder slipped and I wound up throwing our dinner across the room. (no worries though, it was in the bag) Now he always refers to it as chicken "throwatore". See, really fond memories, for him anyway. lol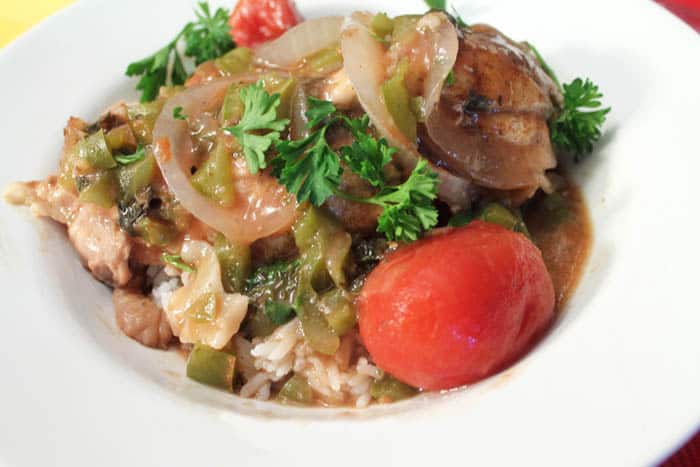 This recipe is definitely a win-win dinner – delicious, quick and hardly any clean up! It's great to serve over rice, my standard, but you can serve over pasta or quinoa as well. Enjoy!
Chicken Cacciatore
Ingredients:
Large size cooking bag
1/4 cup + 1 Tablespoon flour
1 (2-1/2-3 lb.) fryer, cut-up
1 teaspoon salt
1/4 teaspoon pepper
1 teaspoon paprika
1 green pepper, diced
1 cup thinly sliced onions
1 (1 lb. 12 o.z) can tomatoes, drained (reserve liquid)
1 teaspoon oregano
2 Tablespoons fresh basil, chopped
1 teaspoon minced garlic
1/4 cup fresh parsley, chopped
1 bay leaf
1-1/2 teaspoons sugar
1/2 cup dry red wine
Directions:
Preheat oven to 350 degrees.
Place oven bag in a large roasting pan. Sprinkle 1 tablespoon flour in empty bag & shake to distribute. The flour helps the fat & juices to blend and protects the bag from bursting.
Wash & pat dry chicken pieces then season with salt, pepper and paprika. Place chicken pieces in bag. Top with diced pepper, sliced onions and whole tomatoes.
Mix remaining tomato liquid with 1/4 cup flour and stir until well blended. Add remaining ingredients and stir until blended. Pour liquid over chicken in bag.
Close bag with twist tie and make 6 slits in top of bag for steam to escape. Place in preheated oven and cook for 1 hour 20 minutes.
Remove bay leaf and serve over rice, pasta or quinoa.
Makes 4-6 servings.
Wine pairings: Serve with a Pinot Noir, Chianti Classico, Zinfandel (the red version, not blush), Sangiovese or Italian Red. I served Bosco Montelpuciano D'Abruzzo, a gift from our Italian neighbors.