2010 Chilensis Reserva Pinot Noir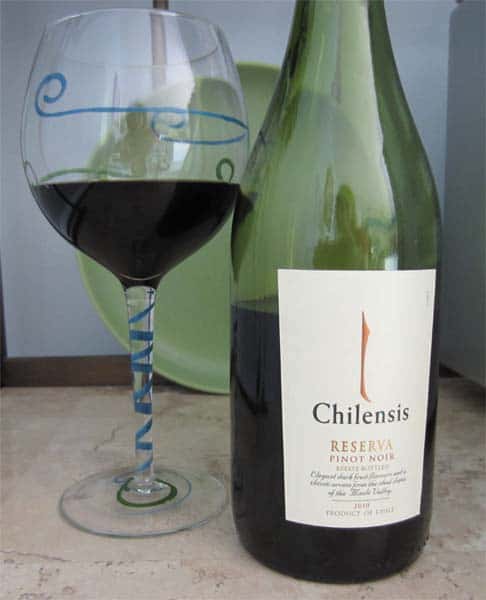 This pinot noir is from the Maule Valley of Chile and makes an excellent addition to your summer wine list. The wine has a wonderful aroma and an oh so slightly sweet flavoring reminiscent of raspberry and blueberry pie filling. There is a hint of chocolate and a clean finish. A nice, slightly dry, smoky flavor prevails. It even won a silver medal at the World Wine Championships with a rating of 86 points.
In general, Pinot Noirs are light to medium-bodied red wines made from the classic black Pinot Noir grapes grown all over the world. They normally have vibrant fruit aromas and pair well with many kinds of dishes. This particular wine is a medium-bodied wine with the tangy taste of cranberry mixed with the sweet taste of blueberry and just a hint of chocolate and nuts. So, if you are not in the mood for a very dry Cabernet, or just don't like the heavier bodied wines, this is a perfect choice. And it is truly a great buy for a decent Pinot Noir.
Food Pairing: Pairs well with shellfish in cream sauces, chicken, pork, steaks and roast beef and goes equally well with cheeses.
Price: $9.99

Rating: 3.5/5 corks
Here are some other Pinot Noirs you might be interested in.
2010 Cooper Station Pinot Noir
Want more Pinot Noirs? Check out wine.com for fantastic selections.