Need a cup of coffee in the morning before anyone can talk to you. Then you need the Keurig 2.0 coffee system! Easy single cups or carafe pots of coffee at your command. See my Keurig 2.0 review below.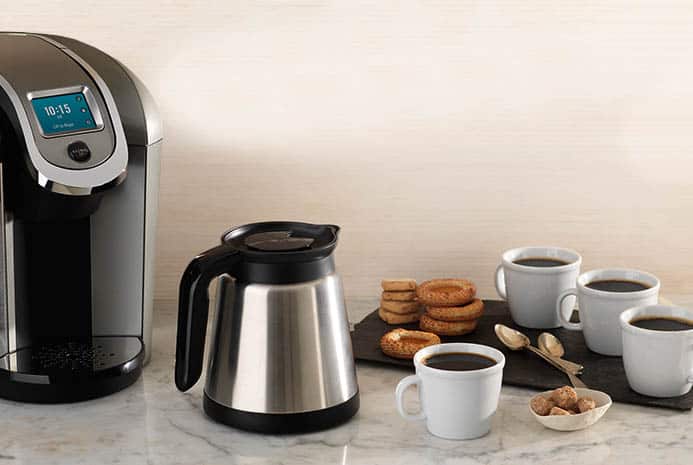 I don't know about you but when I wake up in the morning the first thing on my mind is a cup of coffee. First things first I always say! So I head to the kitchen to grind some beans, get a filter, pour in the appropriate amount of water , measure the coffee and then start brewing. Now that's a lot of work when you are only half awake!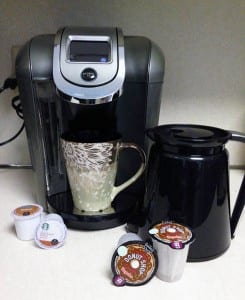 So when I received a complimentary Keurig 2.0 from Keurig and Influenster to review I didn't know how much easier they were going to make my mornings! The first thing I noticed was how stylish its design was and how well it fit with my other kitchen appliances. The second was that it would brew an entire carafe, which I sometimes, OK most times, need in the morning, as well as a single cup. Now that's an improvement I can live with!
It's also a very polite coffeemaker, welcoming me in the morning, letting me know when to lift the handle after the water was hot, and telling me to enjoy my coffee when it was done dispensing. Check out my short Instagram video on how it works.
Other great features include the extra large water reservoir, which is a blessing! No more filling up a cup and pouring in it each time you want a cup and it holds enough for a few days. Definitely one of the pluses of this new system. I also like the fact that you can brew it regular strength or stronger with a 4-oz., 6-oz and 8-oz setting for single cups. Makes it great when my sister comes, she likes coffee so strong it will make your hair stand on it, so she makes 1 4-oz. K-cup of regular coffee and 1 4-oz. K-cup of decaf and mixes them together. She was so happy she was dancing around the room – or maybe that was just due to too much caffeine? 🙂
Oh and I almost forgot, I love the fact that the K-carafe pods are recyclable. The pods have an easy tab to pull once you are finished brewing and it takes the coffee grounds and filter out together in one easy  to throw-away pack. Then you can throw the pod itself into your recycling bin. I am hoping they do this with the smaller K-cups as well in the near future.
There were a few negatives as new products always seem to have but they were minor. One was that the K-cups you use have to be Keurig cups but I have since seen that other makers of K-cups are making them Keurig compatible so it is not as big a deal as I thought it would be. I also think the coffeemaker is slightly on the noisy side when trying to pull the water from the side reservoir. I have kind of become immune to it now but I will look to future models for an improvement on that end. See, I told you they were minor issues and, overall, I am as happy as a truly inspired caffeinated person can be!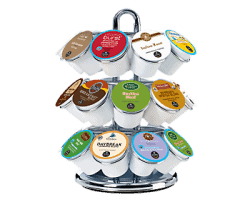 It also came with different flavors of K-cups and a number of Carafe pods so I got to try several different flavors. Bingo, I hit the jackpot! And they were all great although I have to say my favorite was Breakfast Blend but recently I bought the Creme Caramel and for an afternoon pick-me-up this one is awesome.
So head on over to Keurig and take a look at this new stylish coffeemaker and let me know what you think.
As always the opinions expressed in this post are my own and are not influenced by the complimentary offering.