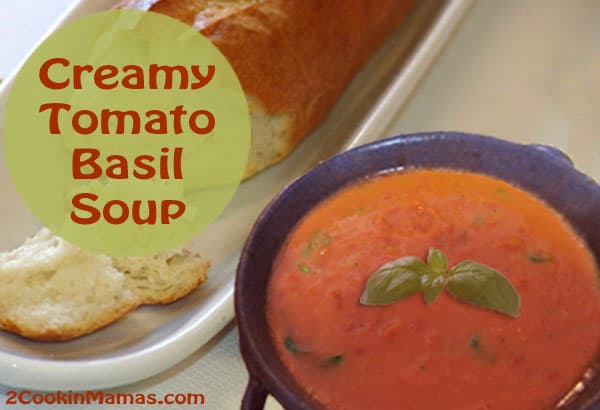 Recently I had lunch at a small little French bakery in town that served the most delicious tomato basil soup that I have ever had. So of course I had to try my hand at duplicating the recipe or at least try to come close to their flavorful rendition as I could. It really turned out especially delicious and got rave reviews form the hubs. Mission accomplished!
Creamy Tomato Basil Soup
Ingredients:
2 Tablespoons olive oil
1 large onion, diced
2 red pepper, diced
4 cloves garlic, minced
3 lbs. Italian plum tomatoes, skinned, seeded and diced
3 cups chicken broth

1/2 cup fresh basil, diced

1 teaspoon salt
1/2 teaspoon black pepper

1 cup cream or plain Greek yogurt (fat-free half & half works as well)

½ cup grated Pecorino-Romano or Parmesan cheese
Directions:
Heat olive oil in a large saucepan over medium-high heat. Once hot, add the onion and red pepper, cook 5 minutes then add garlic for an additional 2 minutes. Add chopped tomatoes and chicken stock. Simmer for 30 minutes, stirring occasionally.
Puree mixture, leaving a little texture if desired, then return soup to saucepan. Add basil, salt, pepper, cream and cheese and  continue to cook until heated through.
Serve hot with our easy french bread and a wine that is light and without high tannin levels such as Slingshot Sauvignon Blanc or Pinot Grigio.
Makes 4-6 servings.
DON'T MISS A RECIPE!