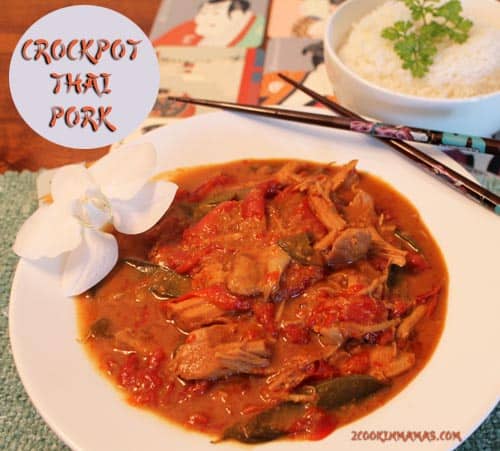 Happy June!
Do you ever have those weeks when it seems like you will never catch up to all the things you have to do? My house looks like a tornado struck it with half accomplished tasks left out for all to see. I have been trying to work on my photography through an online course, so of course I have my light box set up on my dining room table, make more wine coasters to keep up with orders (which also happens to be on the dining room table), redo our cookbook to fit a gluten-free, cow dairy-free diet and prepare all my recipes for the upcoming week. Whew! I am tired already just thinking about everything I have to do.
In any case, dinner called for an easy, get it done without much additional work recipe so I turned to my trusty crockpot. My husband and I have been on an Asian kick lately and I had a few pork chops in the freezer so why not create a one dish Thai style meal. Brilliant! I looked up a few online and settled for a cross between three of them.
Well, it sure smelled good while it was cooking and when it was finally done my husband raved about it. Yay! He said it was even better the second day when he brought it to work for lunch. (with jealous coworkers wanting to know where theirs was)
Hope you enjoy it as much as we did.
Crockpot Thai Pork 
Ingredients:
¾ cup chicken broth
¼ cup coconut milk (or white wine)
⅓ cup Tamari soy sauce
3 Tablespoons honey
1 Tablespoon minced garlic
2 Tablespoons ginger root, grated
1 teaspoon red pepper flakes (more or less depending on your heat preference)
⅓ cup natural peanut butter, creamy or chunky
2 large boneless pork chops or 4 small, about 1 pound
2 medium bell peppers, red, yellow or orange, sliced in long strips then cut in half
2 handfuls of fresh snow peas , 1 cup broccoli, chopped or ½ cup shredded carrots
2 green onions, sliced diagonally
¼ cup cilantro, chopped
¼ cup peanuts, chopped
Directions:
Add first 8 ingredients to your crockpot, stir to mix. Add pork chops. Cover and set on low for 5-½ hours.
During last hour, remove pork chops and shred. Return to cooker with peppers, snow peas and any other optional ingredients you choose. Cover and continue to cook for remaining cook time.
To serve, place in large bowl and garnish with green onions, cilantro and peanuts. Serve with a side of rice.
Serves 4.
Note: You can also use 1 cup of chicken broth and eliminate the coconut milk or wine.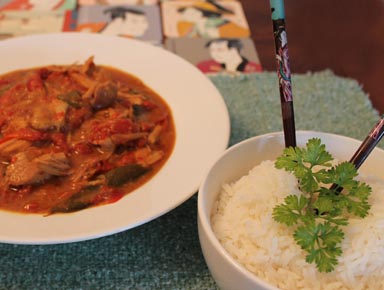 DON'T MISS A RECIPE!