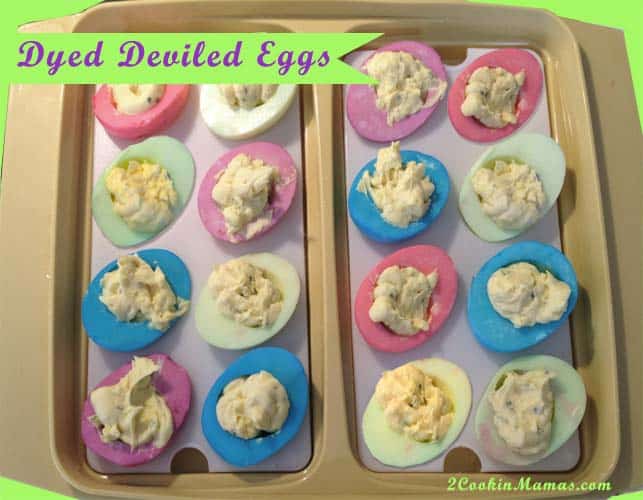 A new take on Easter eggs that will add a little color to your Easter meal, dyed deviled eggs.
Dyed Deviled Eggs
Ingredients:
8 hard boiled eggs
1/3 cup mayonnaise or Miracle Whip* (add enough to make very creamy)
1 teaspoon yellow mustard*
Salt & pepper to taste
Paprika for garnish
Food coloring
Directions:
Peel hard boiled eggs. Cut all eggs in half and remove yolks to a medium bowl. Mash yolks with fork then add mayonnaise, mustard, salt and pepper. Use enough mayonnaise so that the mixture is smooth and creamy. The amount of mustard you use will give it a tang so that can also be adjusted to your preferred tastes. Set aside.
In 4 small bowls, add water and enough food coloring to obtain your desired shade. I like the lighter pastels for Easter. Place the halved whites, one at a time, into a color. Eight eggs will make 4 halves in each color. Pat dry and place on serving plate or egg carrier.
Divide the egg filling between the egg halves and garnish with a sprinkle or two of paprika.
Makes 16 deviled eggs.
Happy Easter!
* For gluten free diets consider using Hellmans that is marked gluten-free as well as Heinz mayonnaise and  Annie's Naturals, Koops or Organicville mustards. Miracle Whip does not list any gluten containing ingredients but it is not certified gluten-free so use this brand with caution.
Get ready for Easter with these other fun & tasty recipes: