I love eating healthy and using products that keep me looking my best. After receiving a complimentary sample of e-Cloth's Face Cleansing Mitt to review I followed it up with my healthy clear complexion smoothie. As always all opinions given here are my own.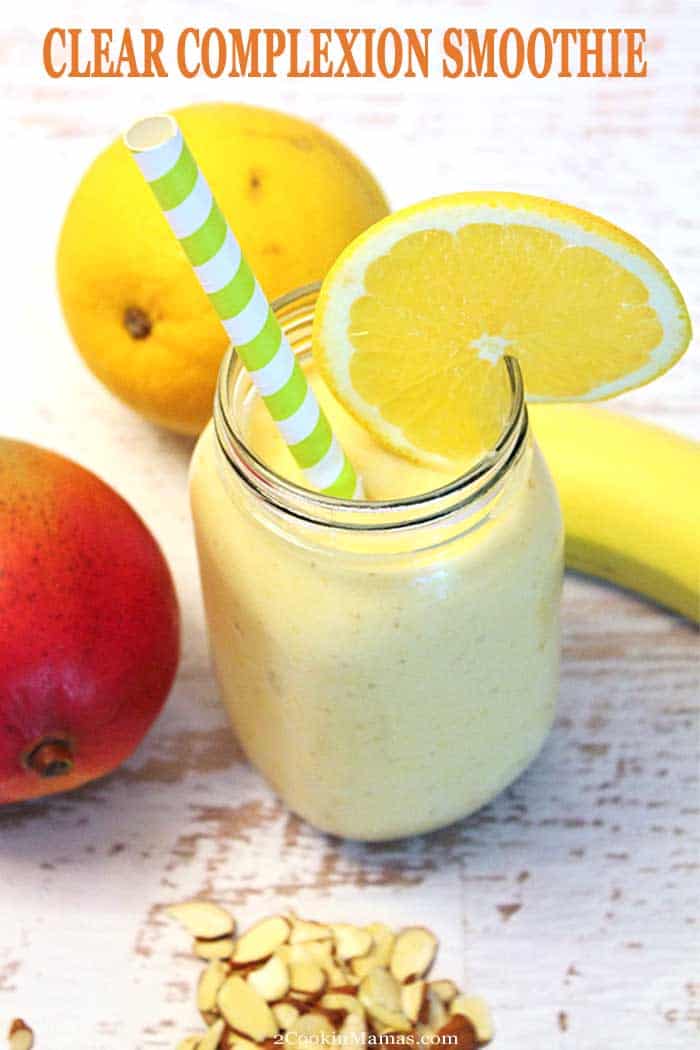 Is your skin sensitive? Do you break out from harsh, chemically-enhanced make-up removers and skin cleansers? Well this natural approach to skin care might be just for you.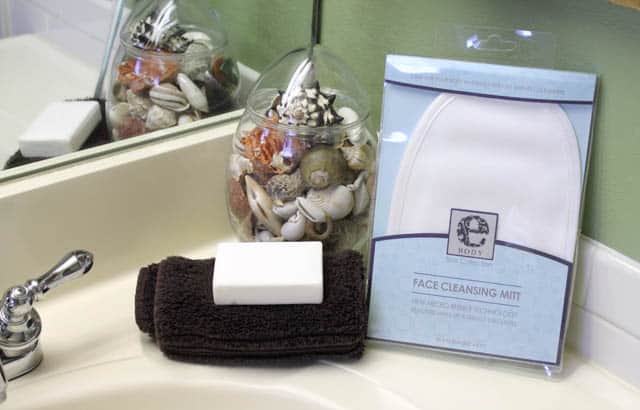 When e-Cloth approached me to review their eBody Spa Collection I said a resounding yes! They have a complete line of body products that help care for your body without chemicals, everything from eye cleansing pads to facial & body mitts to sports and bath towels. Since I am always trying to find a more natural way to clean my face, I decided to give the Facial Mitt a try.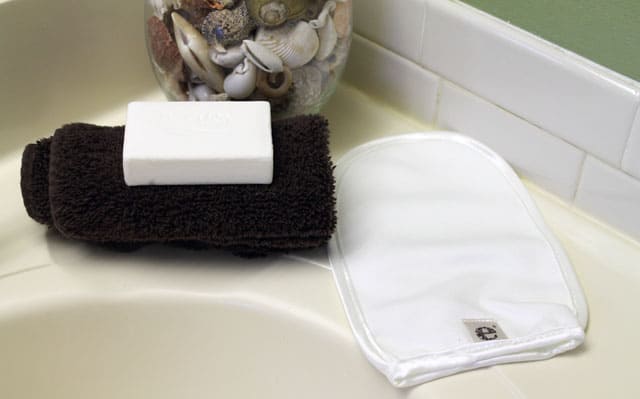 You probably know that most make-up products contain heavy chemicals and that everyday we are exposed to pollutants in the air, so wouldn't it be nice to be able to eliminate all the dirt build-up on our faces, wash away our make-up and excess oils without resorting to strong chemicals?
Well that is what the e-Cloth's eBody Spa Collection is all about. Their products claim to:
Eliminate dirt, skin impurities & excess oils
Remove make-up
Exfoliate (eliminate dead skin cells)
So now for the test. I used the e-Cloth Face Cleansing Mitt for one week (so far) and did notice a difference. The superfine fabric they use is very soft and gentle on the skin and, for some reason, makes soap lather up very well.  I wanted to see how clean it actually got my skin, so I cleaned my face first with my normal face and make-up remover pads and then with the Face Cleansing Mitt. Believe it or not, it removed more make-up when I thought I had thoroughly cleaned it. (ugh! see pic below)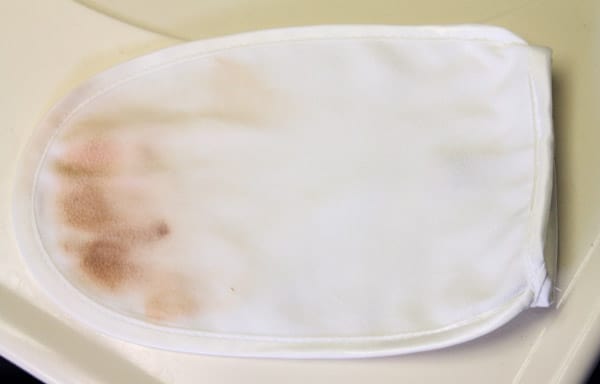 Another win – it will save you money! I know that my normal facial soap is a lot cheaper than the pads I've been using so, if it works, it seems like a great way to save a few dollars. Overall I would say that it seems to work as intended and, if you have problems with over-the-counter facial products, you might want to check e-Cloth out & give it a shot. Check them out on their website here or via social media: Facebook, Twitter, Instagram, Pinterest and YouTube .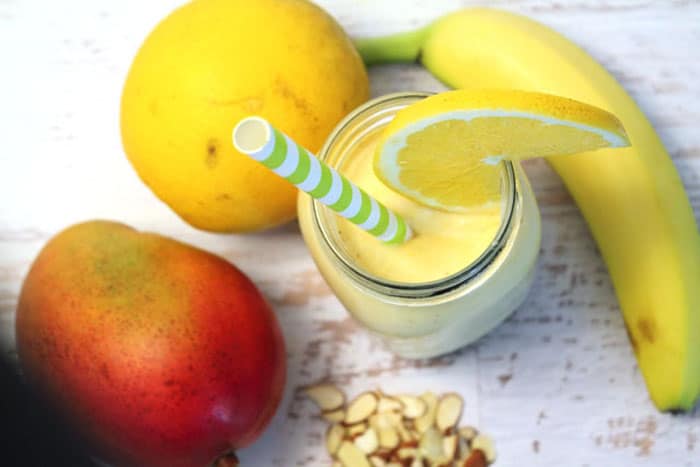 Treating your skin well is not just from the outside but the inside as well. The way you eat can make a big impact on the way your skin looks. And smoothies are great for delivering all the nutrients you need in  just one drink! The combination of proteins, fruits and vegetables, as well as healthy fats, are ideal for beautiful skin.
Check out what this Clear Complexion Smoothie can do for you!
Flaxseed oil – high in anti-inflammatory properties minimizing skin rashes while omega 3s will help hydrate your skin & give it a smooth appearance
Organic almond butter – rich in Vitamin E to help prevent damage from the sun and aid in hydrating & softening the skin 
Banana – full of powerful anti-oxidants & phytochemicals that will hydrate dry skin, maintain skin elasticity and protect against premature aging. Its Vitamin A will help fade acne scars & brown spots
Mango – Adds skin boosting Vitamins B6, C & E for soft & glowing skin
Greek yogurt – contains fiber and protein to help retain your skin's elasticity
Orange juice – high in Vitamin C which helps produce collagen to slow the aging process
Protein powder (optional) – a diet high in protein can prevent or reverse skin aging making the skin look younger & healthier
Enjoy!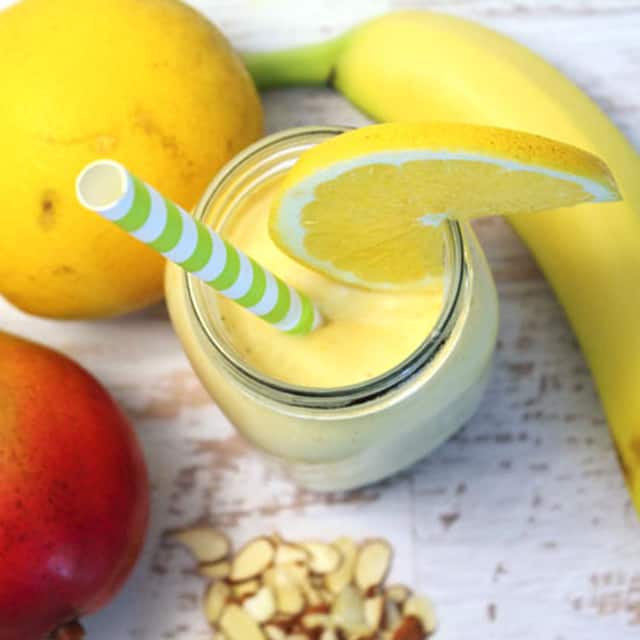 CLEAR COMPLEXION SMOOTHIE
An easy Clear Complexion Smoothie that keeps you healthy and looking your best. A mix of banana, mango, flaxseed oil, yogurt and almond butter make this good-for-you smoothie taste great too!
Keywords:
banana, easy recipe, flaxseed oil, greek yogurt, healthy, mango, smoothie
Ingredients
1

Tablespoon

flaxseed oil

2

Tablespoons

organic almond butter

1

banana

frozen

1/2

cup

mango

frozen

1/2

cup

Greek vanilla-flavored yogurt

1/2

cup

orange juice

1

scoop protein powder

optional
Directions
Place all ingredients in blender & blend until smooth.
Nutrition Facts
CLEAR COMPLEXION SMOOTHIE
Amount Per Serving
Calories 645
Calories from Fat 315
% Daily Value*
Fat 35g54%
Cholesterol 6mg2%
Sodium 89mg4%
Potassium 1316mg38%
Carbohydrates 75g25%
Protein 16g32%
Vitamin A 1270IU25%
Vitamin C 103.3mg125%
Calcium 334mg33%
Iron 1.7mg9%
* Percent Daily Values are based on a 2000 calorie diet.
DON'T MISS A RECIPE!