2010 Mark West Pinot Noir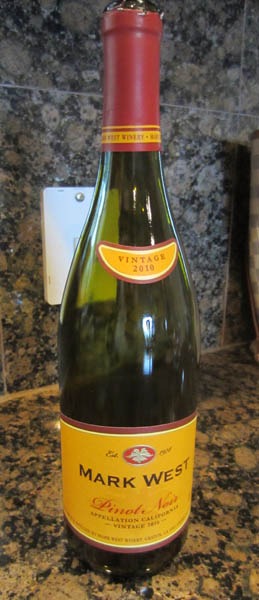 Mark West has been making pinot noir wines since 1978, that's over 36 years of experience with the California terroir. They have learned the way the soil, climate and vines of their vineyards in the Russian River Valley, Carneros and St. Lucia Highlands work together to produce the best quality pinot noir wines.
And growing Pinot Noir grapes is not easy! The grapes themselves are thin-skinned, small and delicate and are extremely sensitive to the weather. They must also be harvested in the morning before the temperature reaches above 60 degrees. So you can tell that Mark West invests much time and effort into producing their wine and what makes it even more surprising is that they do it within a price range that doesn't break the bank.
This pinot noir is no exception. It is a medium-bodied red with aromas of fresh berries and cherries and just a hint of caramel and vanilla. The flavors are very fruity, mostly plum, with a hint of cardamon from the oak barrels. It is not a very earthy or complex wine but a jammy one with a soft but slightly tart finish. It is really a nice everyday wine for a great price.
Food Pairing: Pinot Noir wines are very easy-going and pair well with just about any meal. Serve slightly chilled with pizza, hamburgers, fried or grilled chicken, pork, most types of lean beef and even shellfish.
Price: $8.99

Rating: 3/5 corks