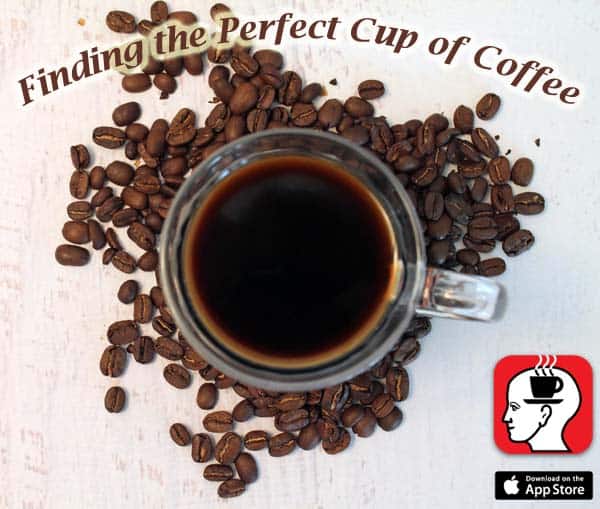 Disclosure: I was approached by SmartCoffee to review their app and received the app and a complimentary bag of coffee. As always, all opinions are my own. Full PR & Disclosure here.
Are you a coffee lover? Are you always trying new coffees and searching for just the right one for you? Do your tastes run to bright & lively or heavy & mellow? Do you like your coffee with a bright/citrusy or a soft & gentle plum/cherry acidity? You can determine all this and more with the SmartCoffee app available for the iPhone or iPad.
SmartCoffee approached me and asked if I would do a review of their new coffee app. Being the huge coffee drinker I am, how could I turn that down! The app was totally awesome! It was like a course in coffee making from beans to brew. I learned more about coffee and my personal preferences than I ever knew before!
First up was what they call "coffee 101".  Written by Paul Katzeff, a long time coffeeroaster  of over 40 years, international judge & world coffee traveler, he walks you through a tutorial on how to pick just the right coffee to suit your tastes. You will learn about how blends are created, the roasting process, which countries produce what type of beans, how to choose the freshest coffee and which coffees pair best with what foods.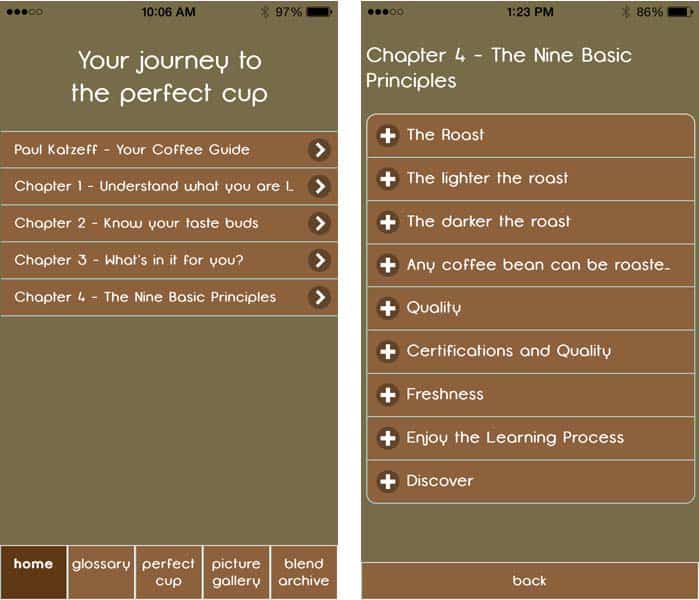 Once you have processed everything in the tutorial, which believe me is quite a bit,  you move on to the home button which runs you through choices that enable the app to pick the perfect coffee just for you. It asks you questions such as which mouthfeel do you like best, choice of acidity and 3 flavors that fit your taste. Once you have finished, you will have a much better idea of which coffees to look for next time you visit your local store. You may also choose one of the Thanksgiving Coffee Company's blends that they match to your unique taste, which can be purchased directly through the app by clicking the "buy now" button.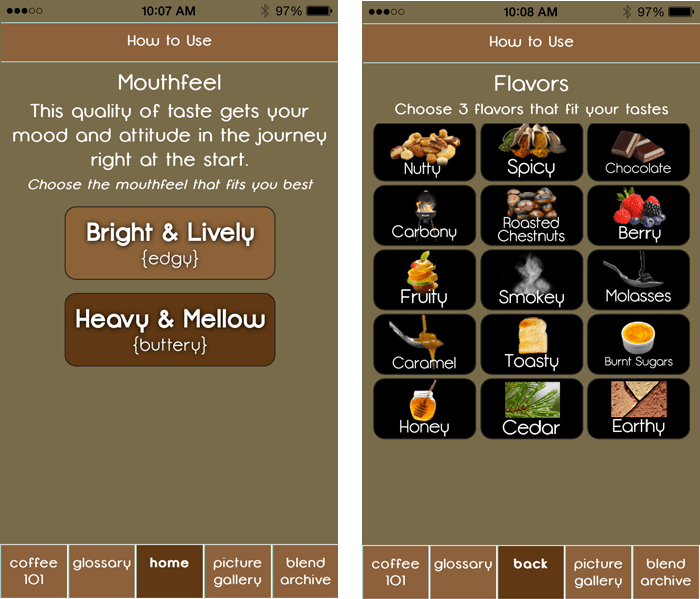 Up to this point I loved the app and would heartily endorse its use by anyone that loves coffee. However, I was a little disappointed in the Thanksgiving Coffee Company's storefront website as it was not very mobile friendly. Coming directly from its associated phone app, I would think that they would have made sure it could easily be used by the smart phone user. But don't let this deter you, as the coffee you receive will more than make up for the little bit of hassle that the website creates.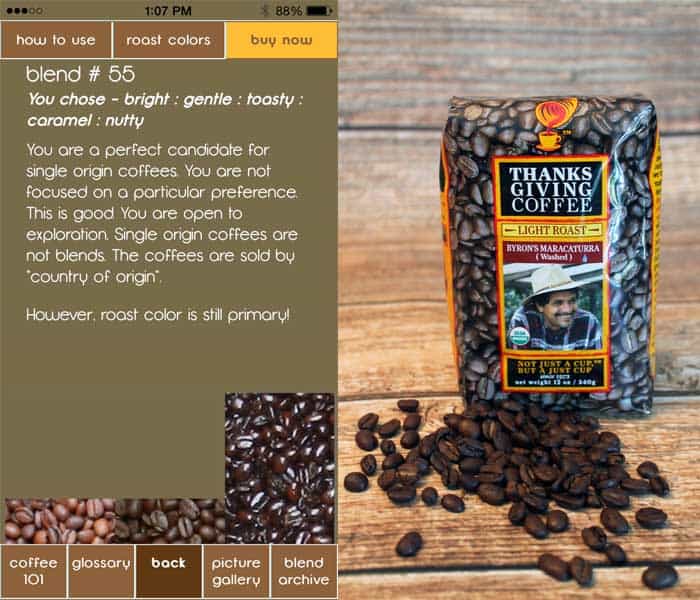 I received my single origin coffee, Byron's Maracaturra Light Roast, with my favorite characteristics of a lively mouthfeel with bright acidity and flavors of caramel and nuts within 10-14 days and couldn't wait to try it. Next morning I brewed it up and enjoyed my perfect cup of morning coffee. I can't wait to test the app out on my husband and see what his perfect blend turns out to be!
I hope you give this app a try. You will be surprised at how much you will learn about your perfect cup of coffee and just how complex the process is to bring that cup to you. I know, after learning just this little bit, that I will never take a good cup of coffee for granted again!
Enjoy!
DON'T MISS A RECIPE!