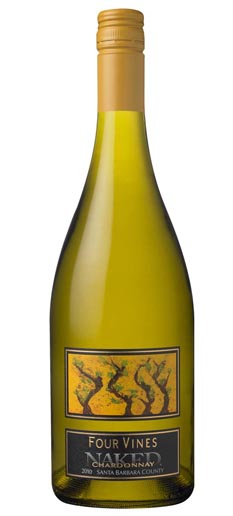 2010 Four Vines Chardonnay
Grown in Santa Barbara County on the central coast of California, this wonderful light wine is sure to please. Pale yellow in color, it greets your nose with aromas of citrus, lemon and peppers and your palate with apple, pear and pineapple flavors with just a hint of lime, grapefruit and minerality. It is a clean, dry and slightly tart wine that is fermented in stainless steel so lacks the buttery oak characteristic. This type of fermenting makes Four Vines Chardonnay the ideal crisp wine for summer.
Food Pairing: This lighter tasting, slightly spicy Chardonnay pairs best with lighter, summertime meals of fish, raw oysters, chicken, quiche, vegetables, fruits and summer salads.
Price Range: $8.99-$12.99

Rating: 3.5 out of 5 corks
Check out these great wine glasses for your next party: