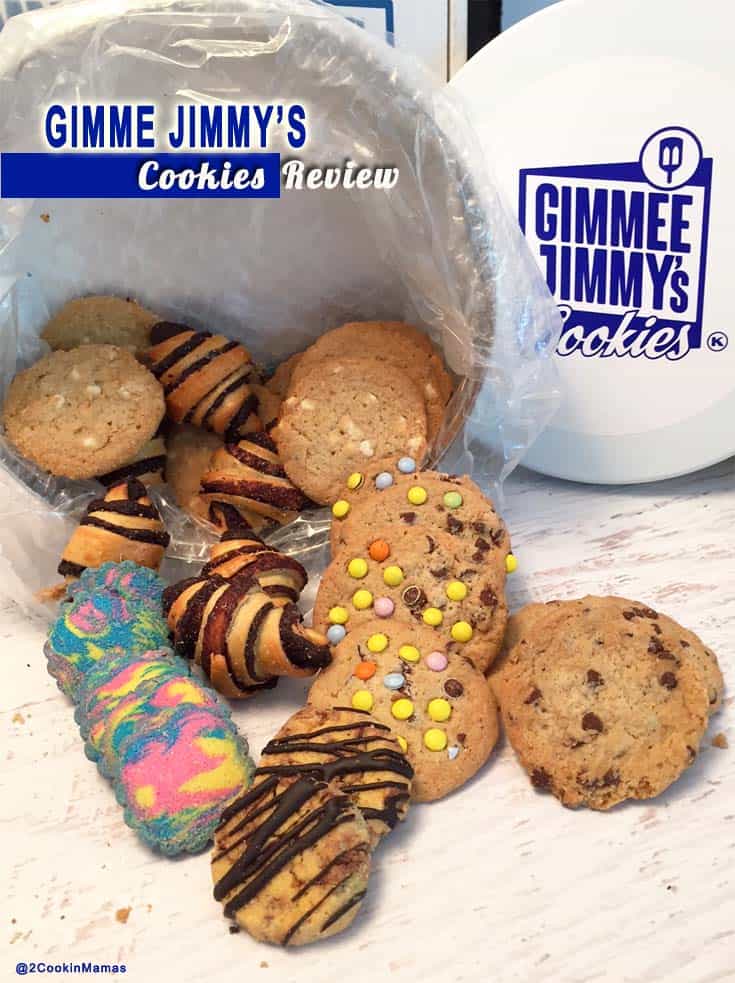 Hi all! This post is a little different today. I was asked to do a review of Gimme Jimmy's Cookies and, being the cookie lover I am, I just had to say yes. And it was actually nice for a change not to have to bake them myself. 🙂
Now wouldn't you be super happy to get this huge tin of your favorite cookies in the mail? Oh wait, it's not just cookies of all shapes and sizes but rugelach, brownies and crumb cakes too! Just look at that deliciousness!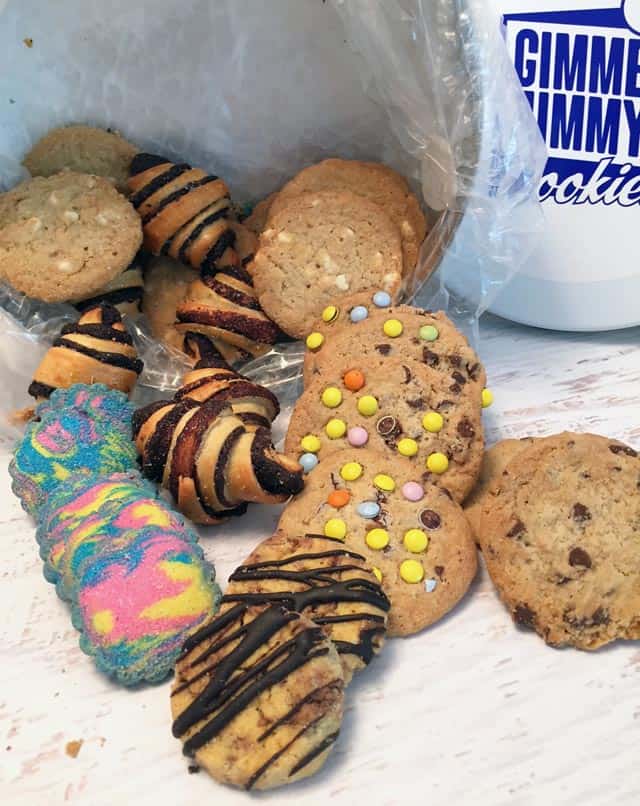 As you can see when I received them it was "Let Go my Gimme Jimmy's" because they looked and smelled like cookies from my favorite bakery (only kidding, well, almost kidding 'cause I did share them).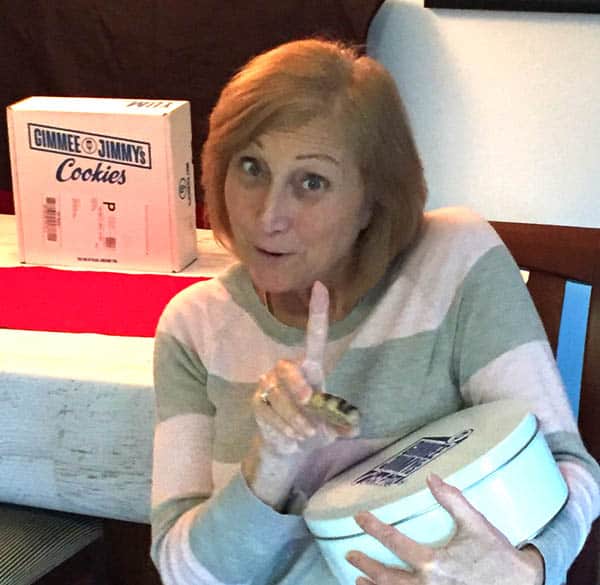 And Gimme Jimmy's Cookies does it right! They bake all their gourmet goodies fresh each day, using only the finest ingredients, then immediately pack them up carefully with bubble wrap and an extra sturdy box (so nothing breaks) then ship them straight to your door. I can tell you these would be perfect to give as a gift, say for a thank you or get well , for the holidays or for when company is coming to town and you are just too busy to bake something yourself.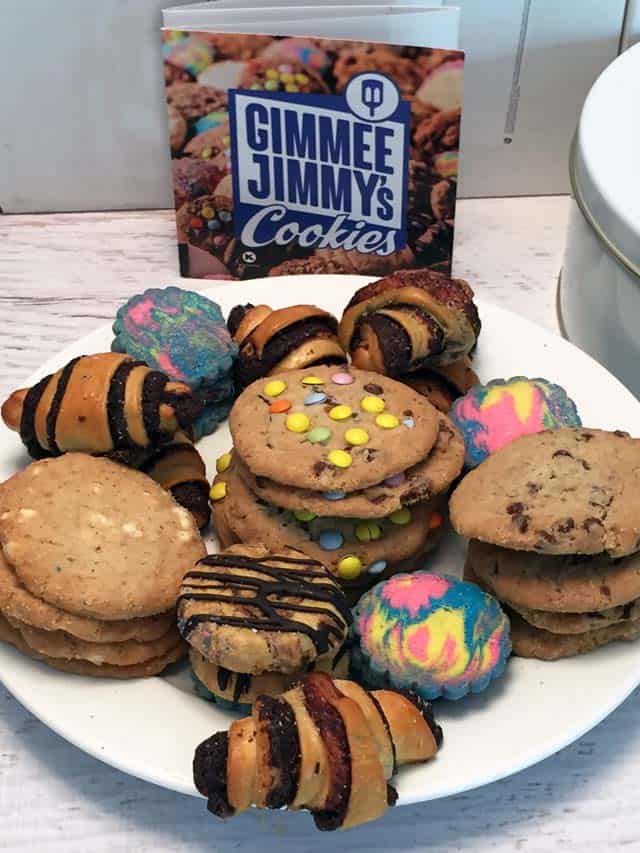 The package Gimme Jimmy's Cookies sent to me had a nice variety of goodies but, if you want certain cookies, you can choose what you would like and make up your own tin. Mine included samples of their Chocolate Chip Cookies, White Chocolate Chip Cookies, M&M Chocolate Chip Cookies, Marble Cookies (my favorite) and Chocolate Rugelach. The chocolate chip cookies were good, the M&M one being my husband's and the office's favorite, but the marble cookies were by far the best of the bunch. Soft and buttery with a chocolate swirl and a rich chocolate drizzle on the top. Yum, now I wish I had some left!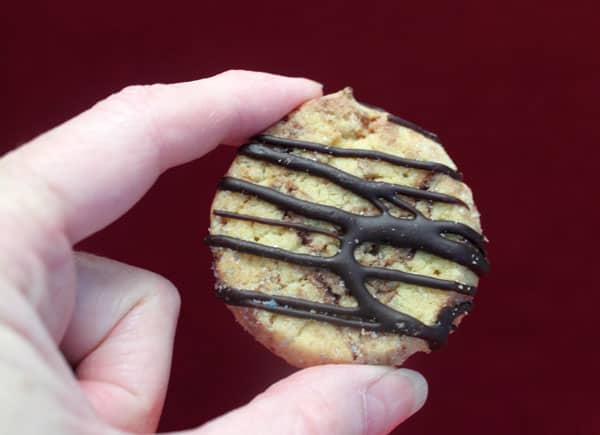 Of course, no one turns down flaky rugelach and this chocolate version was super tasty!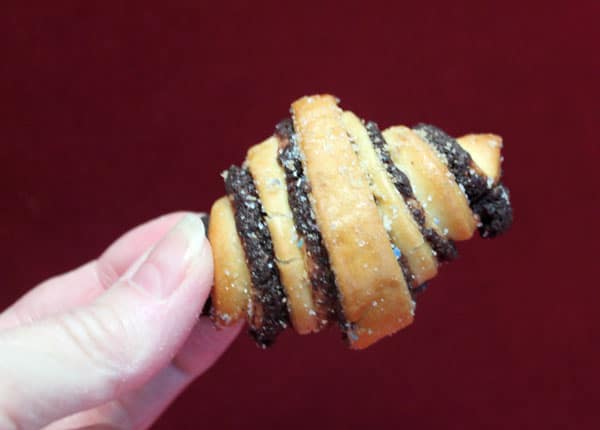 Now I didn't get to taste their black and white cookies, which are the number 1 fave in our house, or the Babka crumb cakes but I am sure they are just as fresh and delicious as the rest of their products.
So why go to your local bakery when you can just as easily order online and have your choice of delicious baked goods delivered straight to you (or to your Mom & Dad or sister or best friend…well you get the idea :-)). Go ahead I dare you to check out their site – just don't drool on your keyboard please! lol
Happy snacking!