.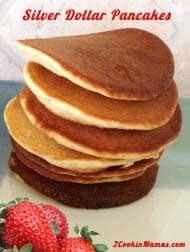 Saturday mornings are my favorite!  Sleeping in (well as much as you can with a toddler), staying in your pj's, and serving up a creative & fun breakfast for the entire family.
This past weekend, my husband took the reigns and made us our first batch of gluten-free pancakes.  What a treat!  And I don't have to tell you that the little one loved them! He was having a ball picking them up and dipping them in the syrup. I think it's the first time I've seen him eat his entire breakfast. Yay!
You can serve these pancakes with pure maple syrup, your favorite fruit or go all out and sweeten them up for special occasions with chocolate chips & whipped cream.
If you extra pancakes left over, let them cool, wrap them in plastic, and freeze.  To reheat just pop in the toaster or microwave for 30-60 seconds!
Gluten-Free Silver Dollar Pancakes
Ingredients: 
1 egg
3/4 cup water
1 Tablespoon water
Directions:
Combine all ingredients together and mix until smooth.  Preheat pan over medium-low heat.  We used a special silver dollar pan but any griddle type pan will do.  Lightly spray non-stick cooking spray on pan and pour in batter.  Cook on one side until you see small bubbles forming on the edges.  Flip once and continue cooking until golden brown.
Makes 20 pancakes.