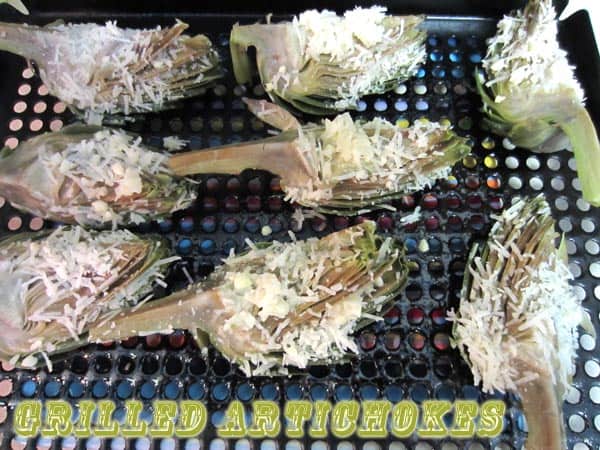 It's National Artichoke Day, so what better time to present a great recipe that brings out all its special flavors.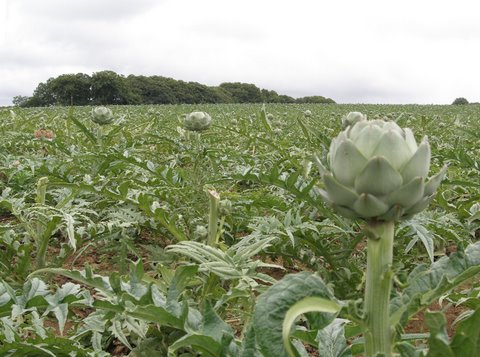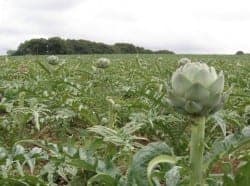 Did you know that the artichoke is actually the bud of a plant that is in the thistle family. And their heritage is quite apparent when you see the tiny thorns on the edges of their petals. Just handle carefully when raw and luckily they soften as they cook.  During a trip through Castroville, the artichoke capital of the U.S., we saw an actual farm from the side of the road. It was amazing to see the artichokes standing tall above the plants and swaying on their super thick stems. And here's an interesting fact, the first Castroville artichoke queen, way back in 1948, was Marilyn Monroe!
Serve this as a super side dish with grilled fish or chicken or as a delicious appetizer. Make sure to have plenty available with some melted butter as they go really fast!
Grilled Artichokes with Garlic and Cheese
Ingredients:
4 large artichokes
3 cloves minced garlic
Pecorino-Romano or Parmesan cheese, grated
Olive oil
Sea Salt
Fresh lemon, optional
To prepare artichoke, trim off about ½″ from the bottom of the stem. Using a vegetable peeler, shave off some of the rougher parts of the stem. Trim some of the tough outer leaves off the artichoke with a pair of kitchen scissors. I snipped off the sharp ends of each leaf on the bottom half of the artichoke and removed a few of the tougher bottom leaves and the very small leaves at the base as well. Next slice off about ¾″ of the top (I didn't do that to mine as they were tender all the way to the tip).  Rinse under cold running water. Quarter the artichokes, leaving the stem intact.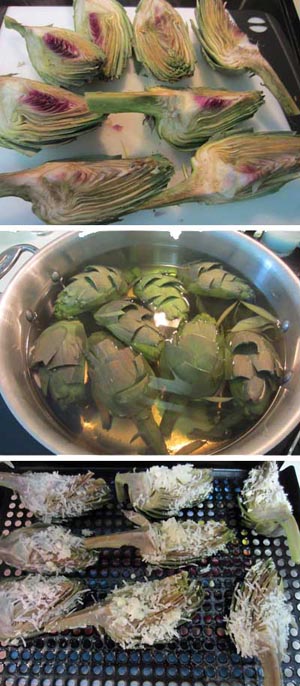 Place them in a large pot of gently boiling water (so they stay more or less intact).  Boil until tender or about 12-15 minutes, depending on size. Don't let them get really soft or they will fall apart on the grill. Drain in a colander and rinse with cool water. Now clean out the inedible fuzzy part (the choke) that covers the artichoke heart.
Next, coat the artichokes with olive oil. I just poured some on the artichoke while holding it over a plate and then rolled it on the plate to cover it completely.
Mix the cheese and garlic together in a small bowl and, opening the leaves just a little, sprinkle the mixture over the artichoke making sure that it gets between some of the leaves. Sprinkle with some sea salt then grill until the cheese gets crusty and brown, usually about 10 minutes. Turn several times while they cook to brown all sides. If you like, drizzle with lemon juice before serving.
Serves 4-6 as a side dish, more if used as an appetizer.