The weather is absolutely beautiful in South Florida this time of year, in fact, the perfect weather for grilling and dining outside. It is what most Floridians will tell you is the reason they came to South Florida. I know Christina is missing the warmth since arriving in Georgia as they have had weather in the 30's and 40's. Brrr, that's cold for us southern people! However, my grandson is loving it, running around in their big backyard and never even breaking a sweat.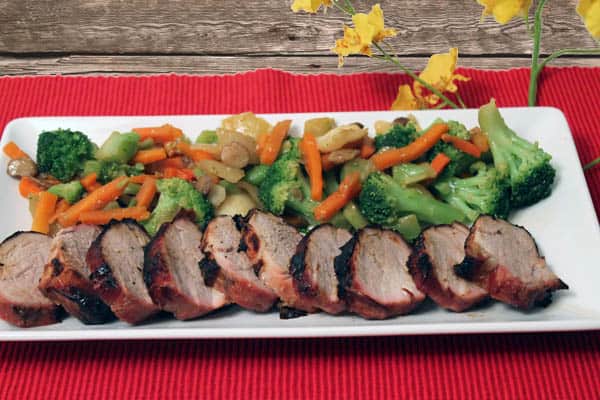 So, chalk it up to the weather, tonight I was feeling in a grilling kind of mood and, with all the comfort food that seemed to be on the menu last week, I wanted something healthy. One of our family's favorites is this Asian style pork loin dinner. It is super easy, less clean up in the kitchen, and there is always plenty left for weekday lunches. And what I love about pork loin is, no matter how you cook it, it always comes out tender and delicious. This dish is definitely no exception to that. The outside gets a nice glaze on it from the honey and sugar and the marinating gives the pork itself just a touch of a sweet ginger flavor.
Serve with a side of quickly sauteed fresh vegetables or heat up a package of frozen Japanese vegetables for a healthy well-balanced meal.
Grilled Asian Honey Pork Loin
Ingredients:
2 (1 lb) boneless pork loins
1/3 cup Tamari soy sauce
1/3 cup water
1 teaspoon ground ginger
1-1/2 teaspoons minced garlic
1/4 cup packed brown sugar
1/3 cup honey
1 1/2 Tablespoons sesame oil
Directions:
Place pork loins in large ziploc bag with soy sauce, water, ginger and minced garlic. Let marinate in the refrigerator for at least 3 hours. (I start mine in the morning before work)
Remove pork loins from marinate and discard remainder.
In small saucepan, heat brown sugar, honey and sesame oil, stirring often, until sugar has dissolved. Use this mixture to baste the pork loins.
Preheat grill to high and spray grill rack with Pam or other non-stick spray. Place pork loins directly over heat, brush on sugar-honey mixture and brown for 5 minutes each side, basting at every turn. Once browned, turn heat to medium (350-400 degrees) and cook pork loins on indirect heat for 15 minutes per side, again basting at every turn.
Remove from grill and slice. Serve immediately.
Serves 4.
This one dish offers a low calorie, high protein meal with  anti-inflammatory, immune-boosting and cholesterol lowering properties.
Pork tenderloin, "the other white meat", is actually lower in calories and fat than chicken breasts and has more protein per 4-oz. serving.
Garlic is full of phyto-nutrients, vitamins and minerals that are known to reduce cholesterol and decrease the risk of coronary artery disease, stroke and stomach cancer.
Ginger, proven to be an anti-inflammatory, is know to boost metabolism and enhance fat digestion and absorption.
Honey, a natural sweetener, is made up of 80% natural sugar, 18% water and 2% nutrients. It is free of fat & cholesterol, high in anti-oxidants, and full of other beneficial vitamins and minerals.
Sesame Oil, on a par with olive oil, lowers blood pressure and cholesterol, boosts heart health, and has anti-oxidant and anti-inflammatory properties.

If you enjoy Asian-inspired dishes check out these recipes.
**Be sure to follow us on your favorite social media! Instagram, Pinterest, Twitter and Facebook. If you make one of 2CookinMamas recipes, remember to tag us with the hashtag #mamacooks!