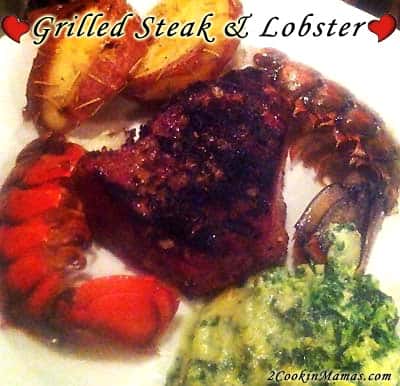 My anniversary is coming up this week and, since we will be out of town at our niece's wedding, I thought we would celebrate early so we could spend time with just the two of us. Believe it or not we are now coming up on our 43rd anniversary, I got married when I was just a baby (lol), and every year has been memorable. We have seen our two children grow up and mature into wonderful adults with families of their own, had rewarding careers and we still love spending time together. We are truly blessed.
So, our dinner  of lobster and steak was fabulous and went off without a hitch, well, except for the rain. It seems every time we want to barbecue it rains. My husband even knew what we were doing when he walked in the door. It's raining so we must be barbecuing. lol
We dined by candlelight and enjoyed our wonderful meal served alongside a Spinach and Strawberry Salad, rosemary potatoes, creamed spinach and a wonderful Merlot wine that reminded us of our vacation in Napa Valley. A meal fit for a romantic celebration! (by the way, sorry the pic issn't clearer but we didn't want to take any time away from our celebration)
 Grilled Lobster Tail
Ingredients:
 1 1-lb. lobster tail
¼ cup butter
⅛ cup lemon juice
⅛ teaspoon paprika
⅛ teaspoon salt
⅛ teaspoon pepper
½ teaspoon minced garlic or about 1 fresh clove
Directions:
Preheat grill to medium. Cut lobster tail almost in half and pull the meat out slightly.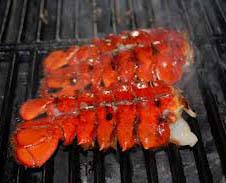 Mix the remaining ingredients and brush over meat of lobster. Spray grill grates lightly with a non-stick spray and place lobster, meat side down, onto grill. Cook for 16-18 minutes, or about 1 minute per ounce, turning halfway through cooking time. Check to see if done before turning off grill as different sizes of lobster may take more time to cook through. Serve hot with the remaining butter mixture or just plain melted butter on the side.
Wine Pairing: It all depends on what you are having with your lobster. Since we had a steak as well, and the lobster was grilled, I opted for our favorite, the smooth & rich 2008 Markham Merlot. Sticking to red wines, you could also pair with a Tempranillo or a nice Garnacha. If you are only having the lobster, I would stick with a white wine that is less fruity and more mineral such as a toasty Chardonnay, an Albarino or a Sauvignon Blanc.