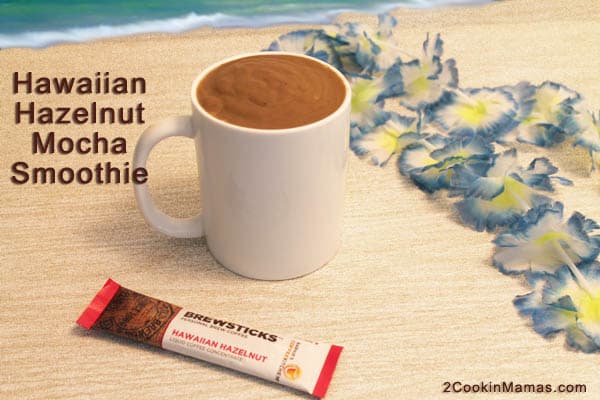 Barnie's Coffee Kitchen was nice enough to send me a few samples of their new Brewsticks prior to the FLBlogCon conference. Brewsticks, which are small packets of concentrated liquid coffee, are poured into a mug of hot water and quickly make a single serving of, what tastes like, fresh brewed coffee. I had never seen anything like this before and I wasn't sure what to think of a coffee in this form. However, when I made my first cup of coffee with it, the taste was spot on, delicious and fresh tasting.
When I realized how tasty the coffee was I decided to try my hand at a coffee smoothie, always my go-to in the morning. This smoothie was made with Barnie's Hawaiian Hazelnut flavor but I am dying to try it with the Creme Brulee too.  Hope you enjoy!
Hawaiian Hazelnut Mocha Smoothie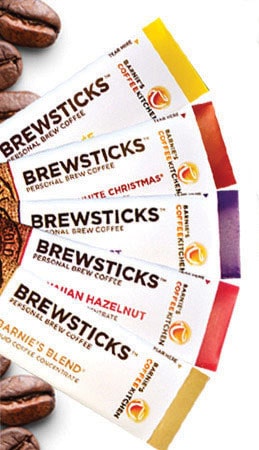 Ingredients:
1 pkg Barnie's Coffee Kitchen Hawaiian Hazelnut Brewsticks
½ cup vanilla low-fat yogurt
½ cup almond or coconut milk (I tried it with coconut hazelnut coffee creamer too - yum!)
1 teaspoon dark cocoa powder
¼ cup smooth natural peanut butter
1 frozen banana, sliced
1 scoop protein powder (optional)
Directions:
Combine all ingredients in blender and blend until smooth. Pour into a coffee mug or tall glass and enjoy.
Serves 1.
DON'T MISS A RECIPE!