Disclosure: I received a digital copy of  the "Healthy Mediterranean Gourmet" Cookbook to review through my partnership with Tomoson.  Here I've reviewed and featured their Chicken and Green Bean Casserole. As always, all opinions are my own. Full Disclosure here.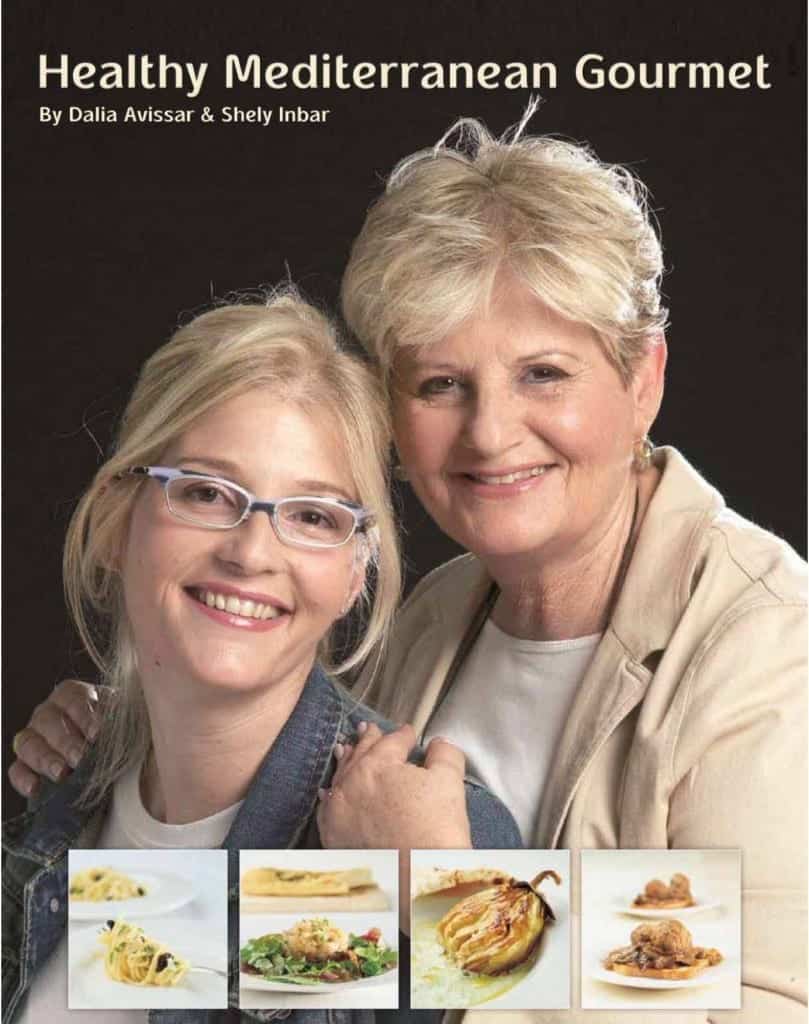 Meet Dalia Avissar and Shelly Inbar, authors of the of the "Healthy Mediterranean Gourmet" Cookbook, a mother-daughter duo from Israel, sharing recipes from their kitchen to yours. I was super excited to receive a copy of their eBook to review as they seemed to mirror the same love of sharing favorite recipes as my daughter and I.
Their book is based on a true Mediterranean diet. This diet emphasizes eating mainly plant-based foods including vegetables, fruits, nuts, seeds, whole grains, breads and beans, replacing butter with a good quality olive oil and herbs for salt. The diet concentrates heavily on vegetables and fruits with some seafood and limited amounts of poultry, eggs and cheese. Red meats are rarely included.
The authors make it a point that only the freshest seasonal vegetables and fruit should be used to impart the most flavor and create the most satisfying and healthy meals. As they say:
"..the flavor of fresh ingredients bought, cooked and eaten at the peak of their freshness in simply unbeatable"
Dalia and Shelly share how they cook in their home every day and how gourmet cooking can be fast, easy and healthy.
I first read through the book in its entirety. The authors definitely capture the essence of the Mediterranean diet concentrating the majority of their 100+ recipes on vegetables and fruits with some chicken and seafood dishes and a sprinkling of special occasion desserts.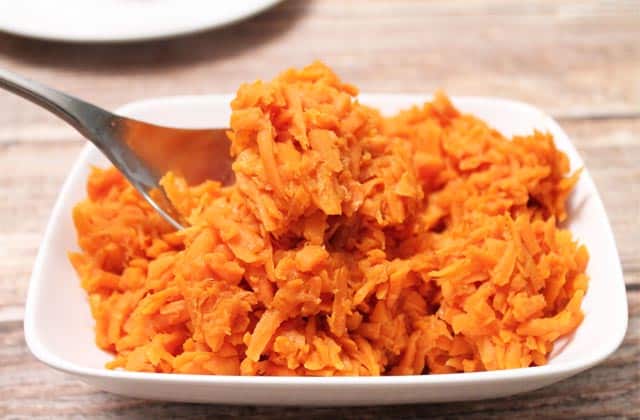 The recipes themselves are written for someone who has a basic knowledge of cooking and are fairly easy, some quick and others, in the main dish area, not so quick. There are also ingredients in some of the recipes which are not readily available here in the United States, such as bream (suggested alternatives would be snapper, flounder or grouper) and soup powder (not sure if a bouillon powder would work here) but with a few suggested alternatives added, where needed, that problem is easily solved.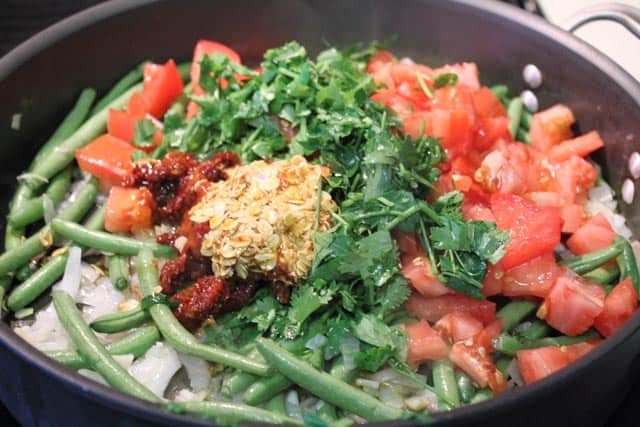 Next was the fun part – making and tasting several of the recipes. I decided to make their Chicken & String Bean Casserole, along with a side of Orange Carrots and an appetizer of Roasted Bell Pepper Salad. I wouldn't consider the casserole quick but it was absolutely delicious, as was the Bell Pepper Salad, and well worth the effort. See for yourself with a sneak peak at the casserole recipe below. The Orange Carrots were not a big hit with either my husband or I, being a little too sweet for us, but might be a favorite with the kids.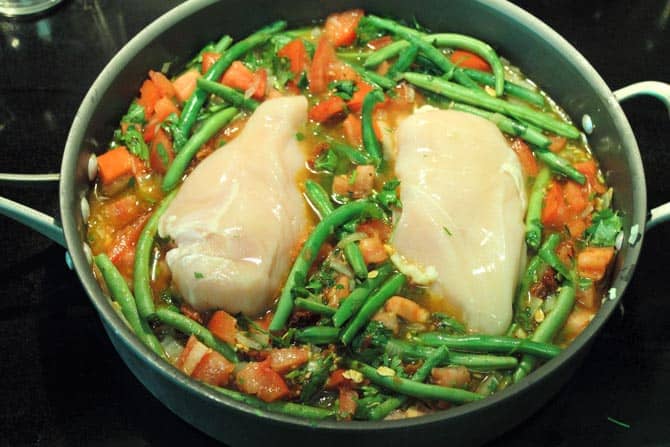 Overall, I liked this cookbook but thought there could have been a little more variety in the types of ingredients as well as the types of vegetables and fish used. That said, I thought the recipes looked delicious, most were quick and easy, and they emphasized fresh and healthy. If you are looking for a cookbook featuring healthy Mediterranean-style recipes, you will find some tasty ones in this book to add to your collection. If you prefer a little more variety in your diet, you might find this book a little limiting.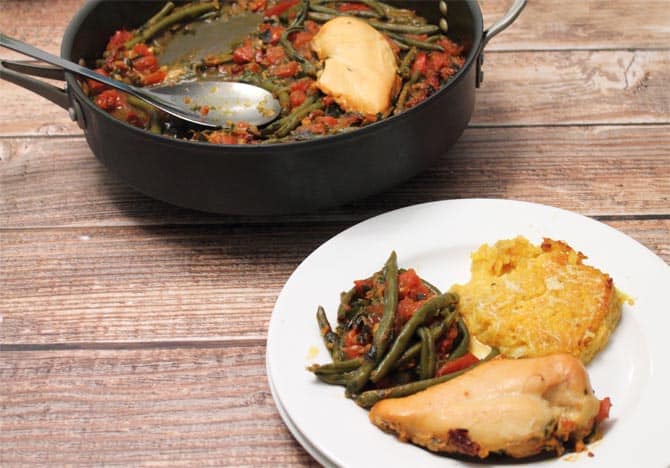 Take a look for yourself and check out their book on Amazon here.
Chicken & String Bean Casserole
Ingredients:
1 lb. Fresh green beans
5 tomatoes, peeled
3 onions, chopped
3 Tablespoons tomato sauce
2 Tablespoons rolled oats
5-6 dried tomatoes, chopped
1/2 cup fresh parsley, chopped
1/2 cup fresh cilantro, chopped
Sea salt & pepper, to taste
3 Tablespoons terriyaki sauce
4 chicken leg quarters, skinned (I used chicken breasts since I had those on hand)
Directions:
Wash and trim the string beans, set aside.
Place tomatoes in a pot of boiling water for 1 minute. Remove with slotted spoon and peel them. Let cool slightly then cut into cubes.
Preheat oven to 500 degrees.
Heat a large nonstick oven-proof skillet or Dutch oven sprayed with non-stick spray over medium-high heat. Add onion and cook for a few minutes (about 5 minutes) until golden. Add the string beans, stir, and cook for another minute.
Add remaining ingredients, except chicken, along with 3 cups boiling water and mix well. Taste and adjust seasoning if necessary.
Remove pan from heat and add in chicken, bones facing up. Cover and bake for 15 minutes then reduce oven temperature to 350 degrees and continue to bake for another 3 hours.
Drizzle with olive oil prior to serving.
Serves 4.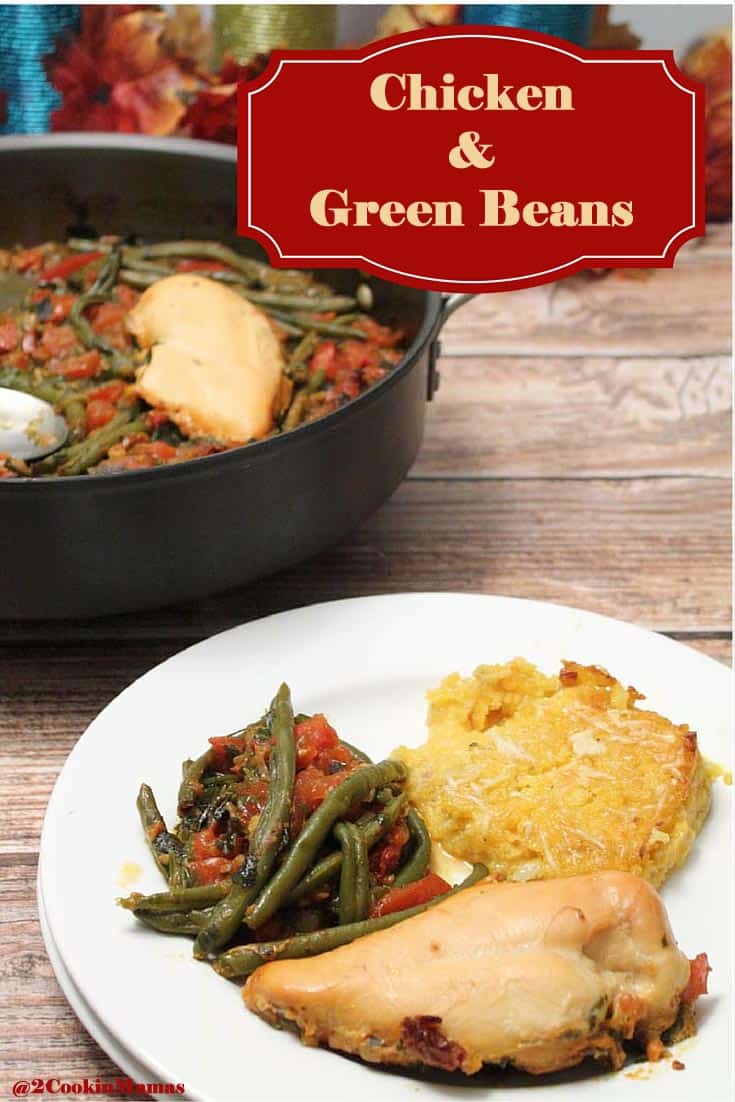 What's your favorite Mediterranean recipe?
DON'T MISS A RECIPE!