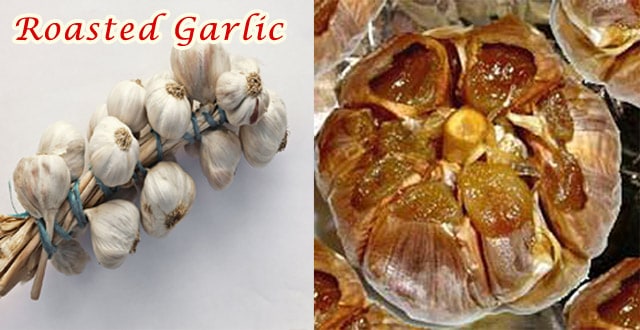 It's National Garlic Day! Although to be honest, I think every day is garlic day! Garlic is a great addition to many different dishes, like Garlic Basil Shrimp or Honey Garlic Chicken, but it is great on its own too.
One of the simplest and most delicious ways to prepare it is just popping it in the oven and roasting it.  Once roasted there are any number of ways to use it -  you can squeeze it out of the bulb and spread over fresh warm bread, mix it with butter for garlic bread, top a baked potato, add it to pasta or bring an ordinary Grilled Cheese sandwich up a notch by rubbing the outside of the finished sandwich with the roasted clove.
If the wonderful taste isn't enough for you, garlic has many health benefits too. It's low in calories, rich in Vitamin C, Vitamin B6 and Manganese and seems to help prevent and/or reduce the severity of illnesses like the flu and common cold. Garlic also improves blood pressure, lowers cholesterol and may reduce the risk of Alzheimer's and osteoarthritis.
So be like Emeril Lagasse and add as many cloves of garlic to a recipe that you want. Just make sure everyone eats the same dish so you can talk to each other after. lol

How to Roast Garlic
Ingredients:
Garlic Bulb
Olive Oil
Aluminum Foil
Directions:
Preheat oven to 400 degrees.
Take fresh garlic bulb and remove loose skin. Cut ¼″ off the top of the garlic bulb so that you can see the individual cloves. Place the bulb on a square of aluminum foil that is large enough to wrap around the clove. Pour olive oil over the bulb so that it is well coated, usually about 1-2 teaspoons. I also like to use just a small amount of salt and fresh ground pepper sprinkled over the bulb.
Wrap bulb tight and place on cookie sheet in oven to bake for 30-35 minutes. Garlic is done when you can squeeze it and it feels soft. Open up and serve in small dish.
For more formal meals, the garlic can be served with a cocktail fork or small cheese spreader for easier removal or, for that informal gathering, just squeeze it out.


DON'T MISS A RECIPE!