Throw the best Superhero Birthday Party ever! We've got everything from snacks, to fun activity ideas to a spectacular tie-dyed cake. You're sure to be voted the best mom ever by your little one!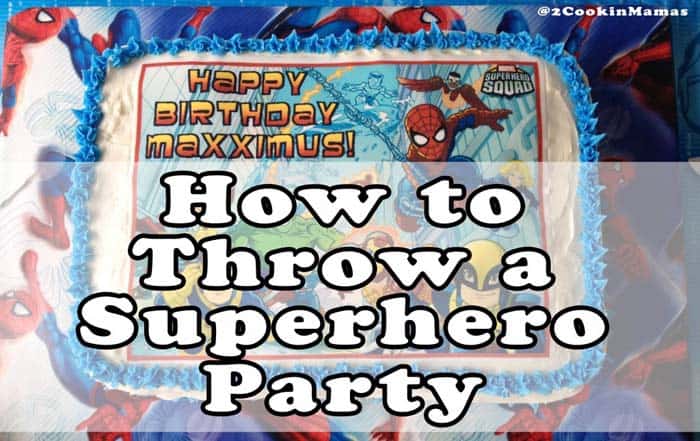 I don't know exactly when it happened, but in the months leading up to my little boy turning 3 things started to change.  The once loved Dora, Diego, & Blues Clues videos and toys were slowly replaced with anything & everything with a cape!  So, it was no surprise to me when I asked my son what kind of birthday party he wanted he said a Superhero party.  I loved the idea of the party, but I also wanted him to do more than fight bad guys - so I hired a small petting zoo too!  The result was an amazing birthday party with lots of fun superhero decor, food, and really cool animals.  Enjoy!
STEP 1 (and the most time consuming) - Create a Photo Booth!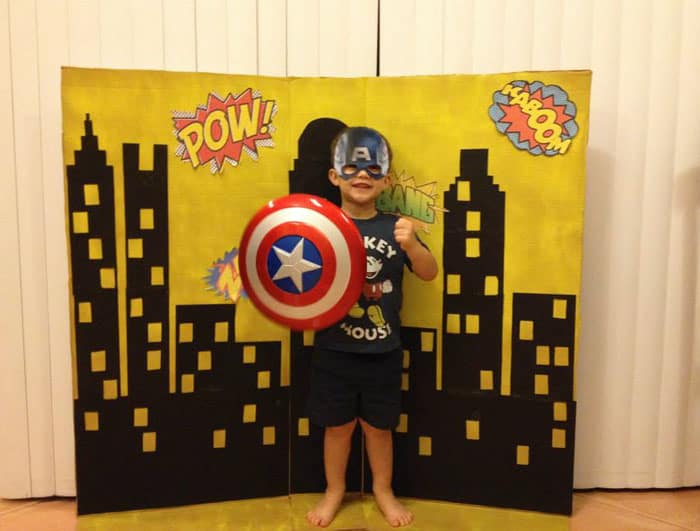 Cut open a cardboard box, lay flat and spray with yellow spray-paint.  Make sure to leave the bottom (flaps) folded under to help it stand up and cut off the top flaps (you'll use these later).
Tape black construction paper together, draw out a pattern for the city, and use a box cutter or Exacto knife to cut them out & add windows.
Glue buildings to cardboard box and let dry overnight.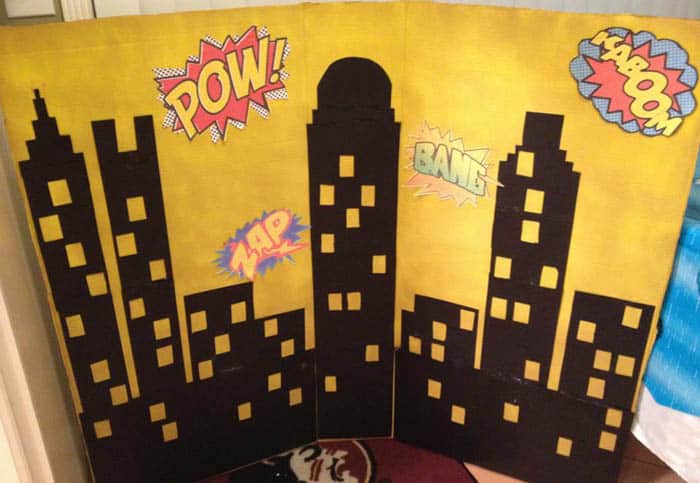 Place in an open area and add in superhero masks, capes, shields, & more so the kids can have fun and parents can get a really cool picture!
STEP 2 - Make Superhero Water Bottles

Open the water bottle label pdf file by clicking here.
Print and wrap around 12 or 16 oz water bottles - secure with glue stick.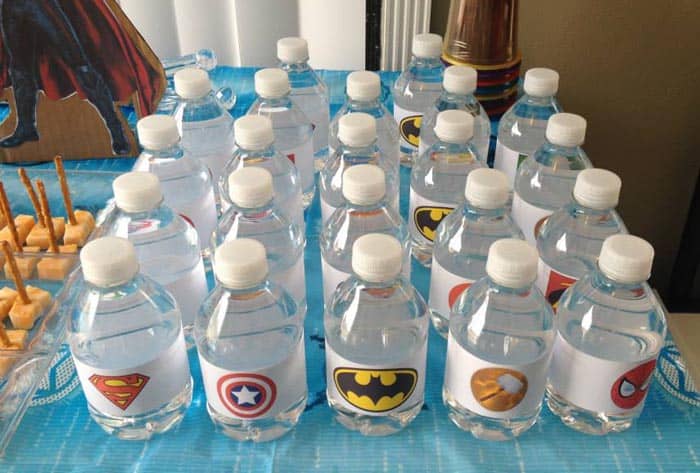 STEP 3 - Create Superhero Snacks
 Google pictures of superheros your child loves, print and cut them out - we used the Avengers: Thor, Hulk, Iron Man, and Captain America.
Using the leftover cardboard box flaps from earlier and glue on the superheroes.  Once dry, cut out cardboard to match figure - making sure to leave a base so it stands up.
Create a dish for each character.
For Thor - we made his hammer by sticking pretzel sticks in cheese blocks.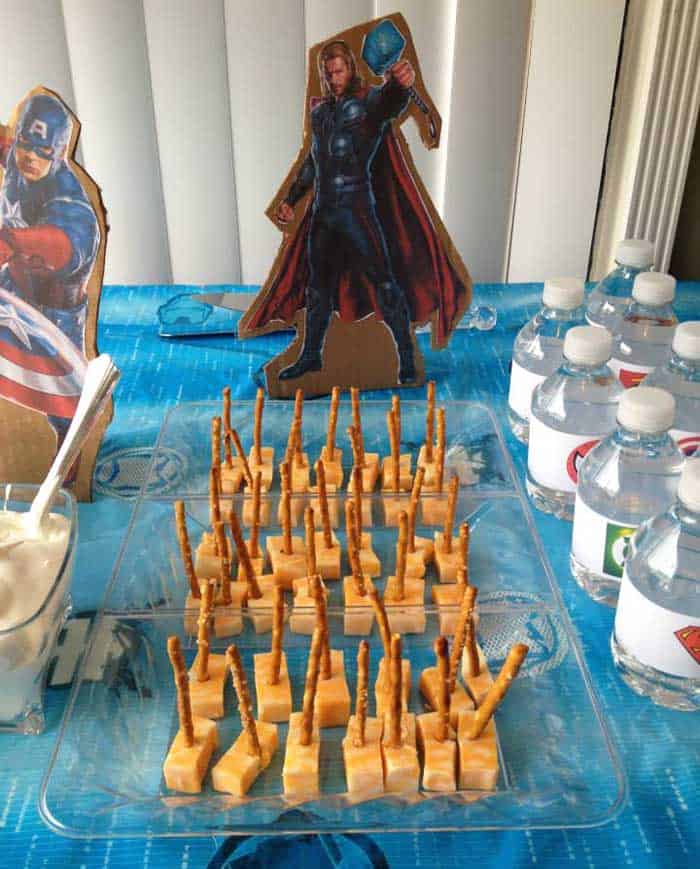 For Hulk & Ironman - we separated M&Ms and Goldfish into their superhero colors.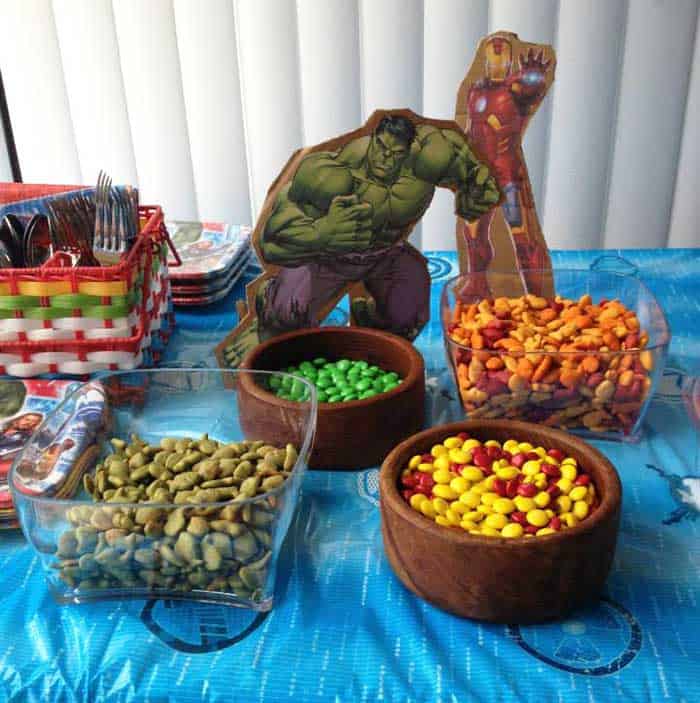 For Captain America - we created his shield using strawberries, mini-marshmallows, and blueberries.  We also added a side of cool whip for the fruit.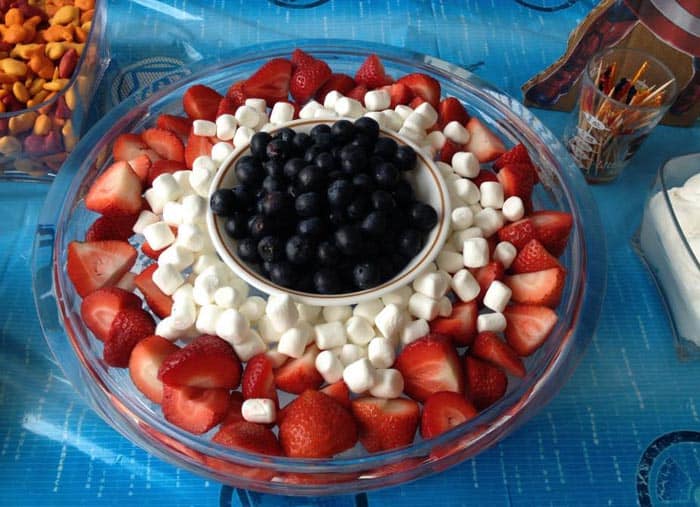 STEP 4 - Make the Cake!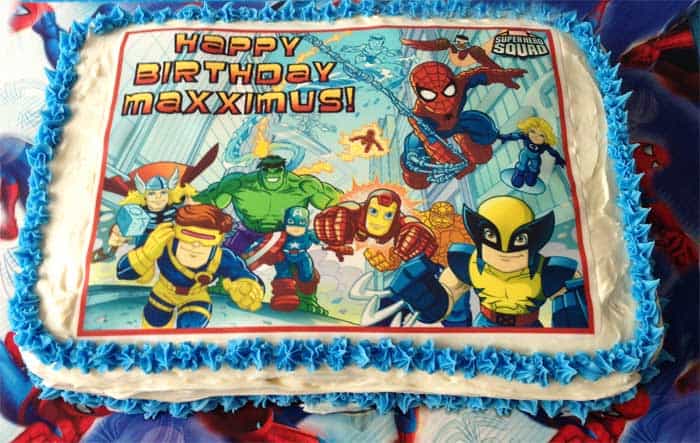 Pick out your favorite vanilla cake mix and color accordingly. Pour in each color separately until all batter has been used.
Frost cake.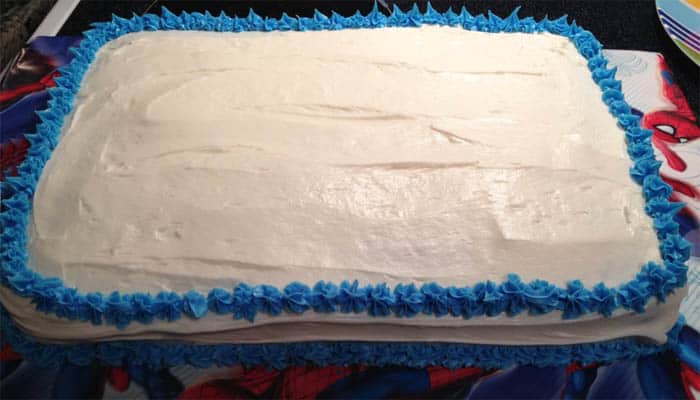 Place edible icing image (these are so cool!) on top. No one will know just how easy it was to make this incredible looking cake! We got our edible icing topper on eBay and they have it for all size cakes and cupcakes.
 STEP 5 (extra) - Dress yourself up in your favorite superhero outfit, hire a small petting zoo, and let the fun begin!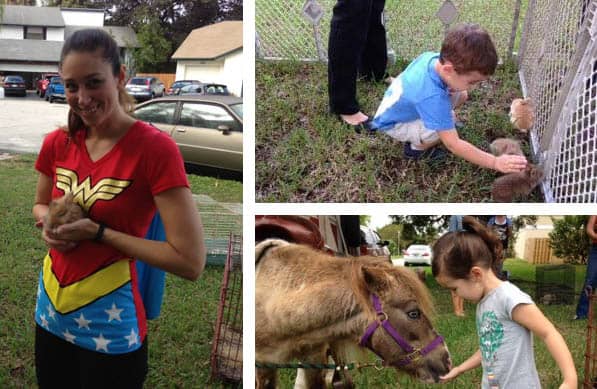 If you enjoyed our Superhero Party please make sure to leave us a comment below!  🙂

DON'T MISS A RECIPE!