Now that summer is over and the cooler weather is right around the corner, it is time to return to those rich, medium to full-bodied, reds that pair so well with winter's heartier fare. And, without even having to work at it, the cooler weather tends to bring the red wine to the more ideal room-temperature, between 60-65 degrees.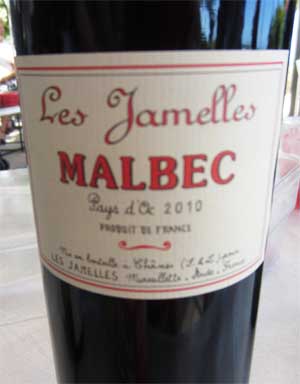 When planning your wine pairing for autumn and winter meals, there are plenty of great choices without having to break the bank. Try reaching for one of the many rich Cabernets, Sirahs, Zinfandels or Malbecs to enhance your evening meals.
The 2010 Les Jamelles Malbec, produced in Southern France, is a rarity among French wines since most Malbecs come from Argentina. However, this robust and spicy Malbec is chock-full of blackberry, black cherry and plum flavors and hits just the right note for the beginning of autumn. It is made from organically grown grapes and has a refreshing tartness to it with a surprising finish of spicy black pepper, licorice and oak. A wonderful everyday wine when priced around $12.
Food Pairing: Pair with everyday meals like burgers and pizza as well as other grilled meats, spicy Italian, Mexican or Thai dishes, pot roasts, cheeses and most importantly – chocolate!
Price Range: $11.99-$14.99

Rating: 3 out of 5