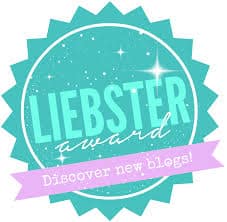 I was so thrilled and excited to be nominated by Julie from Sweet and Spicy Monkey for a Liebster Award. She and I are both members of the CCN community, the Culinary Content Network of the Daily Meal, bringing you all things food and drink. It's a wonderful group of food bloggers that I am proud to be associated with and she is one of the sweetest. Thanks again Julie!
Now most of you are probably wondering exactly what a Liebster Award is. Well, it is given to new or small bloggers, with less than 1,000 followers, by other bloggers as a way of saying welcome and paying it forward. And you're also probably wondering why you should even read this post. Well, how about it's a great way to learn a bit more about me, why I write this blog and my passion for healthy cooking. So here we go!
11 RANDOM FACTS ABOUT ME
1. I was a marketing exec in my first career
2. I choreographed and taught dance aerobics for 13 years
3. I'm a total chocolate addict
4. I can't survive without my morning cup of coffee
5. I love walking for miles, especially on the beach
6. I love to travel, I'll go anywhere at any time (and I can pack really fast!)
7. I moved 11 times in 12 years when I was first married
8. I once tried making a dietetic cheesecake that you couldn't even cut with an ax
9. I love football (more than my husband)
10. I love anything sci-fi – movies, TV shows, books
11. There is always a bottle of wine in my house (OK, maybe a few more than that)
THE RULES

 (as found on Julie's post)|
1. Thank the blogger who nominated you & link to their blog.
2. Display The Liebster Award badge on your blog.
3. Answer 11 questions about yourself, which will be provided by the person who nominated you.
4. Provide 11 random facts about yourself. (optional)
5. Nominate 5+ bloggers (with fewer than 1,000 followers) who you feel deserve the award.
6. Create a new list of 11 questions for your nominated bloggers to answer.
7. Notify your nominees!
Q & A FOR ME
This has been a fun endeavor for me as I love finding small blogs that have so much potential, they just need a chance to be seen. So here goes my attempt to answer Julie's questions.
1. Why do you blog?
I started this blog with my daughter about 2 years ago to help her learn to cook for her family and to aid in her weight loss after her son was born. Cooking, baking and creating new healthy recipes have always been a passion of mine and sharing that passion with my daughter made it even more satisfying.
2. Where do you see your blog in one year from now?
I continue to strive to bring deliciously easy recipes to my readers. I know how busy family's lives are these days and being able to cook up nutritious meals quickly is so important. I would love to see my blog reaching a greater number of people, with more interaction, and providing enough income to work at what I love doing full time.
3. What's your favorite food to make?
This is so hard since I love all foods but I would have to say it is a toss up between salmon dishes or pizza. I know – so totally on different ends of the spectrum!
4. Where is your dream vacation?
My favorite vacations always revolve around a beach. I would probably have to choose Tahiti, the Maldives or Hawaii.
5. Are you a dog or a cat person?
I am definitely a dog person. We had a dalmatian for many years and he was just like a part of our family.
6. Do you like sweet or salty snacks?
My favorite snack is dark chocolate, followed by Key Lime Pie then creamy ice cream. So I would have to answer sweet.
7. What's your favorite movie?
You'll peg me right away as a sci-fi  person because my favorite movie series is Star Wars, all of them, followed by the first Matrix and Avatar.
8. Who inspires you?
The simple answer is my husband, who has worked hard to provide for his family, and my two children, who are both happily married and successful in their jobs. We are a close family, full of love, and any of us would drop everything to help another in the family.
9. A glass of wine or a margarita?
I love wine, mostly your drier reds and, during the summer, a nice oaky chardonnay. I love to write about pairing meals with wine and helping people understand that you don't have to break the bank to get a decent bottle of wine. Of course, nothing is wrong with a margarita or two either!
10. Are you where you wanted to be now at (your age)?
I love my life! I have a wonderful husband, two wonderful children and 3 fantastic grandchildren. My husband and I live in South Florida and enjoy the sunny days, the beach and being able to grow fruit trees right in our own backyard. I adore writing my blog and only hope that someday I can make it my full time job.
QUESTIONS FOR MY NOMINEES
1. What inspired you to start a blog?
2. How did you come up with the name of your blog?
3. What is your biggest challenge when it comes to your blog?
4. What is the best and worst meal you have ever made?
5. Where do you find the inspiration for your posts?
6. What do you do when you try a new recipe and it doesn't work out?
7. What regional food do you most enjoy cooking?
8. What 3 words describe you best?
9. When you dine at a restaurant, do you order something new that you would like to make or an old favorite.
10. If you've had a really bad day, what makes you feel better?
11. Other than blogging, what's your favorite hobby?
---
Some of the nominees below are blogs I follow and others I have just learned about through my good friends at The Secret Recipe Club, The Creative Cookie Exchange and the Culinary Content Network. Y' all are wonderful and I can't wait to hear more from you.
MY NOMINEES ARE:
1. Katie at MomtoMomNutrition – Katie, a registered dietitian, posts simple, healthy recipes for busy families sprinkled with nutrition advice and her everyday escapades with her two little boys.
2. Megan at aDashofMegnut – Megan is an accountant by day, a part-time food blogger and lover of all things food. She is a great inspiration for those with food allergies, posting delicious gluten-free, dairy-free, egg-free, yeast-free and sugar-free recipes.
3. Dahn & Pat at SavortheBest – A wonderful mother-daughter duo (we do love family blogs) who love to have fun in the kitchen together. They love to create recipes with whole and organic foods when possible and whip up some amazing original and old time favorites that you won't want to pass up.
4. Jessica & Nellie at ButterwithaSideofBread – Two friends, and moms to nine kids between them, that love to share their simple and easy recipes with other busy families. Check out their beautiful photography and yummy recipes.
5. Shelley & Gretchen at TwoHealthyKitchens – Two friends, one a registered dietitian and one a communications director, who love to share ways to simplify your families' mealtimes while providing delicious, super-nutritious foods.
6. Nichole at CookaholicWife – Nichole is the crazy person, as she puts it, of the Cookaholic Wife. She loves cooking and baking, which she states she didn't learn from her mother, and says nothing makes her happier than feeding people. Her tagline says it all: Cook, Bake, Enjoy!
7. Avril at BakingandCreatingwithAvril – Avril, a fellow member of the Secret Recipe Club, started her blog to share her love for being in the kitchen. She has so many delicious looking recipes, all made, as she puts it, with love and happiness, featuring baked goodies as well as family friendly savory dishes.
8. Sid at SidsSeaPalmCooking – Sid, a proud Dane and a fellow Secret Recipe Club member, loves to cook, entertain and have fun in the kitchen. And sharing the preparation and good food with friends is what she likes to do. After all, she will tell you, food just tastes better when it's prepared by a happy person.
9. Wendy & Frank at ADayintheLifeontheFarm – Wendy & Frank, are a husband and wife team, retired police officers and fellow members of the Secret Recipe Club. After retiring, they moved to a 12-acre farm in a small town where they humanely, and without hormones, raise chicken, turkeys and pigs. Their blog shares their adventures of life on the farm.
10. Terri at OurGoodLife – Terri, a retired school principle and fellow member of the Creative Cookie Exchange, can't sit still and loves to write about food and her other loves, reading, photography, traveling and decorating.
11. Julie & Debbie at CookswithCocktails – another mom & daughter team that loves to cook together and shares their love of creating wholesome and healthy recipes, gluten-free among them, accompanied by a cocktail or glass of wine.
I am so happy I could share these blogs with you and hope you will stop by and share some love with them. It's a great way to pay it forward and inspire others to do the same.
Cheers,