Easy to make carrot muffins that will have your kids eating veggies without any coaxing on your part. Fresh carrots,little sugar and a touch of cinnamon.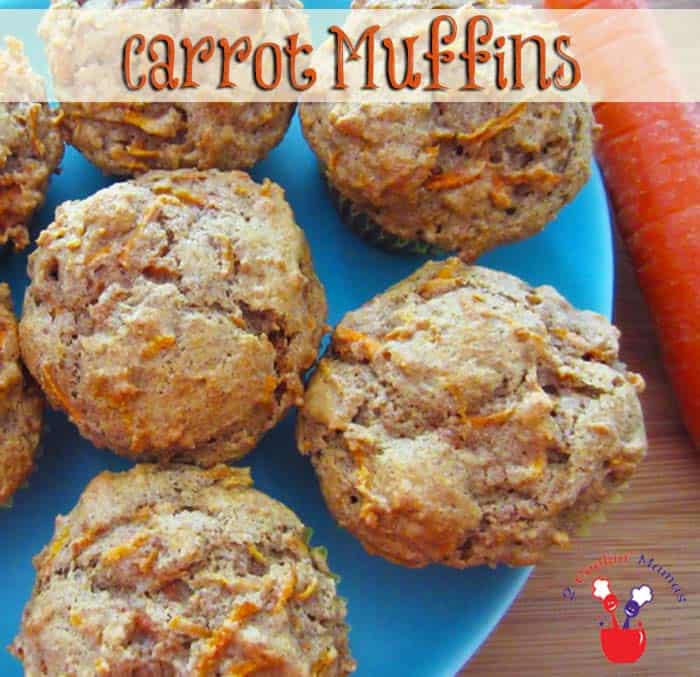 You know how you sometimes look in your refrigerator and see food that isn't going to make it another day? Well, that is exactly what my carrots looked like! I had purchased them some time ago for another recipe and then forgot about the remaining ones until today.
The first thing that came to mind was Carrot Cake, my husband's favorite, but I really wanted something that was a little more nutritious. I really like using veggies in baked goods because it is an excellent way to get kids (& big kids too) to eat more vegetables without them even knowing. For Choctoberfest, I made a delicious & rich Double Chocolate Zucchini Bread and some cool Chocolate Carrot Cupcakes, which were both big hits (with none the wiser), so I can attest that this little scheme works. But don't tell anyone, it's only for Moms. 🙂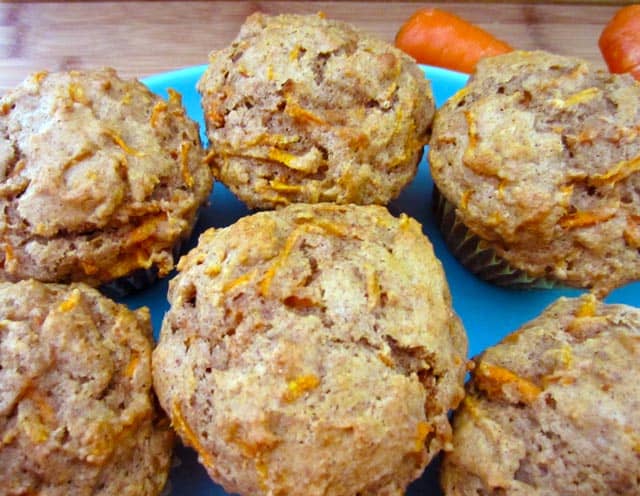 I decided that the best use of my soon-to-be-gone carrots was to whip up a batch of carrot muffins. They are easy to make, have just enough sugar to make them a little sweet, and come out moist and delicious. You just might have to stop the kids from eating the whole batch at one sitting! You can even up the ante by putting a little cream cheese icing on them (oh, is that me drooling?). Well, I can't help it that just sounds amazing!  Excuse me while I sneak into the kitchen and grab me one of those muffins before they're gone…..
Enjoy!
Delicious Carrot Muffins
Ingredients:
1 egg
1/2 cup milk
1/4 cup pineapple juice
1/2 cup melted butter
1/3 – 1/2 cup sugar
1 cup King Arthur unbleached white flour
1 cup King Arthur whole wheat flour
1 teaspoon baking powder
1/2 teaspoon baking soda
Pinch of salt
1-1/2 teaspoon cinnamon
2 cups shredded carrots
Directions:
Preheat oven to 400 degrees. Prepare muffin pan by either spraying a non-stick muffin pan with Pam or use paper muffin cups.
In medium bowl, whisk egg. Add milk, pineapple juice, butter and sugar and beat well.
Sift together dry ingredients then add to above mixture until just moistened.  Fold in carrots.
Spoon mixture into muffin cups to the top. Place in preheated oven and bake for 20 minutes.
Makes 12 muffins.
Optional:  Add a cream cheese frosting to them and it is like a mini carrot cake.
If you want a great nonstick muffin pan, try the ones that I use, Wilton Nonstick 12-Cup Muffin Pan
,
it's fantastic!
FOLLOW ALONG – WE LOVE TO SHARE!