2009 Kinneybrook Zinfandel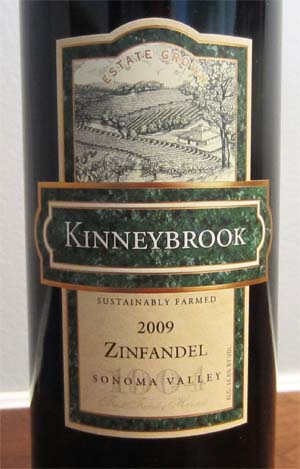 A medium-bodied wine with a fruit and spice palate of ripe boysenberry, blueberry, pepper and spice. This Zinfandel is a zesty, bold wine with a freshness that is quite appealing. It is also sustainably farmed which is always a plus in my book. This wine is a definite purchase especially for the price. Most of the Zins from this area are selling upwards of $40 so this is a bargain at $16.
If you are in the Sonoma area, stop by the Kunde Family Estate winery for a private wine tasting in the Kinneybrook Room, named after the Hereford cattle ranch where the winery now stands. It is a beautiful room with comfortable leather couch seating with a view of the vineyards that is sure to please. Here you will learn about and taste their small lot wines such as the Reserve Chardonnay, Cabernet and Zinfandel. Tasting fee is $25 per person and is accompanied by a cheese/charcuterie pairing. Really worth a visit! They also offer a guided tour of the aging caves at no charge. Very cool!
Food Pairing: The zestiness of this Zinfandel complements almost any spicy dish like shrimp & chorizo skewers, any meat hearty meal, tomato based dishes like our lasagna cups, mushroom risotto and even heavier fish like tuna.
Price: $15.99

Rating: 3/5 corks