Want to cook like a gourmet chef at home? My Kitchara stainless steel cookware review gives you the details. This cookware delivers everything you could want in pots and pans from high grade stainless steel, to aluminum cores to a comfortable weight. True quality in every way. They're also reasonably priced & built to last.
This post has been sponsored by Kitchara Cookware. I received a set of their stainless steel pots and pans to cook with and review. All opinions are honest and 100% my own.
Cooking with Stainless Steel
I was approached by Kitchara to review their 10-piece stainless steel cookware and test them against my current brands to see how they perform. To let the cat out of the bag, let me say that these pans are pure quality and rate right up there with any well-known, more expensive, quality brand.
I've been cooking for many years, let's not go into exactly how many, and have used many brands of cookware. Some have been pretty awful, and have wound up in the garbage after several uses, while others I still have today after years of usage. The stainless steel cookware I received from Kitchara definitely falls into the latter category.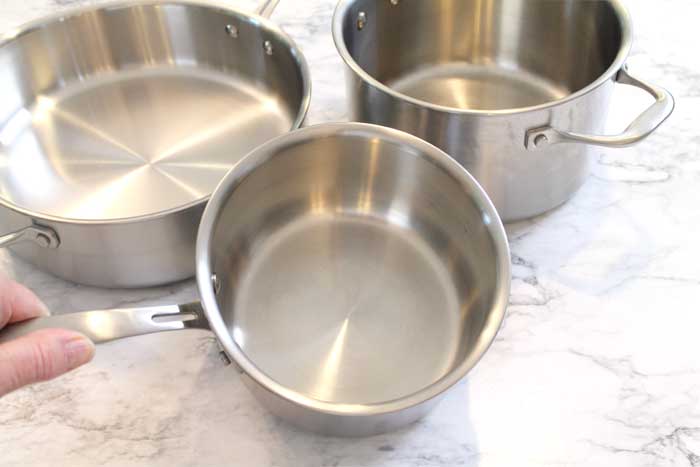 Who is Kitchara?
Kitchara is a small company located in the Midwest who designs quality cookware with the home cook in mind. The cookware they designed was meant for families. It is large enough to create meals without dirtying every pan in the house and goes from stove to oven to table to make meal time easier.
To keep the cost down they use a direct to consumers website as well as Amazon so there is no middle man or brick and mortar to add to the cost. I can vouch that their pricing is well below other name brand cookware but the quality is totally comparable. Learn more about them here and I'm sure you'll be impressed.
High Standards of Kitchara Cookware
This stainless steel cookware set is made of 5-ply, is fully clad with aluminum core and surrounded by 304 18/10 stainless steel. What exactly does that mean?
5 ply refers to the number of layers each pan has. Most basic cookware is made of 3-ply. The extra 2 layers help with heat retention and durability.
Fully clad with aluminum core means the layers go all the way up the pan for even heat transfer and cooking. The aluminum core helps conduct that heat.
304 stainless steel is the highest quality and is considered a food grade stainless.
18/10 stainless steel refers to the amount of chromium and nickel. This helps with durability, enhances the look and prevents rusting.
Oven-safe to 500 degrees, dishwasher safe (although hand washing is recommended) and induction compatible.
You can tell the minute you take these pans out of the box that they have a nice weight with a beautiful polished luster. The handles are comfortable and made for easy lifting. Now comes the real test – actually using it to cook all the family favorites.
Kitchen-Tested Stainless Steel Pans
I wanted to give this cookware a true test so it took a few months before I could write this article and share my experiences. Prior to cooking with these pans I did study exactly how to cook with stainless steel. There is a bit of a learning curve but it doesn't take long to catch on. Check out some of the facts I learned in my French Onion Chicken post.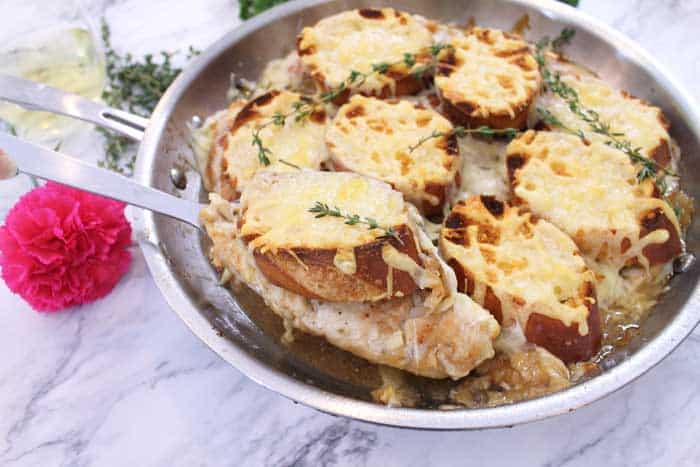 I sautéed, fried, boiled, steamed and baked so many dishes I can't even count to give these pans a total workout. I used their largest skillet to cook my French Onion Chicken. This dish goes from stovetop to oven with a deliciously broiled cheese top and it came out perfect. The chicken was cooked evenly and thoroughly and, bonus, the pan cleaned up with no scrubbing at all. Just look at that pan after using it all month!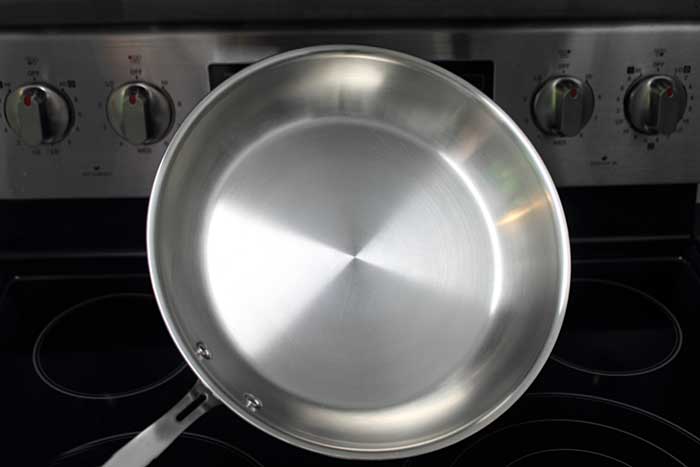 I also tried my Chipotle Chili and Vegetable Beef Soup in the large stockpot, made Stovetop Mac & Cheese and a caramel sauce in the sauce pan and even fried an over-easy egg in the smaller skillet. Every recipe came out just as expected and got rave reviews. And I was happy because cleanup was a breeze.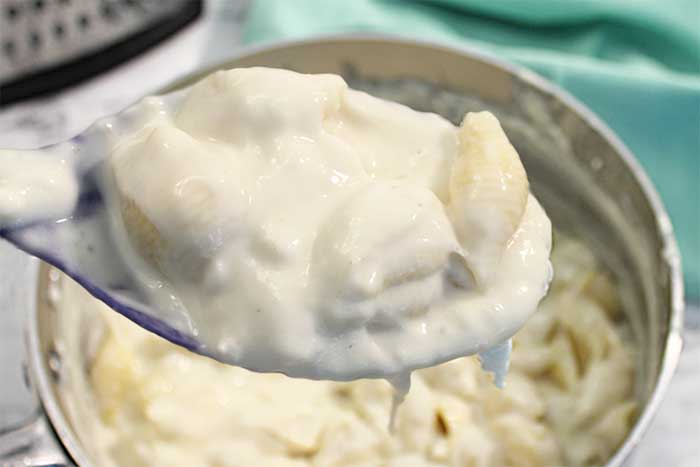 Why Buy Stainless Steel Cookware if You're Not a Chef?
Stainless Steel cookware is used by all good chefs and will aid anyone in becoming a better cook. Cooking with SS will give you better seared meats, think gorgeous steaks and ahi tuna, with tastier sauces as well as being able to start something on the stovetop, finish it in the oven and present it at the table.
It also cooks acidic foods particularly well as stainless does not react to acidity. It cooks it beautifully without changing the flavor of the food.
Lastly, it will actually save you money in the long run. Instead of buying pans every so often as they deteriorate, purchase a good quality SS set, like Kitchara's cookware, and you will never have to purchase another set of pots and pans.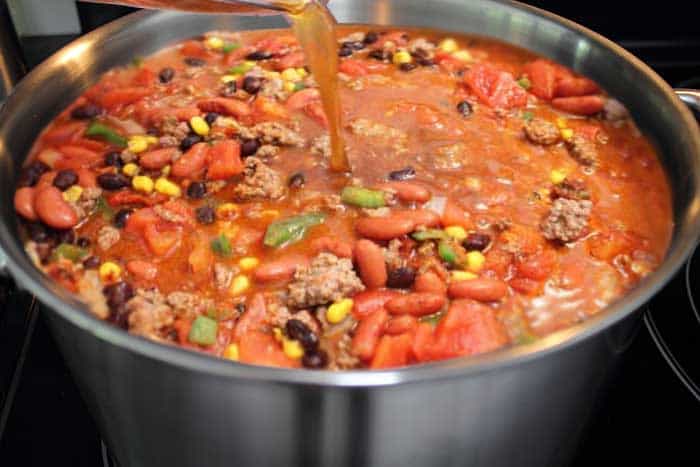 FAQs to Remember
There's a learning curve to cooking with SS as it is entirely different than using nonstick pans.
Stainless Steel uses lower cooking temperatures, nothing above medium-high, and takes a little preheating prior to adding oils.
Never add cold foods to pan as this will cause them to stick.
Don't use cooking sprays which can discolor pan. Stick to oils and butter.
Stainless Steel pans use less oil, in fact, it can even just be brushed on.
Use wood and silicone utensils for keeping pans in the best condition.
My overall impression of this cookware couldn't be better. I love the weight and feel of each pan. I believe the quality is spot on and, the price, is a real bargain. You'll be seeing these pans a lot in my future posts and I know I'll be using them for years to come.
More Delicious Recipes to Try
Chicken Chablis with Mushrooms
Love quick & easy recipes? Follow me on Instagram, Facebook, Pinterest & Twitter for all the latest recipe inspiration! Plus join my email list here and receive a free e-book.