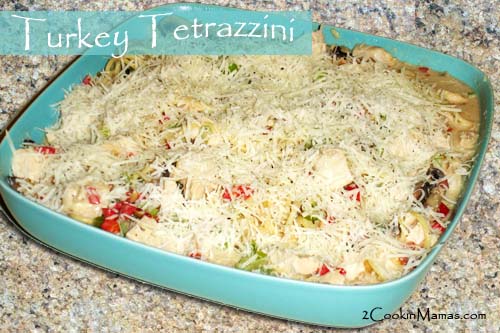 After Thanksgiving or Christmas turkey dinners, my family's favorite meal was always my famous Turkey Tetrazzini. It is a little bit of work but well worth the effort. It is both creamy and filling, and with the use of a non-fat half and half, not too heavy on the calorie front.
Turkey Tetrazzini
Ingredients:
8-oz. spaghetti or favorite pasta
3 slices bacon, cooked and crumbled
1 onion, chopped
1 teaspoon minced garlic
1-2 Tablespoons olive oil
1-1/2 cups fresh mushrooms, sliced
2 cups chicken stock
3 stalks celery, chopped
1 green bell pepper, chopped
1/4 cup butter
2 Tablespoons flour or cornstarch
1 cup heavy cream (I use non-fat half & half)
3 Tablespoons sherry
1 teaspoon salt
1/8 teaspoon pepper
1/8 teaspoon nutmeg
3-oz sharp cheddar cheese, grated
3 cups cooked turkey, chopped
1/4 cup Pecorino Romano or Parmesan cheese, grated
Directions:
Heat oven to 375 degrees. Spray a 9×13-inch baking dish with non-stick spray.
Cook pasta according to package directions.  Rinse in cold water, drain and place in large bowl.
In large skillet pan, cook bacon until crisp. Place on paper towels to drain fat. In bacon fat, sauté onion and garlic until translucent, about 5 minutes. Add to large bowl with pasta.
Check out this 12″ skillet that is the perfect size and makes clean-up a breeze. Cuisinart 622 Chef's Classic Non-Stick Hard Anodized Open Skillet
In same pan, heat olive oil over medium-high heat and sauté mushrooms until tender, about 5-10 minutes. Remove mushrooms to large bowl.
Meanwhile, heat chicken stock in large microwave safe measuring cup or bowl and add celery and pepper and cook, covered, in microwave at 90 power for 5 minutes. Remove celery and pepper with slotted spoon and add to bowl with pasta, onion and mushrooms.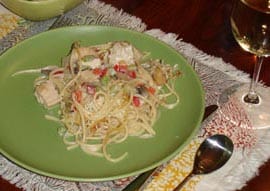 In mushroom skillet, melt butter, blend in flour, stirring constantly. Add chicken stock and continue stirring until starts to thicken. Add half and half, sherry, seasonings, grated cheddar cheese and chicken.
Place mixture into prepared baking dish. Sprinkle grated Pecorino Romano cheese on top . Bake 20-25 minutes or until lightly browned.
Serves 6-8.
Note: For a gluten-free version use a gluten-free pasta and cornstarch in lieu of flour.
Wine Pairing: The best wines to serve with this creamy dish are dry white wines such as the 2010 Casillero del Diablo Viognier or the delicious 2010 Gordon Brothers Chardonnay. If reds are more your style, stick with a spicy red such as Chianti.