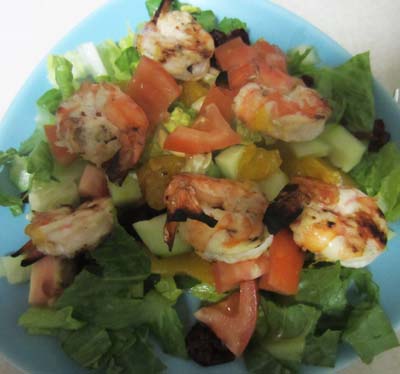 A delicious and healthy salad to make for your next dinner. It has the spiciness of Thai cooking and the cooling flavor of Mandarin oranges – the perfect combination. It is also gluten-free!
Grilled Thai Shrimp Salad
Prep Time: 40 minutes Cook Time: 4 minutes Total Time: 44 minutes
Ingredients:
12 large shrimp, clean, devein & remove shell, leaving tail on
1 small can Mandarin orange sections or 1 mango, cut-up
Marinade:
4 Tablespoons Italian dressing or Oyster Sauce if you prefer
2 teaspoons brown sugar
2 teaspoons minced garlic
Salad:
Lettuce or salad greens
1/4 cup basil or cilantro, chopped
1-2 tomatoes
1/4 cucumber
Coconut-Lime Dressing:
1/2 cup coconut milk
1/2 teaspoon minced garlic
1/4 teaspoon salt
2 Tablespoons lime juice
1/2 teaspoon dried crushed red pepper flakes
2 teaspoons brown sugar
Directions:
Directions:
Prepare shrimp by mixing all ingredients for marinade and placing together in quart sized ziploc bag. Set in refrigerator for 30 minutes. If using wooden skewers, place them in water for 30 minutes while shrimp marinate.
Thai Shrimp Salad prep: Once shrimp have marinated, prepare skewers by alternately threading 1 shrimp then 1 orange or mango section on skewer. There will be approximately 4 shrimp and 3 fruit sections on each skewer.
Preheat grill while mixing salad ingredients. On individual serving plates, pile a serving size of greens in center of plate, top with basil or cilantro, tomato, cucumber and mandarin orange or mango sections.
Grill shrimp for 2-3 minutes per side.
Coconut Lime Dressing: While grilling, prepare coconut lime dressing by mixing all ingredients together. Stir well.
To serve: Place shrimp on top of salad greens, pour a small amount of coconut-lime dressing over each and serve remaining dressing on the side.
Serves 2.
Wine Pairing: Thai foods with their complex flavors and spiciness need wines that are low in tannins, have a natural fruity and slightly sweet flavor and without much oak influence. The crisp minerality and citrus notes of a Riesling, Savennières or a bubbly Champagne compliment the Thai flavors well. Or you might opt for specific reds such as a Saumur-Champigny or a Barbera which also deliver slightly sweet and fruity notes, are slightly acidic to balance the acidic nature of Thai food, and avoids any heavy tannins that would make the wine taste bitter.