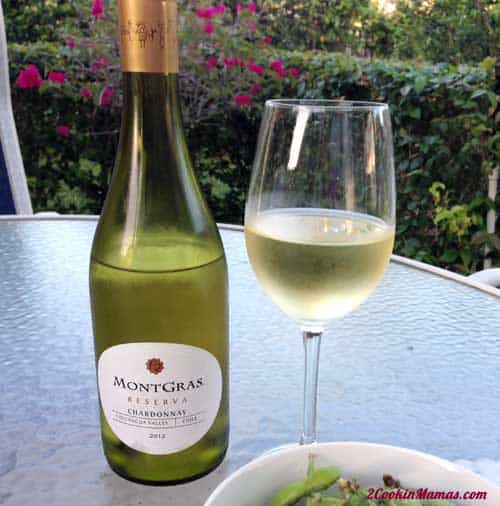 My husband and I love to dine at a small local Cuban restaurant where they always have a wonderful selection of wine including many from Chile. The Chilean wines pair very well with the Cuban fare and are usually light and refreshing. So when I saw this Montgras Chardonnay in the wine shop I decided we'd give it a try. It was the perfect choice to accompany a light appetizer, edamame or soft brie, while relaxing on our back porch.
2012 Montgras Reserva Chardonnay
The Mongras winery, located in the rolling hillsides and deep river valley of Colchagua Valley in Chile, was established in 1992 by two brothers, Hernán and Eduardo Gras, partnering with Cristián Hartwig, to produce wines of originality and exceptional quality. The weather in this region proved to be perfect for raising grapes for wines from Cabernets to Merlots, Chardonnays to Sauvignon Blancs. Since its beginnings, the winery has earned over 200 medals and awards and garnered international acclaim for their wines.
This particular Chardonnay has a beautiful light golden color and sweet aromas of pineapple, pear and melon with just a hint of vanilla. Upon sipping, you will enjoy the crisp flavors of ripe apple, pear, peaches and pineapple with just a hint of sweetness. It concludes with a creamy vanilla finish.
Food Pairing: It is a well balanced wine with generous fruit flavors, reminiscent of many Australian Chardonnays, and can be paired with mildly spicy food such as our fish tacos, roasted poultry, grilled seafood and hard cheeses.
Price: $11.99

Rating: 3.5/5
Want more wines at a great price delivered right to your door? Check out their extensive list of white wines such as Bridlewood 2009 Chardonnay at wine.com.