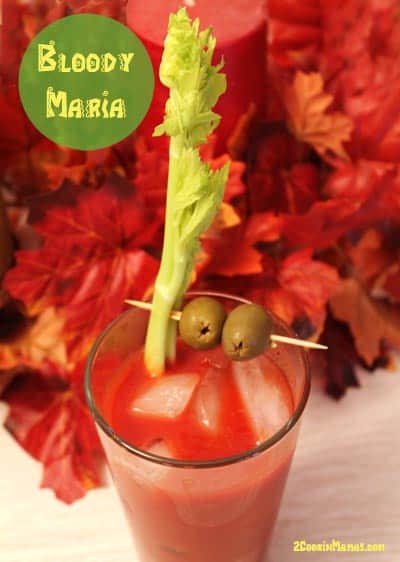 I thought I would change up my Wine Wednesday post with a delicious Mexican twist on the usual vodka Bloody Mary. While I was shopping in the store to find a Bloody Mary mix with no artificial sweeteners or high fructose corn syrup, in other words a healthy one, which is hard to find believe me, I found a new organic version by Tres Agaves called Bloody Maria Mix – Organic. Needless to say, the liquor you add to this great tasting mix is tequila! It really surprised both my husband and I with its refreshing, slightly sweet taste. It was something we will definitely be making again in the near future!
Mexican Bloody Maria
Ingredients:
3-oz. Tequila
Tres Agaves Bloody Maria Mix – Organic
Juice of  lemon wedge (optional)
Garnishes: celery stalk, olives, lemon wedge
Directions:
Fill a tall glass with ice. Add 2 jiggers of tequila then top off with Tres Agaves Bloody Maria mix. Squeeze a wedge of lemon into glass and stir. I garnished with a slightly salted celery stalk and a few olives.
Makes 1.
Cheers!
Great to enjoy with our Bloody Mary Salmon!