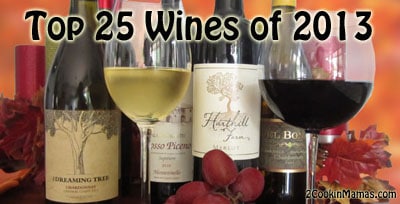 2013 was a great year for wines and Christina and I found some new favorites to add to our wine racks. Here are our Top 25 that we enjoyed along the way. Check out the links for a more in-depth review.
WHITES
.
1. 2010 Santa Margherita Pinot Grigio Price: $18.99 Rating; 4.5/5
2. 2011 Conde Villar Alvarinho Price: $12.99 Rating: 4.5/5
3. 2010 Casillero del Diablo Viognier Price: $8.99 Rating: 4/5
4. 2009 Slingshot Sauvignon Blanc Price: $14.99 Rating: 4/5
5. 2011 Chateau Ste Michelle Riesling Price: $7.99 Rating: 4/5
Chardonnays
6. 2011 Maple Ridge Chardonnay Price: $7.99 Rating: 4.5/5
7. 2010 Gordon Brothers Family Vineyards Chardonnay Price: $14.99 Rating: 4/5
8. 2012 Hook & Ladder Chardonnay Price: $12.99 Rating: 4/5
This Chardonnay has been 100% fermented in French oak barrels which increases its buttery flavor and imbues it with a smooth mouth feel. Pour this golden-colored wine into a glass and you will immediately note the citrus aromas alongside scents of apricot and caramel. Now sip and savor the crisp apple, melon and honey flavors intertwined with hints of orange, lime and cinnamon and just a slight minerality, all followed by a wonderfully balanced, but not overpowering, vanilla finish. Pair with grilled seafood, chicken and pasta with light herb and oil sauces.
9. 2009 Four Sisters Chardonnay Price: $10.99 Rating: 4/5
10. 2009 Raymond Chardonnay Reserve Selection Price: $13.99 Rating: 4/5
An elegant and balanced wine with aromas of pear, melon and tropical fruit and full-bodied flavors of pear, peach and lemon mixed with hazelnut and creamy vanilla notes. Enjoy with dishes such as roasted chicken and turkey, grilled salmon, sea bass, cream soups and salads.
REDS
.
11. 2010 Cooper Station Pinot Noir Price: $10.99 Rating: 4/5
12. 2008 Markham Merlot Price: $16.99 Rating: 4/5
13. 2010 Hess Select Treo (Merlot/Syrah/Petite Sirah) Price: $15.99 Rating: 4/5
This is a very dark, dry and lovely wine with wonderful aromas of cherry, plum, jammy blackberries and some slight floral notes and complex flavors of cranberry, black cherry and pomegranate. The finish is long and smooth with a surprise tanginess from the cherries and cranberries. Serve at slightly chilled temperatures between 55-65 degrees as the acidity increases with warmth. Pair with grilled meats and BBQ, grilled fish and vegetables and the stronger aged cheeses.
14. 2011 Woop Woop Shriaz Price: $14.99 Rating: 4/5
Malbecs
15. 2010 Ben Marco Malbec Price: $17.99 Rating: 4.5/5
16. 2011 Pigmentum Malbec Price: $7.99 Rating: 4/5
This deep purple, full-flavored wine has rich floral and spice accents and a wonderful blend of dark berry fruit and plum flavors. It is slightly dry to the taste with just the perfect amount of acidity and an overall creamy texture. Pair with rich cuts of beef, lamb and game as well as Italian dishes such as lasagna, spicy dishes and hearty soups and stews.
17. 2007 Norton Privada Malbec Price: $19.99 Rating: 4/5
18. 2009 Finca Flichman Tupungato (Cabernet/Malbec/Merlot) Price: 13.99 Rating: 4/5
A full-bodied wine with aromas of caramel and blackberry as well as traces of cocoa and vanilla. Flavors of dark fruits with hints of oak, smoky leather and a finish of licorice and spice add to the appeal. Pair with a nice juicy barbecue, slow cooker meat dishes as well as spicy Italian sausage. Mexican empanadas and nachos, terriyaki beef and Thai chicken dishes.
Zinfindels
19. 2011 Gnarly Head Old Vine Zinfandel Price: $13.99 Rating: 4/5
20. 2011 Macchia Mischievous Zinfandel Price: $19.99 Rating: 4/5
Carmeneres
21. 2008 Pieza El Coll Calatayud Carmenere Price: $10.99 Rating: 4/5
22. 2009 Veranda Cabernet Carmenere Price: $16.99 Rating: 4/5
Cabernet Sauvignons
23. 2010 Dreaming Tree Cabernet Sauvignon Price: $13.99 Rating: 4/5
24. 2010 Kendall Jackson Vintner's Reserve Cabernet Sauvignon Price: $17.99 Rating: 4/5
Sparkling
25. Domaine Ste Michelle Brut Price: $12 Rating: 4/5
Find all of these and more wine reviews on our 2CookinMamas' site and sign up for our bi-monthly newsletter for more exclusive reviews, recipes and a free wine pairing menu.