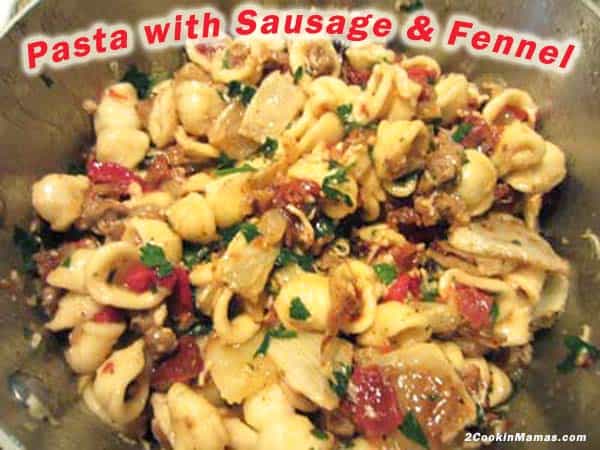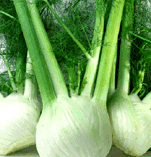 Now I know this recipe looks complicated but it is really pretty simple and has a delicious and decidedly Italian taste to it. The sausage adds spice and then fennel a nice sweetness. I have never really cooked with
fennel before and was pleasantly surprised by this flavorful vegetable. It is closely related to parsley, carrots, dill and coriander and has a slightly sweet taste to it. I think that roasting it in the oven brings out more of the sweetness and makes it even better. It is also low in calories and high in both Vitamin C, potassium and fiber - so what's stopping you from giving it a try today?
I served it as a side to Zucchini & Prosciutto Skewers but it can also be served as a main meal.
Pasta with Sausage & Roasted Fennel
(adapted from a Giada De Laurentiis' recipe)
Ingredients:
1 Fennel (use the bulb only & save the stalks for soups/stews & the leaves as an herbal seasoning)
2 Tablespoons olive oil
salt & pepper to taste
8 ounces orecchiette pasta
2 Tablespoons olive oil
1 Italian sausage link (about 4 oz) I used the hot variety.
⅓ cup onion, chopped
½ teaspoon salt
¼ teaspoon black pepper
1 teaspoon minced garlic
2 Tablespoons white wine, I used a light white
6 sun-dried tomatoes in oil, chopped
6 roasted red peppers in oil, chopped
2 Tablespoons fresh parsley, chopped
½ cup Parmesan cheese, grated
Directions: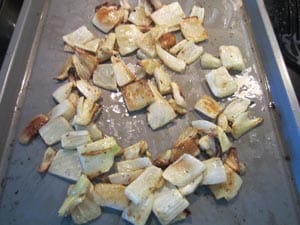 Preheat oven to 400 degrees. Prepare a cookie sheet with sides by spraying with Pam or other non-stick spray.
Roast the fennel by cutting bulb into smaller ¾″-1″ pieces then toss with 2 Tablespoons olive oil and a little salt and pepper. Spread out on cookie sheet and roast for 30 minutes. Allow to cool before adding to pasta.
Cook pasta according to package directions, about 8-10 minutes. Remove from heat and drain.
Remove casing from sausage link and break into pieces. Heat olive oil in skillet over medium-high heat and cook sausageuntil done. Add onion, salt and pepper and cook until onion is translucent, about 5 minutes. Add garlic and wine and cook for an additional minute. Add tomatoes, roasted peppers and parsley and cook until just heated through. Remove from heat and add fennel, pasta and Parmesan cheese. Mix well and serve.
Serves 6 as a side dish or 2 as a meal.
Wine Pairing: To match the spiciness of the sausage and the strong flavor of the sun-dried tomatoes opt for either a sharp, dry white or a rustic red such as a Nebbiolo, the Santa Cristina Sangiovese or a Zinfandel.
DON'T MISS A RECIPE!