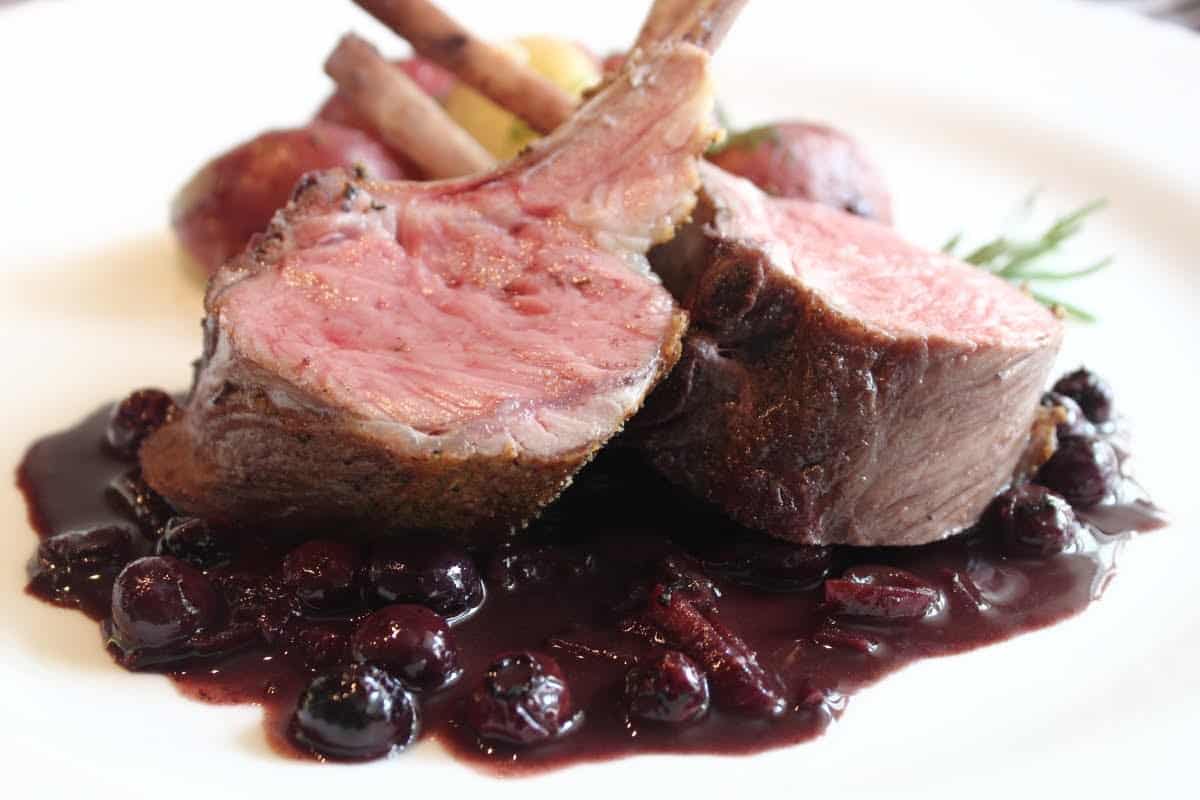 Rack of Lamb in a Blueberry Beurre Rouge
The perfect Valentine's Day dinner
It's often been said that "the way to a man's heart is through his stomach". While taking your date out to a fine-dining restaurant is always a safe bet on Valentine's Day, you can make things even more special by cooking for them. Believe it or not, most restaurant staples can be recreated at home without too much fuss, saving you the time and money that dining out would have cost you.
Today, we feature a recipe for a luxurious rack of lamb, topped off with a blueberry buerre rouge. A buerre rouge is most commonly known as a red wine butter sauce, and it's quite a simple emulsion to make. This recipe, however, amplifies the flavors of the beurre rouge by adding the flavors of blueberries.
When selecting the wine to use with this sauce, make sure you use a red wine that you would be comfortable drinking. We'd recommend a full-bodied Merlot-based Bordeaux, which famous wine stockist and retail giant Marks and Spencer describes as having the flavors of ripe damson fruit, caramel and grilled herbs — flavors that would go elegantly with a nice rack of lamb.
To truly make this dish special, try to get a rack of lamb straight from a farmer, and not from the supermarket. The Guardian reports that supermarket lamb is "wet-aged", and that this affects the taste and tenderness of the lamb. Not only that, but local farms are also doing their best to provide competitive prices for their high-quality cuts of meat, so it might even be cheaper to get a rack of lamb from a meat delivery service.
Ingredients:
· 1 rack of lamb, fully trimmed (Simply Recipes has a great guide on trimming racks of lamb)
· Salt and pepper, to taste
· 1 tbsp of vegetable oil
· 2 tsp of Dijon mustard
· 1 tsp of fresh rosemary, minced
· 1/8 tsp of cinnamon, ground
· 1/8 tsp of cumin, ground
· 1/3 cup shallot, sliced
· 1 cup of fresh blueberries
· 1 cup of red wine
· 3 tsp of butter, adjusted as needed
· 3 tsp of balsamic vinegar
Directions:
First, preheat the oven to 375 degrees F.
Season the lamb with salt and pepper, and sear the lamb in an oven-proof skillet with the vegetable oil. Once the lamb has been browned on all sides, turn off the heat and allow the lamb to rest in a separate platter.
Combine the mustard, rosemary, cinnamon and cumin in a bowl, and use this mixture to coat the lamb.
Being creating your sauce by sautéing the shallots in the skillet used to sear the lamb until they begin to lose moisture and become brown and soft. Add in the blueberries and cook for 2 minutes or so. Stir in the red wine, and stir the mixture to remove the bits stuck to the bottom of the pan. Turn off the heat, and replace the rack of lamb (which should now be covered with the mustard mixture) into the center of the skillet. Season with some black pepper and salt.
Roast the lamb in the over until its internal temperature climbs to 125 degrees F. This should take about 20 minutes. If you'd like your meat well-done, cook for a little bit longer.
Move the lamb to a cutting board and allow it to rest for a few minutes. Meanwhile, continue preparing your buerre rouge by drizzling the balsamic vinegar into the blueberry sauce. Reduce the mixture on the stove for about 4-5 minutes, until the sauce has thickened. Turn off the heat and stir in the butter, and season to taste.
Serve the lamb with a spoonful of the blueberry buerre rouge.
DON'T MISS A RECIPE!