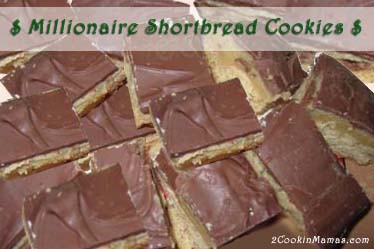 Happy National Cookie Day!
I can't imagine who thought of celebrating a day just for cookies but I am all for it! I love cookies in any shape or size, whether they are the traditional chocolate chip cookies, thumbprints with jam, heaps of coconut in macaroons or a deliciously layered gooey bar cookie like these Millionaire cookies.
My good friend and neighbor down the street first introduced me to these little gems several Christmas' ago. She had brought them over as a gift and I couldn't wait to try them. Let me tell you, they were so good, in fact I had to hide them so I wouldn't eat them all, that I had to beg her for the recipe. They reminded me of a gourmet Twix bar complete with a shortbread layer, a yummy caramel layer and a topping of dark chocolate. What could be better?!
You can be sure I'll be making these again real soon. Or as soon as I lose the couple pounds I gained from eating this first batch. lol
Enjoy!
Millionaire Cookies
.
Ingredients:
2 cups flour
1-1/2 cups packed light brown sugar
1 teaspoon salt
2 cups (1 lb) cold unsalted butter
1-1/2 teaspoons vanilla
1/4 cup light corn syrup
1 can (14-oz) sweetened condensed milk
3/4 lb. dark chocolate (Ghiradelli tastes fantastic)
Directions:
Preheat oven to 325 degrees. Prepare a 9×13-inch nonstick pan by buttering the bottom and sides. Lay a piece of parchment paper, larger than the size of the pan, on the bottom and butter the paper as well. (This will be what lifts the finished bars out of the pan so make sure it comes up the sides where you can grab it)
Shortbread Layer
In a food processor, pulse the flour, 1/2 cup brown sugar and 1/2 teaspoon salt until well mixed. Continue pulsing as you add 1 cup of butter then 1/2 teaspoon vanilla. When it starts to look like dough, remove from processor and pat into bottom of prepared pan. Place in oven and bake for 35-40 minutes, rotating 1/2 way through cooking time. Remove from oven and let cool on wire rack.
Caramel Layer
In a small saucepan, melt the remaining 1 cup butter over medium low heat. Stir in the remaining brown sugar, corn syrup and condensed milk. Bring to boil, stirring constantly for 4-5 minutes. Remove from heat and add 1/2 teaspoon salt and 1 teaspoon vanilla. Pour over the shortbread and let cool.
Chocolate Layer
To finish, melt chocolate by placing in microwave safe measuring cup and microwaving on high in 30 second bursts. When almost all the chocolate is melted remove from oven and stir until the remaining pieces melt. Do not overcook. Pour over caramel layer and let cool.
Use parchment paper to lift cookies out of the pan and immediately cut into squares.
Makes approximately 30 2″ cookie squares.