2010 Sobon Estate Zinfandel, Hillside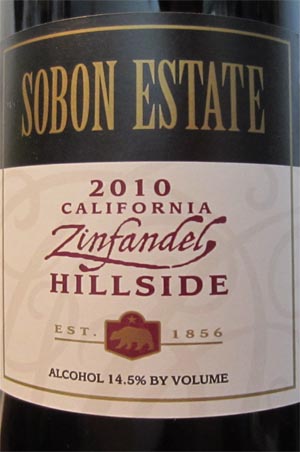 Sobon Estate Vineyard is located in Amador County California in the heart of the historic Sierra Gold Country now known as Shenandoah Valley. This area is known for producing California's finest Zinfandels and this wine is a perfect example.
This well balanced Zinfandel is made from organically grown grapes that produce a bright and tangy taste that is both bold and full of flavor. Aromas of blackberries, cherries and cocoa with just a hint of spice are present and the finish is smooth and nice.
This is an excellent zinfandel for the price and I would definitely purchase this wine again.
Food Pairing: It is an excellent low tannin wine that pairs well with burgers, BBQ, steaks, roasts and spicy tomato-based dishes
Note: Decant prior to serving.
Price: $9.99

Rating: 4/5 corks