This seemed like an apropos time to post about Halloween wines that scream how good they are and their names scare the pants off you. Some are great, some are average but they all are perfect for the Halloween season.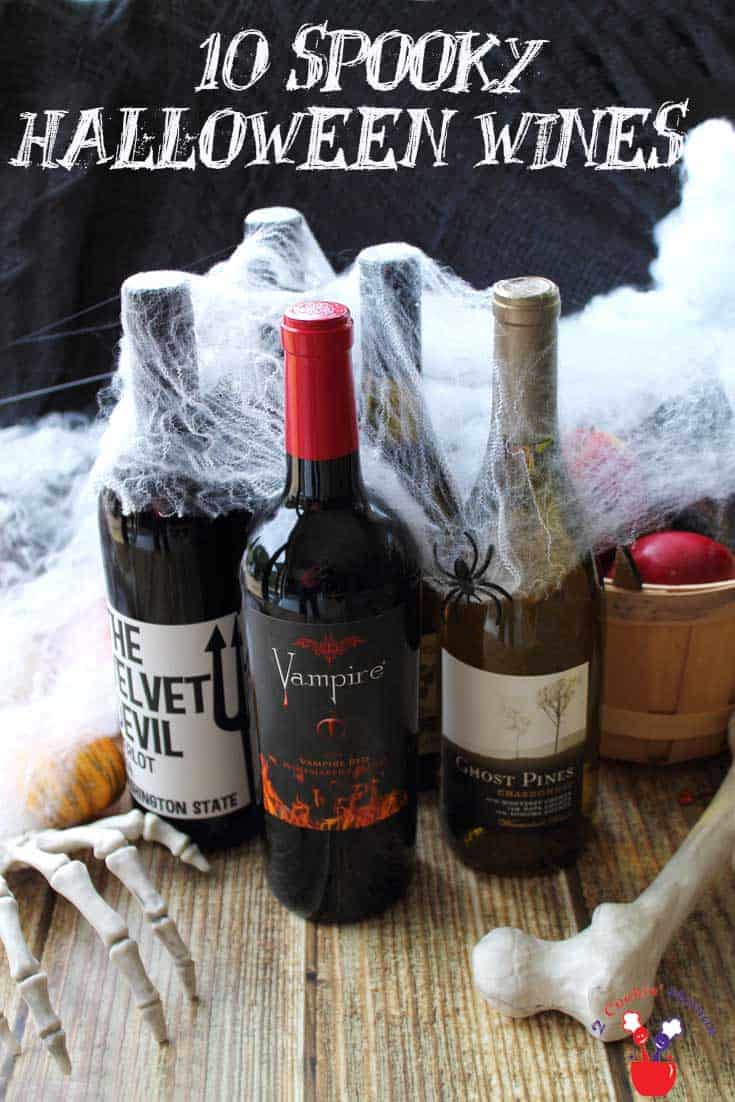 The night was "Ghostly White" and I was standing in a grove of "Ghost Pines" & "Twisted Oak" near the "River of Skulls". It was Halloween and anything could happen. Out from behind the trees stepped a blood red "Vampire" bent on re-enacting "Slaughterhouse". I ran for cover and hid in "Caillero del Diablo" (Cellar of the Devil) and came face to face with the smooth-talking "Velvet Devil" himself. My mouth went "Bone Dry" and I turned white as a ghost. My heart was beating out of my chest and I thought this was the end. Suddenly the good "Witch from Witch Creek" flew in and transported me away to her den and proceeded to offer me a sip of "Evil Cabernet" as a night cap. Hopefully that was a peace offering and not a pre-dinner drink!!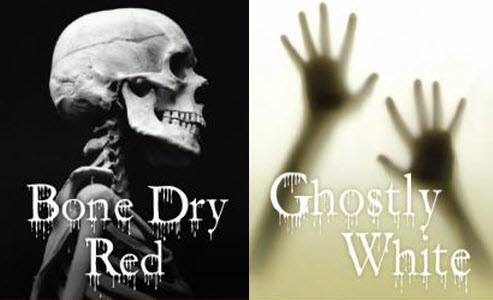 Ghostly White Chardonnay by Elk Creek Vineyards – an unoaked Chardonnay, that is crisp with fruity flavors of apple, apricot, melon and peach with hints of citrus. (3.5/5)

Twisted Oak River of Skulls – a California red wine that is comprised of Mourevdre grapes and a small amount of Syrah. An excellent wine with flavors of cherries and raspberries with lingering hints of smoky vanilla and tobacco. One to purchase for your wine rack. (4/5)
Vampire Pinot Noir – a light to medium-bodied red with fruity strawberry aromas and flavors of cherry and plum with notes of oak. Very easy drinking wine with a soft finish, (3.5/5)
Slaughterhouse Cellars Cabernet Sauvignon – A big red wine with flavors of black cherries and blackberries with hints of vanilla and leather.  Definitely a wine to be enjoyed with your next prime rib dinner.(4/5)
Casillero del Diablo Carmenere – A Chilean wine with dark fruity flavors and a hint of spice and chocolate. It has smooth smokey dry flavors and strong tannins that make this wine a perennial favorite. (3.5/5)
Charles Smith Velvet Devil Merlot – a Washington state wine that combines Merlot, Malbec , Cabernet Sauvignon and Syrah grapes to produce a ripe and balanced red wine.  Aromas of raspberry, vanilla and a touch of spice greet the nose while the smooth flavors of dark cherries and plums  with just a hint of oak and chocolate flow smoothly across the tongue. (3.5/5)
Bone Dry Red Cabernet Sauvignon – from Elk Creek Vineyards in Kentucky. This is a dry, rich wine with ripe cherry and other berry flavors with notes of chocolate and spice. It is very oaky and strong but is particularly nice with your favorite steak. (3.5/5)
Ghost Pines Chardonnay – is a winemaker's blend of grapes from Monterey, Napa & Sonoma. It is a light buttery wine with flavors of baked apples, pears and a hint of lemon with a nice finish of vanilla. The light oakiness pairs well with poultry and seafood. (3.5/5)
Witch Creek Winery Cabernet Franc – a wine from Carlsbad California offering up aromas of cherry, mint and vanilla with an earthy tone and flavors of cherry, cardamon and oak notes as well as a long, spicy finish. (4/5)
Evil Cabernet by R Wines of Australia – A medium-bodied red with aromas and flavors of black berries with both floral and licorice hints. It has nice structure with moderate acidity and finishes very delicately. (3/5)
For more reviews on some great wines, and all under $20, check out our Wine Index.