Sriracha shrimp is a spicy cajun dish with a combination of shrimp, chorizo, corn, tomatoes and basil. It's easy to make & perfect for any night of the week. Make it a extra healthy and filling by serving over quinoa.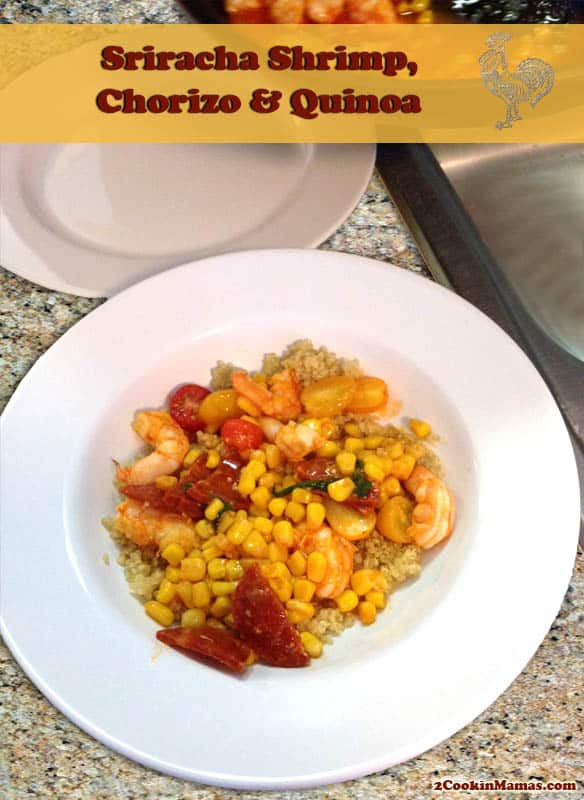 If you've been following our blog you know that I have found a new love – sriracha! My daughter-in-law was the first to mention it about a year ago and we just got around to trying it in the last several months. Oh my goodness, it has such a wonderfully spicy taste and is the perfect touch to meat, fish, vegetables and I am sure many other foods that I haven't had a chance to try yet.
Twice a week I turn the kitchen over to my husband for him to whip up some culinary delight in the kitchen and this night he even surprised himself. He found this recipe online and adapted it just slightly, and it turned out to be out-of-this-world delicious! Yay for my husband!
This meal is quick and easy and perfect for those busy nights after work or running around after the kids all day.  Let me know how you like it if you get a chance to try it out. And if you have a favorite sriracha recipe please share it with us.
Sriracha Shrimp, Chorizo & Quinoa
Ingredients:
3 cups cooked Earthly Choice quinoa
3/4 lb. fresh or thawed shrimp, peel & deveined (keep a package of frozen shrimp on hand for quick & easy dinners)
1 cup corn kernels or about 1/2 can corn kernels, drained
4 green onions, sliced thin (hint: use a scissors to cut – so easy)
1-1/2 Tablespoons Huy Fong sriracha sauce (the one with the rooster on the label)
2 teaspoons minced garlic
4-oz. Spanish chorizo, dry cured, thinly sliced and cut in half (usually found around the pepperoni)
1/2 cup fresh basil leaves, chopped
1 pint red & yellow grape tomatoes (you will use about 12 of each color), halved
2 Tablespoons olive oil
1 lemon, juiced & zested
Directions:
Prepare quinoa according to package directions. I like to make 1 cup quinoa to 2 cups chicken stock or water, put together in sauce pan, bring to boil, cover, turn down and simmer for about 15 minutes. If any is left over after dinner, it is perfect combined with fruit and milk as a hot breakfast cereal or mix with veggies and seasonings for a nutritious lunch or side like our Southwest Quinoa & Spinach. Set aside.
In a bowl, combine shrimp, corn, green onions, sriracha, garlic and chorizo. To this mixture add 1/2 of the basil and 1/2 of the tomatoes.
By the way, I saw a great way to cut a large amount of cherry tomatoes in half easily. Get 2 large plates, put the tomatoes on 1 plate, invert the other plate and carefully set on top. Take a sharp knife and, while holding the top plate down, run the knife between the plates. Voila, you will have all your tomatoes cut in half in short order.
In a large skillet, heat olive oil and add shrimp-tomato mixture to pan. Cook shrimp about 2 minutes per side or until it has turned pink, turning often.
To serve: Using 4 wide-mouthed soup bowls, place 1/2-3/4 cup quinoa in the bottom of each bowl. Top with 1/4 of the shrimp-tomato mixture. Mix lemon juice and zest together and sprinkle over each bowl. Garnish with remaining basil and tomatoes.
Serves 4.
Wine Pairing: This spicy dish requires wines that are crisp, acidic and have fruity flavors with low to medium tannins. Avoid subtle wines and those with high alcohol and lots of oak. For whites, I like Albarino, Sauvignon Blanc, Viognier or an off-dry Riesling. If you like reds, I would stick with a Zinfandel, Beaujolais or a Barbera. Of course, you can also indulge in the bubbly by opting for an Asti or an extra-dry brut.
Great utensils I used for this recipe:
, ,