It's Friday! Time to let loose and get ready for the holiday weekend. Grab a margarita and enjoy this super fun south of the border recipe.
Tortilla Stack Casserole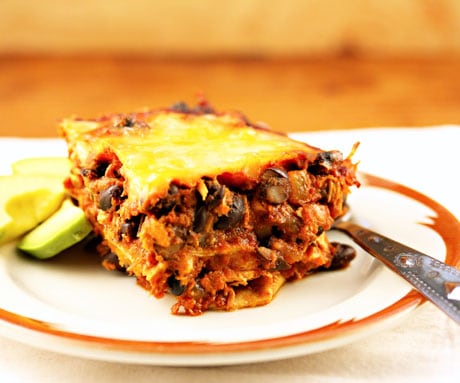 Prep Time: 20 minutes – Cook Time: 35 minutes – Total Time: 55 minutes
Serves: 4
Ingredients:
1 pound ground beef or turkey
15 oz can black beans, drained and rinsed
1 cup salsa
1 tsp chili powder
1 tsp cumin
5 gluten-free round tortillas
1 cup guacamole
2 cups Manchego cheese, shredded & divided
Cilantro & green onions, chopped (optional garnish)
Directions:
Preheat oven to 350°F. Spray 9″ round pan with non-stick cooking spray.
Cook ground beef or turkey in large saucepan over medium-high heat until done. Drain fat and return to stove. Turn off burner and add in black beans, salsa, chili powder, and cumin and mix thoroughly.
Spoon a small amount of beef mixture into prepared pan. Top with one tortilla and beef mixture. Top with another tortilla and guacamole. Sprinkle with one cup Manchego and top with another tortilla. Spoon remaining beef mixture on top and top with final tortilla. Cover with foil and bake for 30 minutes. Remove foil, top with remaining cup of cheese and bake for an additional 5 minutes or until cheese is melted. Cut into wedges and garnish with chopped cilantro and green onions.
Notes: Serve with sour cream & salsa, if desired.