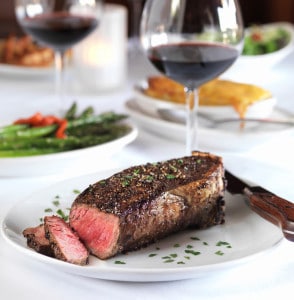 Valentine's Day is a day to show our special sweetheart just how much they mean to us. Whether dining in or dining out you can still make something delectable for them. After all, we have all heard that they way to a man's heart is through his stomach so it seems like a good place to start.
For dining in, a steak is always a perfect dinner to serve, quick and easy on the grill with a few sides like a tossed salad and grilled asparagus.
Here are a few pointers for grilling the juiciest and most tender steak:
Purchase the best steak that you can afford, Prime being the best and Choice right below that
Make sure the steak is firm to the touch and a nice cherry red color
Look for small pockets of fat or marbling, not large pieces
Best thickness is between 1″ to 1-1/2″
Bring steak to room temperature by leaving out about 1 hour prior to cooking (cold steaks will toughen as they cook)
Pat steak dry with paper towel just before grilling
Do NOT salt steak prior to cooking  (Exception: Choice steaks may be salted for 1 hour prior to cooking and then rinsed off and patted dry to help tenderize.)
Flip only once, half way through cooking time, usually about 3-5 minutes per side.
Note: The steak will continue to cook when removed from the grill so cook to a temperature of about 5 degrees less than the recommended for the doneness you prefer.  Usually a final temperature of 120 degrees is reached for rare, 125 for medium rare and 130 degrees for medium.
Let sit 15 minutes then serve.
**To make it really special make a red wine sauce to drizzle over the steak upon serving.
Red Wine Sauce
Ingredients:
6 tablespoons cold unsalted butter
1 onion, thinly sliced
1 tablespoon minced garlic
1 teaspoon dried oregano
1/4 cup tomato paste
2 1/2 cups dry red wine
Directions:
While steak is cooking, melt 2 tablespoons of butter in a large saucepan over medium-high heat. Add the onions and saute until tender, about 5 minutes. Season with salt. Add the garlic and oregano and sauté until fragrant, about 30 seconds. Stir in the tomato paste and cook for 2 minutes, stirring constantly. Whisk in the wine. Simmer until the sauce reduces by half, stirring occasionally, about 10 minutes. Remove the skillet from the heat. Strain the sauce into a small bowl. Discard the solids and return the sauce to the saucepan and bring back to a simmer. Cut the remaining 4 tablespoons of butter into small 1/2-inch chunks and whisk in the sauce a little at a time. Season the sauce, to taste, with salt and pepper.
Wine Pairing: The perfect wines to serve with steak run the gamut from a Cabernet Sauvignon to an earthy Carmenere to a Shiraz. Leaner cuts of steak such as a filet mignon match perfectly with the herbal notes of a Shiraz while the fattier cuts, NY Strip or Ribeye, tend to match better with the earthier aged Cabernets and Carmeneres. Check out several of my favorites:
2010 Dreaming Tree Cabernet Sauvignon
2010 Kendall-Jackson Cabernet Sauvignon
2009 Veranda Cabernet Carmenere
2001 Woop Woop Shiraz
If dining out, you can still surprise him with dessert and a little after dinner drink at home. Try one of these fantabulous desserts with wine pairing: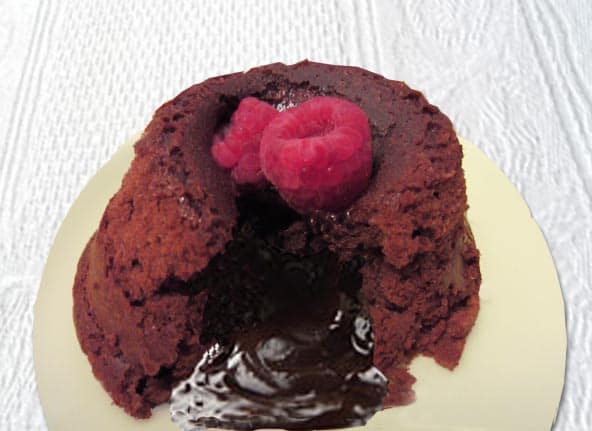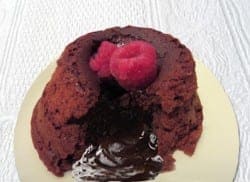 Chocolate Lava Cake – A tawny Port or a sweet Moscato
Chocolate Covered Strawberries  – Serve with a snifter of Grand Marnier, Cabernet Sauvignon, Champagne or Sweet Sherry
Chocolate Kahlua Cheesecake – Since this is made with a dark chocolate the best pairing is with a lusty Zinfandel, Cabernet or Petit Sirah. You might also try a Port.