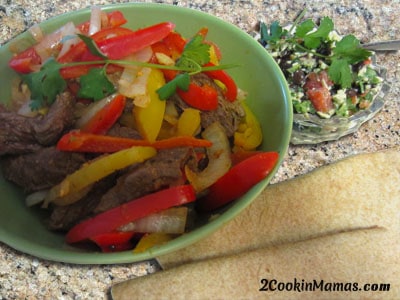 This stir fry comes packed with protein and plenty of fiber important to a healthy diet. It's also quick and easy to put together for a casual and fun Sunday supper. For a gluten-free option, opt for corn tortillas.
Steak Fajita Stir-Fry with Black Bean Salad
Ingredients:
4 Tablespoons lime juice, freshly squeezed
2-1/2 Tablespoons Fajita or Taco Seasoning
1-1/2 lbs. beef tenderloin, cut into thin strips
1 Tablespoon olive oil
1 large sweet onion, thinly sliced
2 bell peppers (1 red & 1 yellow), thinly sliced
2 jalapenos, chopped fine
Black pepper, to taste
1 can black beans, rinsed and drained
1 large tomato, diced
½ cup cheddar cheese, shredded
1/4 cup cilantro, chopped
Whole wheat flour or corn tortillas (optional)
Directions:
Mix 2 tablespoons lime juice and 2 tablespoons fajita seasoning together to make marinade. Place meat in seasoning and set aside.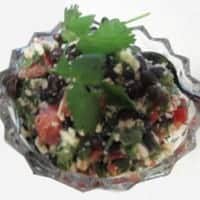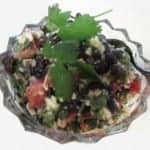 Heat oil in a large skillet over medium to medium-high heat. Add onion, bell pepper slices and jalapeno and stir fry for 5 minutes, stirring often. Add beef along with marinade to pan, season with black pepper and continue to cook for another 4-5 minutes.
To make the black bean salad, combine black beans with tomato, cheese, ¼ cup cilantro and remaining lime juice & fajita seasoning. Toss to mix.
To serve, place beef mixture in bowl and garnish with additional cilantro. Serve with black bean salad as a topping and warm tortillas.
Serves 4.
Wine Pairing: If you want to skip the traditional margarita or DOS XX for wine try one of the "big reds" such as 2011 Macchia Old Vine Zinfandel or a California Petite Sirah. If you prefer white, try opting for a fresh aromatic Viognier, I like the 2010 Casillero del Diablo, or an earthy Spanish Albarino such as the 2011 Conde Villar Alvarinho.