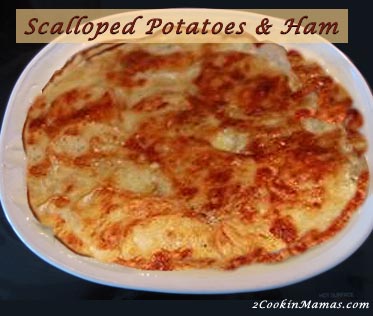 We like to take it easy on Sunday and spend more time with our family than we do in the kitchen so this quick casserole is the perfect Sunday Supper.  I usually make this when I have leftover ham, especially after Easter or Christmas, and prepare it in the morning to have later.  If you add a package of frozen peas to the recipe. which turns out great, you will have a one-dish meal  that is simple and easy on the cleanup. And, if you don't have ravenous teenage boys eating you out of house and home, you will have some leftovers for  lunches during the week.
I have also noted gluten-free and non-GMO cow dairy-free options for an even healthier recipe.
Scalloped Potatoes & Ham
Ingredients:
1/3 cup onion, chopped
3 Tablespoons green pepper, chopped
1/4 cup + 1 Tablespoon butter (Use Earth Balance Buttery Sticks for non-GMO cow dairy-free option)
1/4 cup flour (use Namaste Gluten Free Perfect Flour Blend for gluten-free option)
2 cups milk (almond or soy milk can be substituted)
1/2 teaspoon salt
1/4 teaspoon pepper
1 cup Cheddar cheese, shredded (Manchego for non-GMO cow dairy-free option)
3 cups cooked ham, cubed
4 cups cooked potatoes, cut in slices
1/4 cup bread crumbs (I like to use Aleia's Gluten Free Foods Bread Crumbs)
Directions:
Preheat oven to 350 degrees. Grease a 2-quart casserole dish and set aside.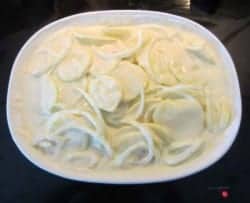 In a medium skillet, saute onion and green pepper in 1/4 cup butter for about 5 minutes. Stir in flour until well blended. Gradually add milk, salt and pepper and stir continuously until liquid has thickened. Remove from heat and stir in cheese until melted. Add ham and potatoes.
Pour into prepared casserole dish. Combine breadcrumbs with remaining 1 tablespoon melted butter and sprinkle over the top. Bake for 25-30 minutes until heated through and top is browned. If further browning is desired, place under broiler for a few minutes.
Note: If prepared ahead of time and refrigerated the cooking time will need to be lengthened to about 45 minutes or until heated through.
Serves 6-8.
Wine Pairing: A meal based on cream sauce and potatoes pairs best with a medium-bodied creamy wine such as Gordon Brothers Chardonnay or a more lush fruity wine such as Kris Pinot Grigio.
Love casseroles? Try these easy and delicious recipes: