2009 Valserrano Crianza Rioja

Rioja wines, are so called because they come from the Rioja wine region of Spain. Rioja is a blend of grapes which can produce either red (tinto), white (blanco) or rose (rosado) wines, reds being over 85% of their production.
The red or tinto variety consists of mostly Tempranillo grapes with smaller percentages of Garnacha, Graciano and Mazuelo grapes. Each grape adds a unique quality to the wine – Tempranillo contributes the main flavors while Garnacha adds body and alcohol; Mazuelo adds seasoning flavors and Graciano adds aromas.
The designation "crianza" means that this Rioja has been aged at least 2 years, with at least one of which was in oak. It is comprised of 90% Tempranillo and 10% Mazuelo and was aged over 16 months in oak barrels. The aromas are of sweet red berries with hints of plum, fig and hazelnut and the flavor is dominated by red berries along with the typical characteristic notes of oak and spice. The finish is long, smooth and well rounded and worth savoring every sip. Serve at a cool temperature between 61-65 degrees. This is a fantastic wine for the price and one that is worth stocking up on while still available.
Food Pairing: Pair with Spanish tapas, grilled meats such as Grilled Rosemary Lamb Chops, game or fish.
Price: $14.99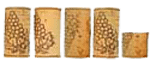 Rating: 4.5/5 corks